A big part of fantasy football is recognizing that each week is like its own season. There are times that your stud, top draft pick types are not the best play. In these cases, you may want to look for a one-week only streamer to fill a lineup gap. These are not season long pickups, just players that have a good chance to produce in the current matchup/circumstance.
Quarterback
Blake Bortles JAC
After losing his top weapon, Bortles goes on to put up 30 fantasy points versus a good defense. Chalk week 3 up to jet lag for the Ravens I guess. In week 4 there will be another kind of "Jet lag". This time it is the kind created by the Jets mediocre talent lagging behind the competition. Bortles is still not a good quarterback, but the Jets are not good enough to win 2 in a row. Fournette should do the heavy lifting, but I like Bortles for 25o yards and a pair of scores.
Mike Glennon CHI
A quick glance at his stats will tell you that Glennon is not an every week starter. That is, unless you are the real life Chicago Bears. He has shown to be a serviceable NFL quarterback in one game increments, but over a season or even a month Glennon stinks. In week 4 he faces a Packers defense that provided a nice get-right game for Andy Dalton. The Bears do not have A.J. Green of course, but Glennon has a scintillating weapon in Tarik Cohen. If you are really stuck at QB for week 4, Glennon is worth a look.
Running Back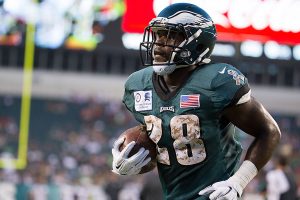 Wendell Smallwood PHI
The Eagles seemed to finally get it going on the ground in week 3. It figures that one of their top backs would get hurt as soon as they have success. Darren Sproles may have a broken arm and will almost definitely miss significant time. That means that Wendell Smallwood will almost certainly see expanded duties. It would not surprise me if the Eagles go out and sign another back (Ryan Mathews?), but for this week Smallwood should have value.
Jamaal Williams GB
The Packers have talked about spelling Ty Montgomery, but it has just been talk. In week 4 things could change to a degree. There is a good chance that the Packers will go up big on the Bears. If that game script plays out, then the coach might finally give Montgomery a breather. Williams is the perfect guy to run out the clock for a quarter or two. That would let the Pack see what they have in their rookie back while resting bell-cow Montgomery. If you have been waiting to flex Williams, this may be the only week that it makes sense.
Wide Receiver
Torrey Smith PHI
There was a time when Smith was worth a roll of the dice every week, but we are beyond that. Now a boom or bust commodity akin to early 2000's Devery Henderson, Smith has his moments. Week 4 could well be one of those moments as the Chargers secondary is reeling. Stud cornerback Jason Verrett is on the IR for the second straight season. That should leave things wide open for Jeffery, Agholor, Smith and Ertz. Carson Wentz loves his downfield shots and week 4 looks primed for one to connect.
Paul Richardson SEA
The Seahawks passing game is beginning to click in some areas. That may be a short lived thing as their schedule gets tougher, but not until after week 4. This week the 'Hawks get the hapless Colts and should be able to impose their will. At the moment Russell Wilson is looking to his wide receivers near the red zone. Richardson has scored twice already and should make it three in a row in Indy. I would not even keep him on my roster beyond week 4, but he is a decent matchup play this week.
Tight End
OJ Howard TB
The Giants have allowed a tight end score in every game so far this season. The Bucs have been involving the rookie in the passing game more, but it has not showed in the stat sheet. This game is the one time where it is likely for Howard to show his stuff. Cameron Brate is still a much better season long play, but both tight ends could get theirs in week 4.
Gerald Everett LAR
The Rams offense is clicking and Jared Goff is starting to gain confidence. They are facing off against a Cowboys team that seems to be very up and down in 2017. Everett certainly has the skill to take advantage of the Cowboys inconsistent defense. It will come down to which players get the opportunities in this contest. I think that Gurley and Watkins will have LA near the red zone often enough to make Everett a factor.
Putting Together A Winning Lineup
D/ST
SF 49ers
San Francisco has not looked good on defense, but they have some young playmakers. Add in the fact that the Cardinals offense looks bad minus David Johnson and there is a chance for a low scoring affair. A couple of turnovers by an aging Carson Palmer would be the icing on the cake for this surprise  play.
ATL Falcons
The Falcons are known for their offense, but the still have playmakers on the other side of the ball. The Bills have struggled mightily to put together an offense this season. LeSean McCoy has not been himself without Sammy Watkins to stretch the field. Jordan Matthews and Zay Jones have done little to help the situation so far. If Atlanta can bottle up Shady, they may pile up defensive points against a mistake prone Tyrod Taylor.
Make sure to check back with FK often for more exclusive content. As always, follow us on Twitter for more insight and analysis: @_knuckleheads and @brendancole16.