Week 3 was a tough one to predict as some very reliable offenses fizzled out. The Jets, Cardinals and Steelers all had very poor showings. This led to several quarterbacks and wide receivers leaving their owners high and dry; but week 4 is on the way and the slate will be wiped clean.
Week 3 Recommendations Results (Standard League Scoring):
Tyrell Williams SD - 6 receptions 69 yards 6 Fantasy Points
Sammie Coates PIT - 3 receptions 50 yards 5 Fantasy Points
Cole Beasley DAL - 7 receptions 73 yards 7 Fantasy Points
Victor Cruz NYG - 3 receptions 70 yards 7 Fantasy Points
Mike Wallace BAL - 3 receptions 34 yards 3 Fantasy Points
Everyone on this list is probably worth hanging on to, barring a need at another position or a Jordan Howard pickup. Williams, Coates and Wallace were victims of tough days for their collective offenses. Beasley did about what he will do most weeks. Cruz is a safe bet almost all the time, although I would bench him for the Giants matchup with the Vikings in week 4.
Week 4 Waiver Wire Picks (Under 50% owned per ESPN)
Terrelle Pryor CLE 27.8% owned
It seems strange to classify Pryor as a wide receiver because he played several different positions in week 3. He flourished as a receiver but he also threw passes, rushed the ball and played a down at safety. Most of the fantasy goodness came as a result of 8 catches for 144 yards, along with 4 carries for 21 yards and a TD. Pryor is going to eventually lose some touches as Gordon returns and Coleman gets healthy. If Cleveland continues to exploit his versatility and athleticism, he will be valuable even when the roster is at full strength.
Jamison Crowder WAS 11.1% owned
The Redskins have proven over the first few weeks of the season that they cannot run the football. Passes are flying in abundance and Jamison Crowder is an integral part of that passing game. Jordan Reed and DeSean Jackson are targets 1 and 1A, but Crowder is following close behind the two in terms of touches. Through 3 games, Crowder has 16 catches and two touchdowns. The Redskins are most assuredly going to continue to throw the ball and that makes Crowder worth owning in all but the shallowest leagues.
Anquan Boldin DET 18% owned
The Detroit offense runs squarely through Matthew Stafford and Marvin Jones at this point. There are going to be some plays where someone else has to touch the ball, however. On these plays it seems that Boldin may be moving ahead of Golden Tate in Stafford's progressions. There is almost no chance that Boldin is going to break a long run and the volume is not really heavy. Think of him more along the lines of a tight end. He should be good for a few catches a game and he also functions as a nice red zone target. Two games in a row Boldin has managed to score and he may be able to make it three in a soft matchup with the Bears in week 4.
You may also be interested in our Week 4 Player Rankings
Double Down
Cole Beasley DAL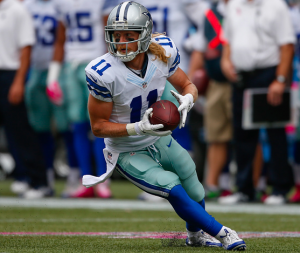 The offense in Dallas centers around running the ball and throwing a lot of short to intermediate passes. This strategy falls right into the wheelhouse of Cole Beasley and Dak Prescott has zoned in on him quite often. Beasley was already almost a no-brainer for PPR leagues, but he should move into the discussion for standard league rosters as well. The latest injury to Dez Bryan could cause him to miss time and that would benefit Beasley and Jason Witten. All that is missing for Beasley now is a share of the action in the red zone.
Be sure to read all of our waiver wire pickups headed into week 4.