Wide receiver has become the position in the NFL where points are incredibly plentiful. There were some huge performances in week 3, most of them by players who are already household names. The talent at receiver still runs deep and there are solid players to be found on most waiver wires. Here are a couple of guys who could help out your team in the sort term and for the long haul.
Rishard Matthews MIA
In case you missed my recommendation last week, go get Rishard Matthews. This guy is not the most high profile player on the Dolphins, but he is clearly one of the go to receivers for Ryan Tannehill. There has not been a week so far where Matthews failed to produce double digit fantasy points. The results speak for themselves and this is a receiver who should be owned in all leagues.
Week 4 Waiver Wire Picks - Running Back
Ted Ginn Jr. CAR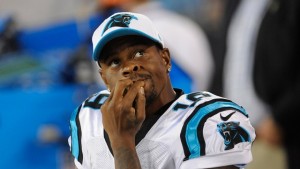 Ginn Jr. is a player who was incredibly flashy in college and had a lot of hype coming into the pros. Beyond a few highlight reel plays, his potential never really manifested itself but he has been useful at times. Now the journeyman finds himself on a team where the only other real receiving threat is the tight end, Greg Olsen. Cam Newton seems to have a nice rapport with Ginn Jr. and looks for him fairly regularly. I still think that Devin Funchess will be a bigger part of this offense as the season goes on, but look for Ginn Jr. to have several more starter-worthy performances this year.
Leonard Hankerson ATL
When it comes to the Atlanta passing game, Julio Jones is the first, second and third option. At a certain point, Matt Ryan does have to throw to another receiver, though. Right now that receiver is Hankerson more often than Roddy White. Week 3 did not see Hankerson repeat the gaudy number that he put up in week 2, but he is still second on the team in targets, catches and receiving yards. If this guy is still out there on your waiver wire, you could do a lot worse for an injury replacement or flex option.
Week 4 Waiver Wire Picks - Quarterback and Tight End
Allen Hurns JAC
This is not likely a player who is going to turn the tide of your fantasy team, but he does see a fair number of targets and has a low floor. Hurns has produced at least 60 receiving yards per week and is the second option on the team behind Allen Robinson. While he is not the best receiving option on the team, Hurns did lead the Jags in receiving touchdowns last season. There is the potential for more here if he gets going.
Kenny Britt STL
Nick Foles appears to be developing a nice chemistry with Kenny Britt and fantasy owners may want to take advantage of that. Britt has posted double digit fantasy points the last two weeks as he had a touchdown in week two and went over 100 receiving yards in week 3. This is not a high scoring offense, but somebody is going to put up some points. I think that Britt is as safe a bet as any if you want to invest in a Ram.
Broken Record Pick - Marvin Jones CIN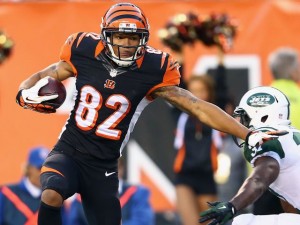 I have recommended Marvin Jones repeatedly and in different ways, but he is still underowned. Jones has scored touchdowns in back to back weeks and the last game saw him catch 5 balls for 94 yards. He is a beast in the red zone and Andy Dalton is taking a step in the right direction this year. I know that I have said this before, but pick up Marvin Jones.