As fantasy football draft season gets in gear, everyone is looking for tips on hot rookies or breakout players. Players who have burned fantasy owners in the past still deserve consideration as circumstances change. While it makes sense to avoid someone who torpedoed your season, these post-hype sleepers can be a true bargain.
Jay Cutler
Last season there was a lot of hype surrounding Jay Cutler and Tony Romo. Owners who took a chance on Romo ended up very happy; Cutler was a different story. He was a complete and unmitigated disaster, to the point that there was talk of releasing him at the end of 2014. Despite his terrible decision making and frequent turnovers, Cutler still threw for over 3800 yards and 28 touchdowns. This news comes as little consolation to the teams that Cutler torpedoed with his interceptions but it is still worth noting.
Last year the Bears' entire season was a lost cause, Cutler never bought into Marc Trestman's system and things swirled out of control. 2015 brings a new head coach in John Fox and another chance for Cutler. The offense should have a chance to be special with Alshon Jeffery, Kevin White and Martellus Bennett catching passes. Matt Forte should get more steady carries and Fox will whip that defense into shape. I'm not going all in on the Bears, but there will be enough stability for Jay Cutler to present a nice value for owners brave enough to gamble on him..
Some in-depth analysis on drafting a quarterback
Jonathan Stewart
I know what you're thinking, Jonathan Stewart has broken the hearts of fantasy owners for years. This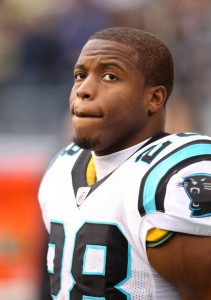 year, he is healthy and Deangelo Williams is out of the picture. This should mean solid production from Stewart, at the least a RB2.
This is a make or break year for Cam Newton, who wants to be viewed in the top tier of NFL quarterbacks. The addition of Devin Funchess opposite Kelvin Benjamin gives Newton the opportunity to really open up the field and this should mean good things for J-Stew. Certainly do not get crazy and take Stewart in the first couple of rounds. However, if the price is right don't hesitate to pull the trigger.
Check out the full running back rankings
Marvin Jones
Jones is a guy who had the look of a breakout candidate last year. Then he missed the entire season with a broken foot. After a player spends an entire year away from the game it is easy for owners to forget about him, but remember the skills that put him on the radar to begin with.
Along with Jones, Tyler Eifert is also returning for the start of the 2015 season and of course A.J. Green is still in Cincinnati. There are a lot of mouths to feed on the Bengals offense, but there should also be a lot of scoring. Owners who can snag Jones as a WR3 or even stash him on the bench should see a nice return on the investment.
Percy Harvin
As far as ability goes, there are few players in the NFL with more than Percy Harvin. He was electrifying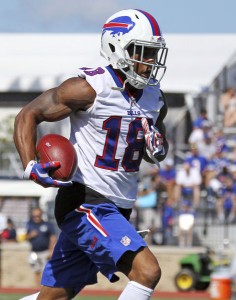 during his time with the Vikings and then fizzled out with the Seahawks and Jets. This has largely been an attitude problem for Harvin, but it is also the way that coaches have used him.
Now in Buffalo, Harvin is surrounded by a lot of talent on offense (not at quarterback unfortunately). He appears to be in a good mindset and should be ready to get back to being a productive all around player. This is a guy who should be available late in the draft or on the cheap if you are in an auction league. Pick up Percy and cross your fingers that Manuel can get him the ball.
Jordan Cameron
Cameron is one season removed from a pro bowl campaign where he almost topped 1,000 yards. Last year was a tough one for Cameron and everyone else on the Browns. The offense was terrible and everyone's numbers suffered.
In 2015, Cameron will have a fresh start with an emerging offense. He has a quarterback who is on the verge of being a star and other pro-caliber receivers to take some of the pressure off. Cameron should emerge as a consistent red zone threat and a reliable option at a volatile position.
That's it for now, file away this newfound knowledge for your fantasy draft. Prepare yourselves for scoffing league-mates when you draft these fantasy pariahs. Just remember that you'll be the one laughing when your post-hype sleepers help you make your run to the playoffs.
Before you go into the draft don't forget: How to create your positional cheat sheets.