As we near the quarter mark of the NFL's regular season, one thing has become clear: the world is upside down. And inside out. In PPR formats, Antonio Brown is barely a WR1. Odell Beckham is barely a WR2. And in Standard formats...well, let's just say a lot of you reading this have at least considered dropping them. These are weird times indeed, folks. So expect this week's wide receiver rankings to be equally weird.
Target Monsters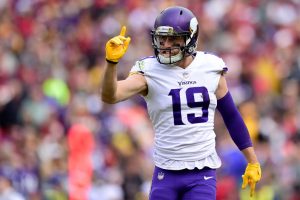 Adam Thielen has accrued a league-high 44 targets over 3 weeks, accumulating in week-high (and utterly ridiculous) 19 targets in Sunday's loss to the Bills. He appears to be the Viking receiver to own right now. Every year there's a wide receiver (or ten) the fantasy community undervalues well into the season. This year, you can count Thielen among those names.
It's a new day in Cleveland, and Jarvis Landry is set to reap the benefits. Landry racked up 15 targets this week, with 10 of those coming while Baker Mayfield was under center. The entire Browns offense gets a boost with Mayfield as the QB, and Landry now belongs in the WR1 discussion.
Michael Thomas suffered a season-low...10 targets. The guy is just a football magnet, plain and simple. He's the Garth Algar to Drew Brees' Wayne Campbell, and you're starting him every week.
The Rams passing attack is alive and well. Robert Woods, Brandin Cooks, and Cooper Kupp all have 20 or more targets thus far (with 29, 25, and 21, respectively). Woods has been the most consistent in general, but Kupp's 7 red zone targets puts him 3rd among all wide receivers. If the question is "Which Rams receiver do you start this week?" The answer has to be "All of them."
Snap Count Studs
Chris Hogan was on the field for 100 percent of the Patriots' offensive snaps in Week 3. And it didn't matter one bit. The journeyman wideout somehow walked out of this ideal situation -- leading the team in routes run, against a very flawed Detroit, with Tom Brady throwing him the ball -- with just 3 receptions for 31 yards. Getting Josh Gordon on the field and Julian Edelman back from suspension may actually help Hogan's case if they can get the offense in rhythm. Don't drop him yet, as New England is known for kicking things into a higher gear mid-season.
Will Fuller also played 100 percent of offensive snaps, and it showed. He notched 5 receptions for 101 yards and a touchdown -- his second 100-yard game of the season -- and showed, beyond a doubt, that Deshaun Watson is better with him on the field. I'm sure the coaching staff noticed, and I don't expect his snap count to decrease much over the rest of the season.
Keelan Cole's snap percentage has steadily risen over the last 3 weeks --up to 93% -- corresponding with Leonard Fournette's absence. Supposing Fournette is healthy this week against the Jets, it will be interesting to see if Cole's usage continues to trend upward.
For more in-depth, in-season lineup advice, make sure to check out Fantasy Knuckleheads premium content!
| Rank | Player | Team | Opponent |
| --- | --- | --- | --- |
| 1 | Michael Thomas | NO | @NYG |
| 2 | Odell Beckham Jr. | NYG | NO |
| 3 | Julio Jones | ATL | CIN |
| 4 | Mike Evans | TB | @CHI |
| 5 | DeAndre Hopkins | HOU | @IND |
| 6 | Antonio Brown | PIT | BAL |
| 7 | Keenan Allen | LAC | SF |
| 8 | Tyreek Hill | KC | @DEN |
| 9 | A.J. Green | CIN | @ATL |
| 10 | Davante Adams | GB | BUF |
| 11 | Adam Thielen | MIN | @LAR |
| 12 | JuJu Smith-Schuster | PIT | BAL |
| 13 | Emmanuel Sanders | DEN | KC |
| 14 | T.Y. Hilton | IND | HOU |
| 15 | Jarvis Landry | CLE | @OAK |
| 16 | Stefon Diggs | MIN | @LAR |
| 17 | Golden Tate | DET | @DAL |
| 18 | Demaryius Thomas | DEN | KC |
| 19 | Will Fuller | HOU | @IND |
| 20 | Kenny Golladay | DET | @DAL |
| 21 | John Brown | BAL | @PIT |
| 22 | Robert Woods | LAR | MIN |
| 23 | Allen Robinson | CHI | TB |
| 24 | Brandin Cooks | LAR | MIN |
| 25 | Larry Fitzgerald | ARI | SEA |
| 26 | Cooper Kupp | LAR | MIN |
| 27 | Sterling Shepard | NYG | NO |
| 28 | Tyler Boyd | CIN | @ATL |
| 29 | Michael Crabtree | BAL | @PIT |
| 30 | Amari Cooper | OAK | CLE |
| 31 | Nelson Agholor | PHI | @TEN |
| 32 | Kenny Stills | MIA | @NE |
| 33 | Calvin Ridley | ATL | CIN |
| 34 | Tyler Lockett | SEA | @ARI |
| 35 | Marvin Jones | DET | @DAL |
| 36 | Sammy Watkins | KC | @DEN |
| 37 | Corey Davis | TEN | PHI |
| 38 | DeSean Jackson | TB | @CHI |
| 39 | Quincy Enunwa | NYJ | @JAC |
| 40 | Mike Williams | LAC | SF |
| 41 | Keelan Cole | JAC | NYJ |
| 42 | Geronimo Allison | GB | BUF |
| 43 | Randall Cobb | GB | BUF |
| 44 | Chris Godwin | TB | @CHI |
| 45 | Chris Hogan | NE | MIA |
| 46 | Antonio Callaway | CLE | @OAK |
| 47 | Albert Wilson | MIA | @NE |
| 48 | Marquise Goodwin | SF | @LAC |
| 49 | Josh Gordon | NE | MIA |
| 50 | Ted Ginn | NO | @NYG |
| 51 | Jordy Nelson | OAK | CLE |
| 52 | Jakeem Grant | MIA | @NE |
| 53 | Robby Anderson | NYJ | @JAC |
| 54 | Ryan Grant | IND | HOU |
| 55 | Alshon Jeffrey | PHI | @TEN |
| 56 | Dante Pettis | SF | @LAC |
| 57 | Pierre Garcon | SF | @LAC |
| 58 | Tyrell Williams | LAC | SF |
| 59 | Brandon Marshall | SEA | @ARI |
| 60 | Devante Parker | MIA | @NE |
| 61 | Courtland Sutton | DEN | KC |
| 62 | Anthony Miller | CHI | TB |
| 63 | Tavon Austin | DAL | DET |
| 64 | Christian Kirk | ARI | SEA |
| 65 | Dede Westbrook | JAC | NYJ |
| 66 | Phillip Dorsett | NE | MIA |
| 67 | Kelvin Benjamin | BUF | @GB |
| 68 | Doug Baldwin | SEA | @ARI |
| 69 | Terrelle Pryor | NYJ | @JAC |
| 70 | Taylor Gabriel | CHI | TB |
| 71 | Mohamed Sanu | ATL | CIN |
| 72 | Danny Amendola | MIA | @NE |
| 73 | Allen Hurns | DAL | DET |
| 74 | Willie Snead | BAL | @PIT |
| 75 | Cole Beasley | DAL | DET |
| 76 | Donte Moncrief | JAC | NYJ |
| 77 | John Ross | CIN | @ATL |
| 78 | James Washington | PIT | BAL |
| 79 | Cameron Meredith | NO | @NYG |
| 80 | Rashard Higgins | CLE | @OAK |
| 81 | Zay Jones | BUF | @GB |
| 82 | Trent Taylor | SF | @LAC |
| 83 | Jaron Brown | SEA | @ARI |
| 84 | Taywan Taylor | TEN | PHI |
| 85 | Chris Conley | KC | @DEN |
| 86 | Michael Gallup | DAL | DET |
| 87 | Laquon Treadwell | MIN | @LAR |
| 88 | Martavis Bryant | OAK | CLE |
| 89 | Adam Humphries | TB | @CHI |
| 90 | Jermaine Kearse | NYJ | @JAC |
| 91 | Deonte Thompson | DAL | DET |
| 92 | Brandon LaFell | CIN | @ATL |
| 93 | Jordan Matthews | PHI | @TEN |
| 94 | Andre Holmes | BUF | @GB |
| 95 | Chester Rogers | IND | HOU |
| 96 | J.J. Nelson | ARI | SEA |
| 97 | Seth Roberts | OAK | CLE |
| 98 | Cody Latimer | NYG | NO |
| 99 | T.J. Jones | DET | @DAL |
| 100 | Cordarrelle Patterson | NE | MIA |