Welcome to week 5. It's about that time of year where, no matter how good or bad your team happens to be doing, some sort of adversity -- whether it be injuries or bye weeks -- begins to throw stones at your glass house. Welcome to both the real world and fantasy football. We'll sift through the injury report, the depth chart changes, and the weekly dose of open dates (Carolina, Miami, Minnesota, New York Jets) as we set our week 5 tight end rankings. There is plenty of information to consider as we enter the second quarter of the NFL season, so we'll dive right in.
Remember: an asterisk (*) next to a player's name denotes a possible injury concern for that player.
Week 5 Tight End Rankings 1-10
1. Rob Gronkowski @ DAL- Gronk is back off his bye week, and jumps right in to a delectable matchup with the Cowboys, who saw Josh Hill break loose for a touchdown in week 4. Sean Lee (concussion) is a question mark, as injuries continue to mount for Dallas.
2. Martellus Bennett @ KC- Bennett was boosted by the return of Jay Cutler in week 4, and saw a season-high 13 targets. That volume should continue as Alshon Jeffery continues to be hampered by a nagging leg injury, leaving Bennett and Eddie Royal as Cutler's top targets.
3. Jason Witten vs NE- Witten has proven that he doesn't need Tony Romo to put up good numbers. However, it will be interesting to see how Bill Belichick chooses to defend him. Former Patriot Brandon Browner drew the task of covering Witten most of week 4 as the Saints beat Dallas, and the Pats could employ a similar tactic in the red zone. Witten hasn't scored since week 1, but is still a strong top-5 play.
4. Jimmy Graham @ CIN- It's been a see-saw first four games for Graham in his new digs, and week 4 was another scoreless affair for the playmaker. Week 5 on the road at Cincinnati seems like a good venue to bounce back, but it's clear that Graham is not quite the focal point in Seattle that he was with Drew Brees and the Saints.
5. Tyler Eifert vs SEA- On the other side of that Seahawks/Bengals matchup, Eifert figures to be an important piece of the puzzle if Cinci is to pull off a big week 5 win. Eifert has had an up-and-down start to the season, and it's hard to predict how things will unfold week-to-week in the Bengals' offense, but we like him this week. It would be nice to see those targets increase; he had 17 in weeks 1-2, but has just 7 combined over the last two weeks.
6. Jordan Reed* @ ATL- If Reed can go (he's a big question mark at this point) he's a weekly high-upside play. Trouble is, as it always has been with him, Reed just can't stay healthy. If he can not go, Derek Carrier will be the next man up with Niles Paul (knee) out for the season.
7. Travis Kelce vs CHI- The Chiefs passing game is what it is, and it's hard to count on Kelce seeing his deserved amount of targets. Nevertheless, he's too good not to be considered a top-ten play. With Jeremy Maclin gaining steam on the outside, Kelce should start seeing more looks from Alex Smith. Emphasis on should.
8. Charles Clay @ TEN- Clay has been on fire with 14 catches on 20 targets, 193 yards, and a touchdown over the last two games. He also had a score called back last week due to a penalty. We love him at Tennessee this week, and with Sammy Watkins uncertain to play, he has a chance to continue to see plenty of targets from Tyrod Taylor, who loves his tight end.
9. Owen Daniels @ OAK- You already know that the team to stream tight ends against is the Oakland Raiders. Owen Daniels is the man this week, and the veteran figures to have his opportunities to make the most of the holes in Oakland's defense. He will look to join the likes of Tyler Eifert, Crockett Gillmore, Gary Barnidge, and Martellus Bennett, who have all shined against Oakland in this young season.
10. Richard Rodgers vs STL- Rodgers makes his way into the top-ten this week with the likes of Greg Olsen, Jordan Cameron, and Kyle Rudolph on bye. His targets have increased over the last three weeks, and he is developing into a nice release valve for Aaron Rodgers. He scored his second touchdown of the season in week 4.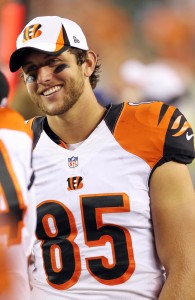 Week 5 Tight End Rankings 11-32
11. Eric Ebron* vs ARI
12. Gary Barnidge @ BAL
13. Ladarius Green vs PIT
14. Heath Miller @ SD
15. Crockett Gillmore* vs CLE
16. Larry Donnell vs SF
17. Dwayne Allen* @ HOU
18. Vernon Davis* @ NYG
19. Delanie Walker vs BUF
20. Zach Ertz vs NO
21. Antonio Gates vs PIT
22. Coby Fleener @ HOU
23. Jacob Tamme* vs WAS
24. Scott Chandler @ DAL
25. Jared Cook @ GB
26. Derek Carrier @ ATL
27. Josh Hill @ PHI
28. Brandon Myers vs JAX
29. Benjamin Watson @ PHI
30. Clay Harbor @ TB
31. Gavin Escobar vs NE
32. Brent Celek vs NO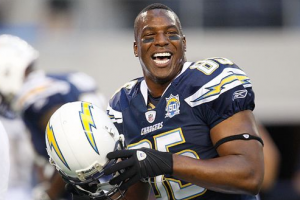 Week 5 Tight End Sleepers
Derek Carrier @ ATL- Jordan Reed is iffy, so Carrier would have a big workload to fill.
Scott Chandler @ DAL- New England's number two tight end is always an intriguing flyer. Chandler is dangerous in the red zone where Dallas will be paying extra attention to Gronk.
Zach Ertz- Seen more as a high-upside potential guy than a week 5 sleeper this time a month or so ago, Ertz may have a chance to announce his arrival in week 5 against a see-saw Saints unit. He'll need targets.
Gavin Escobar vs NE- Escobar played more snaps against the Saints in week 4, lining up in multiple areas throughout the offense. Brandon Weeden won't hesitate to look his way if he's on the field and Jason Witten is covered.
Week 5 Tight End injuries to monitor
Jordan Reed (concussion/leg)
Eric Ebron (leg)
Crockett Gillmore (calf)
Dwayne Allen (ankle)
Vernon Davis (knee)
Jacob Tamme (concussion)
Julius Thomas (hand - not expected to play until week 6 at this time)
Keep an eye on the injury report, and best of luck in week 5.