After a week where many of the top fantasy options were duds, some people may be left scratching their heads. As most of you know though, this is just the way that fantasy sports work. You can plan and research carefully and your top guy may still get you one point and lead you to defeat. The good news is that there are always reinforcements within reach. If your team is feeling stale and defeated, then read on and see which player might be a good fit to invigorate your team.
Quarterback
Jacoby Brissett IND Rostered - 32%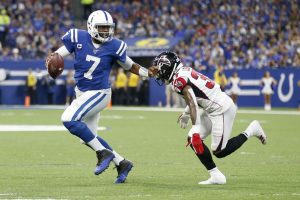 So far, Jacoby Brissett has been one of the more reliable starting options for 2019. He has had between 18 and 25 points each week, but he is owned in less leagues than Mitchell Trubisky?? This needs to change, because Brissett is a legitimate starting quarterback and he gets the Chiefs next week. Not only should he continue his trend of reliability, he might have his best game to date in week 5.
Gardner Minshew JAC Rostered - 14%
There will probably not be a week where Minshew puts up 40 points, but he has been doing a nice job. He has performed steadily and does not turn the ball over much. There have been three games where Minshew threw for multiple touchdown passes and no games without a TD pass. There are certainly more exciting quarterback options, but if you lost a starter or drafted Kirk Cousins, grab Minshew and ride the mediocrity.
Running Back
Ronald Jones TB Rostered - 41%
Without knowing how weekly carries will shake out, it's tough to project points. One thing that is not tough to project is that Jones is the best running back in Tampa. He is running with authority and clearly has his confidence back. RoJo looked like a big time prospect coming out of USC and then flopped as a rookie. Now he is on track toward being the main back in the Bucs offense, however. Over the last two weeks, Jones has racked up over 200 total yards while splitting time with Peyton Barber. It seems reasonable to believe that if he can keep it up, Jones could be carrying the load soon.
Darrel Williams KC Rostered - 44%
Everyone knows that the Chiefs offense is one of the best in football. Another fact that should be widely known is that Williams has a valuable role in that offense as long as Damien Williams sits. That may end this week, but Darrel is worth a grab either way. This team can support two running backs and the top two on the depth chart have an injury history. This guy is an insurance policy worth having.
Worth A Shot
Jaylen Samuels PIT Rostered - 19%
It has been a tough start to the year for the Steelers, but facing the Bengals could get any team right. It is possible that all of the positive stats for Pittsburgh are a result of facing an abysmal Cincinnati team. On the other hand, the play calling may carry over to future games as the coaching staff looks for what works with Mason Rudolph at the helm. The short passing game and wildcat formation both bode well for the value of Samuels. He should be much more widely owned until we see how things shake out going forward.
Wide Receiver
Geronimo Allison GB Rostered - 27%
The Packers offense came alive in week 4 and they will look to continue to improve heading into a big week 5 matchup with the Cowboys. A big part of the Packers passing game was Geronimo Allison, although that was because Davante Adams was dinged up. There is a very real chance that Adams misses time with his turf toe injury and that would make Allison's value shoot up. There are much worse options at the flex than a receiver that Aaron Rodgers is comfortable with.
Preston Williams MIA Rostered - 5.7%
There is no denying that 2019 will be a historically bad year for the Dolphins. Their roster has very little talent and they are a matchup delight for streaming play. One of the only bright spots is rookie receiver Preston Williams. He is raw but extremely gifted physically and feels comfortable with Josh Rosen. I have mentioned this pickup in the past and I'm still on board now. Despite the likelihood of some down weeks, Williams is as strong an option as you'll find this deep into waivers.
PPR Special
Cole Beasley BUF Rostered - 20%
It should be no secret that Cole Beasley is a solid ingredient to PPR success. He has been the Cowboys' possession receiver for the last couple of seasons and is filling the same role in Buffalo. With 24 catches in 4 games, Beasley is putting up some solid totals for PPR owners. With Josh Allen likely to miss time, the Bills will probably rely even more heavily on the short passing game where Beasley thrives. This pickup should be a no brainer and there may even be a touchdown or two in the offing as a bonus for savvy owners.
Tight End
Ricky Seals-Jones CLE Rostered - 0%
My money would have been on Demetrius Harris replacing David Njoku as the Browns tight end of choice. For the moment it appears that Seals-Jones is the man, however. He caught all three of his targets in week 4 for 82 yards and a score. That should earn him more playing time going into week 5 and he may see even more targets if Landry misses time in the concussion protocol.
Jimmy Graham GB Rostered - 36%
The floor for this former stud has been shown to be precisely zero points. When he gets involved in the flow of the game, he can still make some plays, though. The Packers do not rely heavily on the tight end position, but Graham can still be a matchup problem and he is a reasonable start for tight end needy teams.
Be sure to peruse our weekly positional rankings before setting your lineups and come back next week for more of my waiver wire bonanza. Follow me on Twitter for extras and questions answered: @brendancole16.