Week 4 was about elite performers doing their thing in most cases. Julio Jones put up 300 receiving yards and Antonio Brown scored two more touchdowns. On the flipside, DeAndre Hopkins did not manage to score any fantasy points. On the whole, it was a week that demonstrated why receivers were drafted where they were, however. Going forward, there are some players that were not drafted in the first round but can still help teams. Here are a few of them.
Week 4 Recommendations Results (Standard League Scoring)
Terrelle Pryor CLE - 5 receptions 46 yards 1 touchdown 10 Fantasy Points
Jamison Crowder WAS - 2 receptions 21 yards 2 Fantasy Points
Anquan Boldin DET - 6 receptions 31 yards 3 Fantasy Points
Cole Beasley DAL - 3 receptions 66 yards 6 Fantasy Points
Pryor is going to be a usable WR on a weekly basis going forward; he produced despite being shadowed by Josh Norman. Crowder had a bad week, but do not cut him. Boldin will continue to function like a second tight end; dependent on touchdowns for value. Beasley played well but Elliott carried the Cowboys.
Waiver Wire Picks For Other Positions
Week 5 Waiver Wire Picks
Eddie Royal CHI                      9% Owned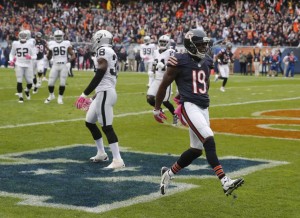 This season has been a decent one for Eddie Royal so far. He has been over 50 receiving yards in three of the first four weeks and scored in two of those weeks. It is clear at this point that Royal has the trust of the quarterbacks while Kevin White cannot get a firm grasp on the offense. When Alshon Jeffery is healthy Royal's value is capped, but how often does that happen? At worst there is decent value here as a flex play, maybe more in PPR leagues.
Dontrelle Inman SD                0.7% Owned
Sunday may have been a fluke for Inman; fantasy players have seen him have big games and then disappear in the past. On the other hand, Rivers has a drastically depleted roster of offensive talent and he has clicked with Inman before. For teams that are hurting at wide receiver, it makes sense to grab a Chargers receiver. Inman is the hot hand but it could be Tyrell Williams or someone else next week.
Brian Quick LA                       0.2% Owned
Recommending anyone from the Rams offense feels like bad advice, but Quick has been producing. Two touchdowns on Sunday and a touchdown the week before have Quick in the conversation for flex players. Since Case Keenum seems to have a decent rapport with Quick and the running game cannot get moving, there is reason to think that this production could continue for the moment.
Still Out There
Quincy Enuwa NYJ              40% Owned
There is plenty of volume in the Jets offense for Quincy Enuwa and he has continued to make plays despite the team's struggles. He is not the top option as long as Brandon Marshall is on the field, but Enuwa has been getting the ball a lot. If Ryan Fitzpatrick can remember which team to throw the ball to, the numbers for Enuwa could really explode.
Phillip Dorsett IND              44% Owned
The Colts looked like a high school football team in their game against the Jags in London. One of the only bright spots was a long touchdown pass to Phillip Dorsett. There were not as many targets for Dorsett as were anticipated with the absence of Donte Moncrief, but that may change over the course of the next couple of games. There is a ton of potential here and if Luck gets on the same page as Dorsett the results could be monster points.
Watch The Injury Report
Jeremy Kerley SF                  3.5% Owned
This veteran possession receiver has been seeing a lot of looks this season, but his production has been up and down. He finally went off versus the Cowboys but he was injured in the process. Kerley may be an option worth exploring for teams with players on a bye week, although his status is up in the air at the moment. This is further complicated by the fact that the 'Niners are playing on Thursday this week. Watch the injury report, but if you pick up Kerley it might be a better idea to give him a week before trying him in your lineup.