What if I told you that another raft of injuries made its mark across the NFL landscape in week 5? You'd probably believe me, because it's the same song and dance every week. If you're like me, your roster is basically being held together by duct tape and tie wraps at this point. You can't predict injuries, but you can stay aware of them and plan accordingly. That's what we're here for, as we get set for week 6 which kicks off on Thursday night in New Orleans with an NFC South rivalry game between the Saints and Falcons. Those teams will release their initial injury reports on Tuesday, with the rest of the league following suit on Wednesday. We'll do our best to address the most pressing injuries ahead of week 6 in this edition of the fantasy football injury report.
Week 6 Fantasy football injury report
- There's nowhere else to start but in Kansas City, where Jamaal Charles has been lost for the season with a torn right ACL. Charles, who tore his left ACL in 2011, should be ready for next season assuming he endures a smooth recovery. He went down without contact in a goal-to-go situation against Chicago on Sunday, and now the 1-4 Chiefs will turn to Charcandrick West and Knile Davis as they look to circle the wagons in the backfield. Kansas City will bring in former Saints' RB Pierre Thomas for a workout on Tuesday.
- Julio Jones saved his fantasy day by diving on a loose ball in the end zone for a touchdown, as the Falcons' wideout was otherwise obviously hampered throughout his team's comeback win over the Redskins due to a hamstring injury. Julio has a very short week working against him, but should be available when the Falcons travel to New Orleans on Thursday. Even if he's limited, Julio is still a top-5 play. Jones did not practice as the team held a light session on Monday, so his status will need to be closely monitored.
- Ravens' coach John Harbaugh said he was "hopeful" that veteran receiver Steve Smith Sr. could be available in week 6 after missing week 5 with injuries to his back and ribs. Smith had a few extra days to heal, as his week 4 injury occurred on a Thursday night. He missed Baltimore's overtime loss to Cleveland, but appears to have a much better chance of playing at San Francisco. Justin Forsett could also be available after being forced from Sunday's game with an ankle injury. Lorenzo Taliaferro seems to be edging closer to a return, having been listed as probable throughout week 5, but ultimately not playing. Tight end Crockett Gillmore missed his second straight game in week 5 with a calf injury, and his week 6 status remains unclear at this point.
- There is not a more banged up NFL backfield than the one located way up north in Buffalo. With LeSean McCoy not expected to play in week 6 as he continues to recover from his hamstring injury, fellow back Karlos Williams (concussion) missed week 5 and is in danger of missing week 6 as he remains in the league's concussion protocol. Cierre Wood, one of the Bills' fill-in backs along with Anthony Dixon and Dan Herron, tore his ACL in week 5, further compounding the situation with Buffalo's running back depth. Sammy Watkins missed his second straight game with a calf injury in week 5, but coach Rex Ryan believes the receiver has a good chance to return in week 6. Buffalo would certainly be boosted by his potential return, with so many injuries ravaging their skill positions.
- Alshon Jeffery remained out for Chicago in week 5, with the wideout still battling the hamstring injury which has bothered him since the summer. Jeffery played week 1, but has been sidelined since. Eddie Royal joined him on the sidelines with an ankle injury on Sunday, as the Bears came back to beat the Cheifs at Arrowhead with Marquess Wilson and Josh Bellamy filling in at the receiver spots. Jeffery was said to be making progress, so his status should be closely monitored this week.
- Broncos' RB Ronnie Hillman suffered a hamstring injury during his team's week 5 win at Oakland. Hillman had just 7 carries for 21 yards, and is nothing more than a FLEX option when healthy with C.J. Anderson playing well.
- Davante Adams missed his second straight game for Green Bay in week 5, and is still considered week-to-week at this time as he recovers from an ankle injury that also saw him very limited in week 3.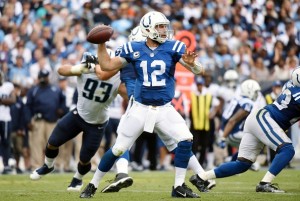 - In Houston, both Cecil Shorts III (shoulder) and Nate Washington (hamstring) remain iffy for week 6, though Texans' coach Bill O'Brien believes Shorts has a slightly better chance of returning than Washington. The Texans play the Jaguars in week 6. Their injuries keep Keith Mumphery in the fantasy conversation, while DeAndre Hopkins should continue to absorb a vast amount of targets.
- After initial optimism regarding his status last week, Colts' QB Andrew Luck appears ready to return in week 6. Luck has missed his team's last two games -- both wins -- with a shoulder injury, but was a full participant at Monday's practice as Indy comes off of their week 5 Thursday night win over the Texans. Luck will have Dwayne Allen back in tow, as the tight end returned from injury in week 5 after missing time.
- Jags' QB Blake Bortles injured his shoulder in week 5, and will likely be limited in practice ahead of the week 6 matchup with Houston. Bortles was able to play through the injury on Sunday, but it remains to be seen how he will respond to treatment throughout the week. RB T.J. Yeldon exited the game with a groin injury, though the rookie insisted that it was not a serious ailment. Bernard Pierce also left the game with a hamstring injury, so Jacksonville will be hoping that their backfield can heal up before Sunday's game with the Texans.
- The Vikings were without two key receivers at Monday's practice as Mike Wallace (knee) and Charles Johnson (ribs) were held out. Minnesota is coming off of their week 5 bye, so the players should have a chance of playing provided they can make it back onto the practice field this week.
- Marques Colston suffered a shoulder injury in Sunday's loss to the Eagles, and it appears that the Saints' veteran wideout may be dealing with structural damage in addition to a separation. Colston was spotted in a sling after Sunday's game, and is very unlikely to play on a short week against Atlanta.
- The Giants' receiving corps continues to ail, as both Rueben Randle and Odell Beckham Jr. picked up hamstring injuries in Sunday night's win over the 49ers. Randle's appeared to be more serious, though both players have the benefit of an extra day to recover as New York does not play until Monday night. Meanwhile, Victor Cruz continues to wait for his 2015 debut as he recovers from his calf injury.
- As the Jets come off of their bye, TE Jeff Cumberland (concussion) will hope to return after missing week 4. The Jets could use him, having already lost Jace Amaro and Zach Sudfeld for the season. If Cumberland can not go, Kellen Davis will play more snaps.
- Nelson Agholor left the Eagles' win over the Saints with a leg injury, but the rookie says it is not a serious problem and believes he will be ready for week 6.
- Martavis Bryant is eligible to return from suspension for Pittsburgh, but the wideout is dealing with a knee injury and did not play in week 5. The Steelers are expected to activate him on Tuesday.
- Stevie Johnson missed the Chargers' Monday night game with Pittsburgh due to the hamstring injury he picked up in week 4. However, fellow wideout Malcom Floyd (concussion) was active, which was good to see, given the veteran's lengthy injury history.
- The Seahawks were without Beast Mode in week 5, as Marshawn Lynch sat out his team's loss at Cincinnati with a hamstring injury. Coach Pete Carroll said that he expects Lynch to practice ahead of week 6. If he plays, Lynch will likely be eased back with Thomas Rawls performing well in his absence.
- The 49ers are hoping to have Vernon Davis (knee) back for week 6 after the tight end missed week 5. Unfortunately, Reggie Bush's status remains more murky, after the running back appeared to re-aggravate the calf injury he originally suffered in week 1.
- Titans' TE Delanie Walker picked up a hip injury on Sunday, but the 31-year-old told reporters after the game that he was fine. He may be limited, but should play in week 6.
- Redskins' RB Matt Jones left Sunday's overtime loss to the Falcons with a toe injury, and is considered day-to-day. Meanwhile, receiver DeSean Jackson is hoping to finally make his return from the hamstring injury that has sidelined him since week 2. DJax is ready to up his workload in practice, which should be the last hurdle he needs to clear in order to play.
Remember: keep an eye out for the injury reports as they are released through the week by all 32 teams. Good luck in week 6.