As the fantasy and NFL seasons reach week 6, most teams have a good idea of where they stand. If the draft, waiver and trades have gone well then your team is likely in a good position. On the other hand injuries, busts and misspent FAAB could have you reeling and on the brink of elimination. Whichever scenario sounds like a description of your team, there is probably a position that looks suspect and that can be handled with a savvy sleeper pickup.
Quarterback
Colin Kaepernick SF 7.6% owned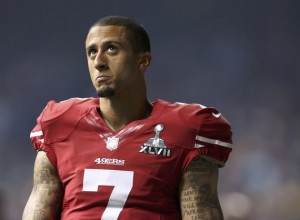 This would be the ultimate desperation move, but if Kaepernick could ever regain his past form it would be dynamite. The Colin Kaepernick that led the 49ers to the brink of a championship would be the perfect Chip Kelly quarterback. While there is no telling what kind of performance will be turned in against Buffalo, the potential is tantalizing. This recommendation is only for teams facing a quarterback apocalypse, but remember that Kaep is out there for the lost souls that were using Gabbert.
Running Back
Justin Forsett DET 27.1% owned
The backfield of the Detroit Lions is in bad shape, but someone is going to get some carries on Sunday. Theo Riddick has been ruled out already, that leaves Forsett and Dwayne Washington as the likeliest to benefit. Washington is facing an injury of his own and is no lock to even play. If Washington is unable to suit up, Forsett should see a fairly heavy workload. Zack Zenner will likely spell Forsett intermittently, but the former Raven will see the bulk of the work. Watch the injury news to determine just how appealing Forsett will be this weekend.
Jalen Richard OAK 23.6% owned
With Latavius Murray set to miss a second straight game, the Raiders will once again turn to the tandem of Richard and DeAndre Washington. Despite the fact that Washington got the preseason hype, he has been outplayed by Richard thus far. Explosiveness and good hands have led Richard to decent fantasy performances against New Orleans and San Diego. This week the Raiders face a Chiefs defense that struggles against the run. Richard is worth a flyer for teams struggling to fill the flex position or even RB2.
Wide Receiver
Kamar Aiken BAL 6.7% owned
It is difficult to say which players will actually suit up for the Ravens in their week 6 matchup with the Giants. Steve Smith and two offensive linemen will likely miss the game. Mike Wallace is also injured and questionable to play. This leaves Kamar Aiken as the receiver with the most proven track record on the team. Aiken has done little to warrant confidence so far, but last season he came close to 1000 yards receiving. If he is ever going to get back to contributing to fantasy teams, this is probably his best shot.
Dorial Green-Beckham PHI 6.4% owned
Considering Carson Wentz's penchant for spreading the ball around, secondary and tertiary options in the Philadelphia passing game are usually not a safe bet. This week, however, Jordan Matthews should be blanketed by Josh Norman possibly rendering him ineffective. This may leave Green-Beckham free to make plays against a defense that can be prone to giving up big plays. Wentz and Green-Beckham have been developing a rapport over the last few weeks and it is only a matter of time before touchdowns result from that.
Tight End
Richard Rodgers GB 7.7% owned
Finding a sleeper tight end can be an exercise in futility because it is going to come down to whether or not the score a touchdown. There have been some times that Rodgers has flourished as the Packers' starting tight end, but not lately. Week 6 against the Cowboys is likely to see the Pack looking for different ways to score. If they can get in close, Rodgers could be the beneficiary with Eddie Lacy nursing an injury.