The halfway point of the season is approaching and various injuries and breakouts have affected rankings and rosters. Odds are the team that you drafted may not have worked out exactly as you planned. The key from here out is to pivot with the new information as it comes in and make changes ahead of the curve. If your team needs a slight tweak or has a glaring weakness then head to the waiver wire and set things straight.
Quarterback
Gardner Minshew II Jac Rostered - 18%
At this point it seems safe to say that Minshew is the real deal. He is averaging 20 fantasy points per game and making the Jaguars offense relevant again. The ceiling is not incredibly high here, but Minshew is a reliable option for the quarterback needy fantasy manager.
Deep Stash
Sam Darnold NYJ Rostered - 7%
If you need a starting quarterback, then keep on moving. I think that Darnold is worth grabbing in deep leagues just based on his schedule starting in a couple of weeks however. In weeks 9-14, he plays soft pass defenses over five out of six games. We're talking Miami twice, the Giants, the Redskins and the Bengals. If Darnold can get himself right then Robby Anderson, Demaryius Thomas and LeVeon Bell will gash those teams.
Running Back
Jaylen Samuels PIT Rostered - 39%
This pickup is certainly not based on his most recent performance. The entire Steelers offense looked stale and Samuels even threw an interception on a trick play. He still has a solid share of touches though and the team does have playmakers. Better matchups are coming and Samuels will warrant the occasional flex start.
Darrel Williams KC Rostered - 37%
The Chiefs have shown that they can make any of their running backs valuable. It appears that Williams has been dropped in many leagues and he should be on rosters in a lot of those. Damien Williams and LeSean McCoy both have injury histories that suggest they will miss some time. Grab Darrel while he can be had for nothing instead of blowing your FAAB budget when his time comes around again.
Jonathan Hilliman NYG Rostered: 1%
If it will cost you more than a tiny fraction of your waiver budget, then don't bother here. There is some short term value to be had with Hilliman though. In the likely event that Saquon Barkley cannot go against the Patriots on Thursday, Hilliman would handle the starting duties for the G-Men. It isn't exactly a ripe opportunity against a strong Patriots defense, but during bye weeks any starting back has value.
Deep Pull
Tra Carson GB Rostered: 0%
Two things became apparent in the Packers' last game. First, Aaron Jones is a full-grown man that can beast out when given the opportunity. Second, Tra Carson is the clear backup as he was the only other running back to get touches. It appears that the Packers are truly committed to running the ball, so for Aaron Jones owners, it might make sense to roster his backup just in case. There is a good chance that Jamaal Williams will not be back for some time still.
Wide Receiver
Preston Williams MIA Rostered - 5%
With the Dolphins on a bye this week, nobody had to watch another painful beating in week 5. People may have also forgotten about the big target share that Williams is carving out for himself though. The rookie receiver has the trust of his quarterback and plenty of targets coming his way. The offense is anemic at best, but still getting that many opportunities is worth something. Williams is a risky start, but he has the possibility of a "boom" every week. He is a worthwhile lottery ticket to have.
Darius Slayton NYG Rostered - 1%
At the beginning of the year, it looked like secondary shares of the Giants passing game were not something to target. At this point, though, it looks like Slayton could be a big play artist in the young offense for Big Blue. He has five targets in two of his last three games and translated those to over 80 yards each time. The floor for Slayton is rock bottom, but when Daniel Jones is looking his way he can make big things happen.
Another On The Carousel Of KC Receivers
Byron Pringle KC Rostered - 0%
The Chiefs have been churning out big performances from wide receivers. Unfortunately, it is exceedingly difficult to predict which pass catcher will have a big game. Sammy Watkins, Demarcus Robinson, Mecole Hardman and Byron Pringle have all had their moment in the sun and likely will again. Add Tyreek Hill to the mix and it really becomes a gamble. By all means, grab Pringle if you feel lucky, but keep in mind that it is a weekly gamble with the KC offense.
Stash And Hold
Dante Pettis SF Rostered - 29%
It has been a rough start to the year for a receiver that looked like he was a budding star in 2018. Still, his coach gave him a vote of confidence and said that he has been battling injuries early in the season. The offense in San Francisco has been up and down, so they could use a playmaker like Pettis at full strength. I have a feeling that this may be the last chance to pick him up anywhere for free.
Tight End
Chris Herndon NYJ Rostered - 12%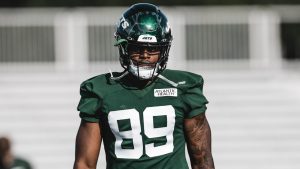 With the volatility at the tight end position, it is difficult to find a playmaker on waivers. That is just what you may find in Chris Herndon however. He has shown the ability to make big plays when Sam Darnold is in at quarterback and there is reason to believe that he will pick that up again in 2019. An early season suspension has Herndon available in most leagues and any team in need of tight end help should pick him up right away as he is ready to return.
Gerald Everett LAR Rostered - 3%
The Rams tend to go heavy on wide receiver targets, or at least they have in the past. Over the last couple of weeks, Everett has stacked up 8 and 11 targets. This is likely McVay playing the matchups, but the way that Everett took advantage of his opportunity will probably buy him some more in future games. This is not a player that you will want as your top option at tight end, but he is worth having on a roster over some of the bigger name options *cough* O.J. Howard *cough*.
Be sure to check out the weekly positional rankings before you set your lineup for week 6 and follow me on Twitter for extras and questions answered: @brendancole16.