The results are in from week 5, aside from the Monday night game. Tom Brady is back and picked right up where he left off, scorching defenses. While Brady is not going to be found on any waiver wire, there are still some options out there that could bolster your team or get it back on track.
Week 5 Recommendations Results: Quarterback (Standard League Scoring)
· Carson Wentz PHI – 25-33 238 yards 2 touchdowns 1 interception 2 carries 14 yards 18 Fantasy Points
· Ryan Tannehill MIA – 12-18 191 yards 2 interceptions 5 Fantasy Points
· Brian Hoyer CHI – 33-43 397 yards 2 touchdowns 27 Fantasy Points
Week 5 Recommendations Results: Tight End (Standard League Scoring)
· Zach Ertz PHI – 3 receptions 37 yards 3 Fantasy Points
· Cameron Brate TB – Plays On MNF
· Hunter Henry SD – 3 receptions 74 yards 1 touchdown 13 Fantasy Points
Carson Wentz threw the first interception of his career but still looks like a solid quarterback play heading forward. Ryan Tannehill and the Dolphins are disastrous on offense, especially in week 5. Brian Hoyer played very well and will keep the job as long as he keeps up a high standard of play.
Ertz had a quiet game in his first week back from injury. Brate plays tonight and should see a lot of targets in this one and going forward. Charles Sims to the IR means that Brate could be even more important to the Bucs offense. Hunter Henry is the tight end to own in San Diego. Antonio Gates will steal a few targets and touchdowns, but Henry is sure handed and dynamic.
The Rest Of The Waiver Wire Picks
Week 6 Waiver Wire Picks : Quarterback
Alex Smith KC 23.4% owned
Smith is a decent quarterback that can sometimes put up above average numbers. That may not be tantalizing as waiver wire pickups go, but look at the schedule. Coming off the bye week, the Chiefs face Oakland, New Orleans, Indianapolis and Jacksonville. There is potential for a big offensive output in each of those matchups. Smith should make a decent fill in for bye weeks or a matchup based start for a couple of weeks.
Marcus Mariota TEN 32% owned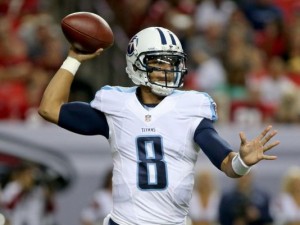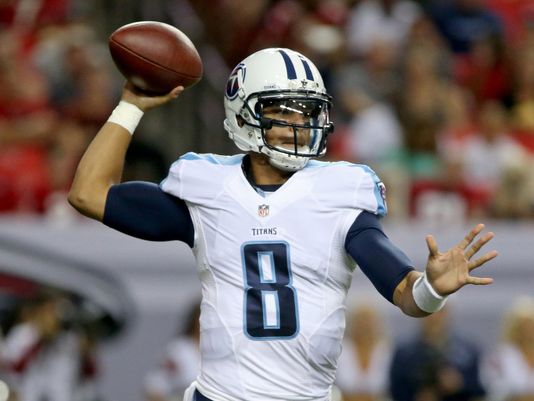 It may feel like chasing points, but Mariota has a tasty schedule coming up.
While he is more apt to lay a total egg than Smith, Mariota has a higher ceiling due to his rushing ability. The Titans have a friendly schedule coming up similar to that of the Chiefs. Tennessee faces Cleveland, Indianapolis, Jacksonville and San Diego over the next four weeks. There is a decent chance that Mariota has a real let down game in that stretch, but he should have a couple of gems. DeMarco Murray taking over games is probably the biggest threat to Mariota's production at the moment.
Double Down
Brian Hoyer CHI 16.6% owned
For anyone not paying attention, Hoyer has three straight games of 20 or more fantasy points. He is far from being a must start quarterback, but for teams in dire straits he can provide a big boost. The next two weeks versus Jacksonville and Green Bay are decent matchups for the Bears offense. After that the Vikings come to town and Hoyer should be planted firmly on the bench in all leagues.
Week 6 Waiver Wire Picks: Tight End
If They Are Out There:
Martellus Bennett 79.9% owned, Hunter Henry 55.4% owned
Bennett and Henry have been flying off the shelves lately, and rightfully so. I actually think that Henry has more long term value as the Patriots have more offensive weapons. Bennett scoring three touchdowns indicates that Belichick saw a specific weakness and exploited it. Next week could bring a huge scoring game for a different Patriot. Henry, on the other hand, is one of the lone playmakers on the Chargers roster. Gates is old, Gordon is overrated and the receiving corps is thin. There should be every chance for Henry to continue to shine if the coaching staff allows him enough playing time.
Jesse James PIT 20.6% owned
Despite not being a top priority on the Steelers offense, James sees his share of targets. He is especially useful in the red zone and as a result he has scored a touchdown in three of the past four games. He has a fairly low ceiling, but there is a solid chance to reach pay dirt each week.
Charles Clay BUF 13.8% owned
Since the Bills lost Sammy Watkins for the season, Charles Clay has started to see a fair number of targets. He has 5 catches in each of the past two games and next week the Bills play the weak 49ers defense. There is a good chance that if Clay continues to see the ball enough, he will score in this one. After faring well against the Patriots and Rams defenses, the 'Niners should be easy pickings for the big tight end.