As week 5 comes to a close there are several fluid backfields in the league. As some situations clear up, others become more muddled. Running back is a never ending carousel of pain for fantasy owners outside of a couple of stalwarts. If things did not spin your way in week 5, check out the waiver wire picks for some help.
Week 5 Recommendations Results (Standard League Scoring):
· Terrance West BAL – 11 carries 95 yards 9 Fantasy Points
· DeAndre Washington OAK – 9 carries 23 yards 5 receptions 29 yards 4 Fantasy Points
· Wendell Smallwood PHI – 0 carries 0 receptions 0 Fantasy Points
· C.J. Spiller (Stash) – Bye Week
Terrance West continues to look very strong as the lead back for the Ravens. It was strange that he only got 11 carries as he was extremely effective. DeAndre Washington did not look as good as teammate Jalen Richard as they split carries almost evenly.
Wendell Smallwood did not touch the ball as Ryan Mathews and Darren Sproles took every carry and reception at running back. Spiller and the Seahawks did not play of course.
Week 6 Waiver Wire Picks
Bilal Powell NYJ 44.6% owned
There is decent value to be found in Bilal Powell, but most of it comes via the passing game. For the moment, Matt Forte is garnering almost all of the handoffs for the Jets. The veteran back is looking a bit slower than he used to, while Powell still has fresh legs. This situation is worth watching as Powell could inherit quite a few more carries if Forte starts to wear down or suffers an injury. As it stands now, Powell is a strong play in PPR leagues and a decent flex option in standard leagues.
The Rest Of The Waiver Wire Picks
James White NE 38.5% owned
For the most part, this season has been a quiet one for White. He has come on a bit in the last two weeks and will look to build off of that success. There is a real possibility that he could do that with Tom Brady back in the fold. The only limiting factor that may put a damper on White's fantasy value is Dion Lewis. A far superior option at running back, Lewis could be back as soon as week 7. If that should come to pass, White may only have another week of utility left.
Devontae Booker DEN 21.1% owned
The results are not exciting for Booker at the moment, but his touches are fairly similar to C.J. Anderson's. This means that the Broncos think highly enough of Booker to have him out on the field quite a bit. Paxton Lynch struggled at quarterback in week 5, but if Siemian can get back soon the offense should get back on track. When the Broncos are clicking on all cylinders, Booker may begin to put up some flex-worthy fantasy numbers.
Keep An Eye On Him
Justin Forsett FA 27.4% owned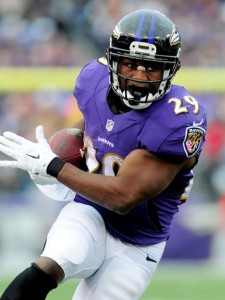 Forsett was cut by the Ravens after Terrance West proved that he was a better fit at running back. Now a free agent, Forsett is going to meet with the Lions to see if he can find a new place to tote the rock. Considering the wasteland that is the Lions backfield, it seems like a decent possibility that Forsett may find a new home there. In that case, he could find himself picking up the carries that had been tabbed for Dwayne Washington before his injury. The Lions have a very nice offense, so this situation bears monitoring.