As we move towards the middle of the 2015 NFL season, the normally top-heavy tight end position has expanded to include a new playmaker or two. From those who pulled off the early-season waiver wire scoop of Gary Barnidge to those who continued to believe in Antonio Gates' timeless skill set, fantasy owners who were unable to pluck one of the consensus top-five options at the position are sitting pretty with additionally good value spread elsewhere around their rosters, provided they were able to find a suitable tight end to see them through the first few games of the year. Maybe it was Tyler Eifert, written off after an injury-riddled 2014 season or, perhaps, Charles Clay in his new digs in Buffalo.
The fact of the matter is that it doesn't take a Rob Gronkowski, a Greg Olsen, or a Jimmy Graham to keep a team afloat. As long as you have an option with a reasonable floor, the tight end can -- pardon the pun -- tighten the screws on your roster as the games start to get bigger and bigger.
From this week's tastiest matchups, to the notable injury concerns and sleeper options, we've got you covered with our week 7 tight end rankings.
Remember: an asterisk (*) next to a player's name denotes a possible injury concern for that player.
Week 7 Tight End Rankings 1-10
1. Rob Gronkowski vs NYJ- Until something changes, keep Gronk locked in as the top tight end. Had a quiet night in week 6, catching just 3 balls for 50 yards, but managed to ice the cake with a score. Gronk and the Pats get the Jets in week 7, and we all know that Bill Belichick always has something in store for these rivalry games.
2. Greg Olsen vs PHI- Legion of what? Olsen and his Carolina teammates lowered the boom on Seattle in week 6, as the tight end starred in the Panthers' impressive win. He caught 7 balls for 131 yards and a touchdown. Olsen is the unquestioned top target for Cam Newton, and has averaged 9 targets per game thus far. That workload won't be decreasing anytime soon.
3. Travis Kelce vs PIT- With Jeremy Maclin in danger of missing the game, Kelce's presence will be huger than ever for the reeling Chiefs. Jamal Charles is done for the year, so Kelce could be the last playmaker standing in week 7 for KC as Pittsburgh comes to town. Shoe-in top-five play based on volume alone.
4. Antonio Gates vs OAK- Is it 2005? Gates is incredible, following up his impressive week 5 debut with another efficient day as he hauled in 9 balls for 95 yards on a whopping 16 targets as Philip Rivers aired it out. If Keenan Allen and/or Stevie Johnson can't play in week 7, both Gates and Ladarius Green will see plenty of passes come their way. Gates and Green face the tight end-friendly Raiders in week 7.
5. Jimmy Graham @ SF- Perhaps JG is starting to round into form. 8 catches, 140 yards and 12 targets: New Orleans Jimmy Graham kind of numbers, minus any end-zone impact. Graham gets a quick turnaround with a Thursday night primetime matchup against the 49ers. It's important that Seattle keeps feeding him the ball. Graham will capitalize if the targets come his way.
6. Gary Barnidge @ STL- Big Play Barnidge keeps shooting up the rankings. He gets a fast-track indoor matchup at St. Louis in week 7. The Rams have been known to frustrate tight ends here and there, but Barnidge has become one of Cleveland and Josh McCown's top options, and is a viable week 7 play.
7. Jason Witten @ NYG- Witten comes off of his bye week with a matchup against the Giants. He excelled against them in week 1 with an 8/60/2 line, albeit with Tony Romo under center. There has been talk of Dallas making the switch from Brandon Weeden to Matt Cassel, but even if Weeden remains under center while Romo heals, the targets will still come Witten's way. He has averaged just under 7 targets per game since Romo's injury.
8. Kyle Rudolph @ DET- The Vikings' passing game is starting to click. Rudolph had a quiet week 6, but managed to find the end zone, which he also did in the Vikes' week 2 matchup against Detroit. Rudolph plays well indoors, so we like him at Ford Field this week. With Stefon Diggs emerging opposite Mike Wallace on the outside, the middle of the field will be less congested, giving Rudolph the space he needs to make plays.
9. Julius Thomas* vs BUF- Not quite the 2013 Denver Broncos offense, but Thomas seems to be settling in now that he is over the hand injury which forced him to miss the Jags' first four games. Caught 7 balls (13 targets) for 78 yards and a touchdown in week 6. Has a minor rib injury, and faces a feisty Bills defense, but Thomas should be a top-ten option from here on out.
10. Charles Clay @ JAX- Clay bounced back after a quiet week 5. He is averaging around 7.5 targets per game, and caught 9 balls for 62 yards in week 6. Whether it's E.J. Manuel or Tyrod Taylor under center, the ball should come Clay's way plenty in week 7.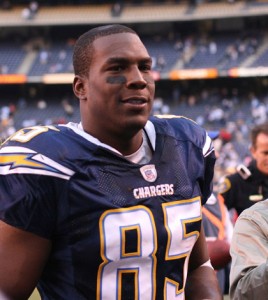 Week 7 Tight End Rankings 11-32
11. Jordan Cameron vs HOU
12. Larry Donnell vs DAL
13. Delanie Walker vs ATL
14. Jordan Reed* vs TB
15. Zach Ertz @ CAR
16. Vernon Davis vs SEA
17. Crockett Gillmore @ ARI
18. Eric Ebron* vs MIN
19. Ladarius Green vs OAK
20. Heath Miller @ KC
21. Coby Fleener vs NO
22. Benjamin Watson @ IND
23. Dwayne Allen vs NO
24. Derek Carrier vs TB
25. Jared Cook vs CLE
26. Jacob Tamme @ TEN
27. Austin Seferian-Jenkins @ WAS
28. Darren Fells vs BAL
29. Dion Sims vs HOU
30. Josh Hill @ IND
31. Brandon Myers @ WAS
32. Luke Willson @ SF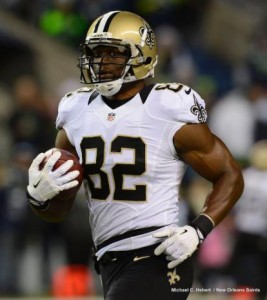 Week 7 Tight End Sleepers
Ladarius Green vs OAK- Clearly still a big part of the Chargers' attack even with Antonio Gates off of suspension. With Stevie Johnson and Keenan Allen nursing injuries, he could have a key role in week 7.
Tim Wright vs MIN- Deep flyer with some red zone appeal if Eric Ebron and Brandon Pettigrew both miss out.
Dion Sims vs HOU- Caught all 4 of his targets for 33 yards and a score in week 6. New Dolphins coach Dan Campbell was a TE2 in his day, and Sims is a talented plan B to pair with Jordan Cameron. Why not, right?
Week 7 Tight End Injuries to monitor
Jordan Reed (concussion)
Eric Ebron (knee)
Julius Thomas (rib)
Austin Seferian-Jenkins (shoulder)
Lance Kendricks (thumb)
Good luck in week 7.