Most fantasy rosters have taken shape as we are about half way through the regular season. Some glaring needs may be apparent and some tweaks may still be in order as well. Some things may have to be addressed via trade, but there are still some impact free agents to be found as well. Check out the suggestions ahead of week 7 and let's keep the fantasy momentum rolling.
Quarterback
Daniel Jones NYG Rostered - 40%
Most leagues saw Jones leave the waiver wire quickly after his first game scoring outburst. Things have gone downhill since then, particularly against the Vikings and Patriots. Seeing a rookie struggle against two of the premier defenses in the league without his best weapons should be no surprise. This week, Jones gets the Cardinals weak defense and also may see Saquon Barkley, Sterling Shepard and/or Evan Engram take the field. I'm buying Jones moving forward.
Kirk Cousins MIN Rostered - 26%
It has always been an up and down ride for people that roster Kirk Cousins. This year has been more down than up, but things are trending in the right direction at the moment. It appears that Cousins suddenly remembered that he has two of the premier wide receivers in the league and offense has ensued. There is no way to predict if things will continue this way, but the personnel around Cousins is so good that it should hold up.
Running Back
Jamaal Williams GB Rostered - 25%
The running back to own in Green Bay is still Aaron Jones, but the coaching staff is bent on keeping Williams involved. In week 6, that worked out to huge production as Jones faltered and fell out of favor. It is risky to consider putting Williams at the flex in a given week, but during bye weeks there are worse options.
Brandon Bolden NE Rostered - 0.5%
Trying to decipher the Patriots backfield is an exercise in futility. One thing that seems sure is that Bill Belichick wants to keep Bolden involved in the running game. He has the trust of the coach and it has resulted in three weeks of solid scoring, including two touchdowns. It is entirely possible that Bolden has grabbed the goal-line back job and that could be very lucrative if the Pats offense really gets rolling.
Rising Star
Darrell Henderson LAR Rostered - 23%
It has been a rough year for Todd Gurley and he is sounding firmly dinged up at this point. He could not take the field on Sunday and there are some major questions heading forward. The entire Rams offense looked bad this week, but Henderson seemed to have some real explosion on his few touches. There is reason to believe that Sean McVay may find more ways to get the rookie involved to spark this lifeless offensive unit.
Handcuffs To Roster
Chase Edmonds ARI
Alexander Mattison MIN
Reggie Bonnafon CAR
Wide Receiver
Auden Tate CIN Rostered - 21%
The Bengals offense sucks. This is unfortunate, because they have some legitimate playmakers, but the offensive line is a nightmare. Despite all of this, Auden Tate looks like an excellent receiver. Every catch that he made in week 6 was a highlight reel play. While the upside is capped by the constant pressure on Dalton, Tate has a big piece of the receiving pie.
DeVante Parker MIA Rostered - 8%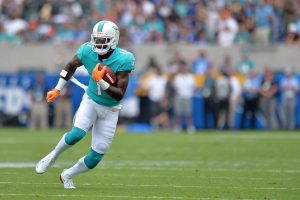 Speaking of terrible offenses, the Dolphins have another one. The good news here is that it has kept Parker available on the waiver wires despite a low-key breakout. Parker has been putting up fantasy points at a respectable clip so far with at least 3 catches in every game so far. He has also had either 50+ receiving yards or a score in all but one game so far.
Get Him Early
N'Keal Harry NE Rostered - 6%
The Patriots first round pick for 2019 is set to return to practice this week. If all goes well, he could be in games by week 9. While it is no sure thing that Harry will make an impact, the opportunity is certainly there. The Pats have struggled at times in the passing games with injuries and Antonio Brown decimating the roster. If Harry is on the same page as Tom Brady upon his return, he will be a fantasy starter and well worth clogging a roster spot for two weeks.
Tight End
Trey Burton CHI Rostered - 27%
It has been a disappointing season so far for the Bears promising tight end. Burton has been hampered by injuries, offensive planning and below average quarterback play. As Burton gets healthier and the team finds their offensive identity, this should improve. There may never be a time that Burton is an elite tight end, but for a waiver wire grab, he is at the top of the list for potential.
Dawson Knox BUF Rostered - 3%
The Bills have not been an offensive powerhouse this year, but the pieces are mostly there. Knox has the makings of a top tier pass catching tight end, minus the experience. In the games where Josh Allen has leaned heavily on the rookie, Knox has produced. The schedule going forward has some very soft defensive matchups and it could lead to a couple of big games for the young TE.
Be sure to check out our weekly positional rankings and follow me on Twitter for questions answered and extra feature: @brendancole16.