Things are heating up for many passing games in the NFL. Week 6 saw 15 quarterbacks put up at least 20 fantasy points which means lots of points for receivers as well. Most stud receivers are already taken, but there are plenty of useful players out there on the wire.
Week 6 Recommendations Results (Standard League Scoring):
· Cameron Meredith CHI – 11 receptions 113 yards 11 Fantasy Points
· Cole Beasley DAL – 6 receptions 58 yards 2 touchdowns 17 Fantasy Points
· Sammie Coates PIT – 0 catches 0 yards 0 Fantasy Points
· Jeremy Kerley SF – 2 catches 12 yards 1 Fantasy Point
It is looking like Cameron Meredith is receiver 1 or 1a in Chicago right now, feel free to hang on to him. One thing that Beasley has generally not done is score touchdowns, but he has three in the last two weeks. Just watch out because Dez Bryant is coming back and will have a tantrum if he doesn't get touches.
Sammie Coates played badly even for an injured player and now his starting quarterback is hurt, no thank you. Kerley does not have the same rapport with Kaepernick that he had with Gabbert, back to the wire or at least the bench with him.
Week 7 Waiver Wire Picks
Kenny Britt LA 13.1% owned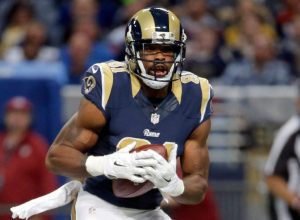 There has always been plenty of upside to Britt's game, but he has also been an inconsistent head case. This season for the Rams Britt has quietly been very productive. With at least 4 catches in every game, Case Keenum is clearly looking to throw to Britt whenever he can. A couple of touchdowns were a nice bonus in week 6, but the yardage totals are always going to be there. For teams looking for a reliable flex or WR3, Britt is a nice choice.
Kendall Wright/Rishard Matthews TEN 1.2% and 7.4% owned respectively
The passing game is blowing up for the Titans and weak competition is the reason. With a continuing slate of below average defenses on the horizon, there is every reason to think that this production should continue. Wright and Matthews are the top receivers but they are owned in very few leagues. They should be worth a pickup even if it is only for the next three weeks. As long as Mariota is getting time to throw, the Titans will put up points through the air.
The Rest Of The Waiver Wire Picks
Torrey Smith SF 42% owned
While the Niners were rolling Blaine Gabbert out every week, Smith had very little value to fantasy owners. He scored on a long touchdown pass in week 2, but aside from that Smith has been an afterthought. Now that Colin Kaepernick is taking over he has looked away from Jeremy Kerley and put Smith back in the crosshairs. The sample size is small after just one week, but it seems like Smith could be in for a bit of a resurgence with the change at quarterback.
Grab And Stash
Ty Montgomery GB 0.2% owned
The Packers have been struggling this season, in no small part because Aaron Rodgers has been struggling. The Pack did not entirely get things going on Sunday, but Rodgers had some success throwing to Ty Montgomery. It would make sense that the coaching staff would plan for more of something that was successful when their star quarterback is in a slump. It is too early to start Montgomery outside of an emergency situation, but pick him up in case something is brewing here.