The NFL season never slows down, nor do the playmakers that keep us tuning in week-to-week. As we navigate through tough matchups, bye weeks, and injury reports that seem to grow by the day, we know those playmakers will be there to pick us up and put the team on their backs as the games get bigger and bigger. The usual suspects remain locked in to their every-week spots, but as week 7 approaches, we'll gloss over some new names to consider, discuss the ever-growing injury report, and take a look at a handful of sleepers that could help tip the scales as the intensity heats up nearly midway through the season. There is plenty of football left to be played, and plenty of plays left to be made.
Remember: an asterisk (*) next to a player's name denotes a possible injury concern for that player.
Week 7 Wide Receiver Rankings 1-10
1. Julio Jones* @ TEN- Julio should be fine after playing through his hamstring injury last Thursday. The couple extra days of rest should have him spry and ready to take advantage of a delectable matchup with Tennessee. Atlanta will be smarting as they come off of their first loss of the year, and should look to feed Julio early and often. Tennessee has given up the fewest amount of passing yards in the league, but they haven't seen anything like Julio Jones.
2. DeAndre Hopkins @ MIA- 2015 has been the year of Hopkins in Houston. He's averaging over 14 targets a game, and hasn't been held under 100 receiving yards since week 2. Even with lackluster options at the quarterback position, Hopkins should be locked in as a weekly top-five play going forward.
3. Odell Beckham Jr.* vs DAL- One year ago, this was the matchup in which Beckham arrived, making THAT catch against the Cowboys. Beckham looked a tad bothered by his injured hammy in week 6, but still managed a 7/61/1 line against the Eagles. More importantly, he did not suffer any setbacks, and should be just fine for week 7 against a Cowboys defense that is as susceptible to big plays as ever.
4. Keenan Allen* vs OAK- Allen has a hip injury to monitor, but if he can go, he will be a terrific play against the Raiders. In week 7, the Chargers showed that they are not afraid to air it out, and Allen benefited to the tune of 14 catches for 157 yards on 15 targets, most of which came in the first half.
5. Julian Edelman* vs NYJ- If he can get over the nasty finger injury he sustained in week 6, Edelman could be in line for "one of those days" against the Jets. New York doesn't allow many big plays in the passing game, so look for Edelman to butter his bread on the high-percentage routes he has mastered so well since taking over as the go-to man following Wes Welker's departure.
6. Calvin Johnson vs MIN- Megatron finally put some big plays together in week 6, finishing his day with a 6/166/1 line which included 3 receptions of 30 yards or more. His 57-yard catch helped set the Lions up for the game-winning field goal against the Bears in overtime. He gets another divisional matchup against Minnesota in week 7. Johnson has not scored against the Vikes since 2012. Look for that to change this weekend.
7. Brandon Marshall @ NE- Marshall is going to have a big game in week 7. I say that, firstly, because I just acquired him in my big money league. As for the factual supporting evidence, Marshall has put together 4 straight 100-yard games, catching 31 balls to go along with 3 touchdowns during that span. His volume should not decrease whatsoever moving forward.
8. Antonio Brown @ KC- If Ben Roethlisberger makes it back onto the field in week 7, Brown's value will begin to climb back up to where it was earlier in the year, where the case could be made for him as the top receiver in fantasy football. It's been a tough few weeks for the playmaker, but he's got a nice matchup against the Chiefs going for him, in addition to Big Ben's impending return. Martavis Bryant is also back, which helps keep defenses honest.
9. T.Y. Hilton vs NO- Any team's number one receiver is a must-start against the Saints. Though Hilton will undoubtedly see some of impressive New Orleans rookie Delvin Breaux, who more than held his own against Julio Jones in week 6, he's a good bet to have a big day as the Colts try to overcome their embarrassing week 6 blunder at home to New England. We will also use this space to send an e-hug Griff Whalen's way.
10.Larry Fitzgerald vs BAL- Fitzy is another playmaker that father time can't seem to defeat. With Carson Palmer healthy and under center, Fitzgerald continues to put up numbers reminiscent of a decade ago, when both he and Anquan Boldin were surefire top-ten plays. John Brown and Michael Floyd give him good company on the perimeter, and the Cards will be looking to get back on track following a difficult loss at Pittsburgh. The Ravens are nearing desperation mode, and are prone to big plays.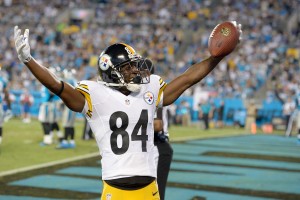 Week 7 Wide Receiver Rankings 11-60
11. Allen Robinson* vs BUF
12. Dez Bryant* @ NYG
13. Steve Smith Sr.* @ ARI
14. John Brown vs BAL
15. Jarvis Landry vs HOU
16. Jordan Matthews @ CAR
17. Mike Evans @ WAS
18. Jeremy Maclin* vs PIT
19. Brandin Cooks @ IND
20. Travis Benjamin @ STL
21. Amari Cooper @ SD
22. Martavis Bryant @ KC
23. Donte Moncrief vs NO
24. Michael Crabtree @ SD
25. Willie Snead @ IND
26. Allen Hurns vs BUF
27. Sammy Watkins* @ JAX
28. Golden Tate vs MIN
29. Pierre Garcon vs TB
30. Vincent Jackson @ WAS
31. Stevie Johnson* @ OAK
32. Rueben Randle* vs DAL
33. Eric Decker @ NE
34. Tavon Austin vs CLE
35. Kendall Wright vs ATL
36. Rishard Matthews vs HOU
37. DeSean Jackson* vs TB
38. Michael Floyd vs BAL
39. Anquan Boldin vs SEA
40. Mike Wallace @ DET
41. Doug Baldwin @ SF
42. Andre Johnson vs NO
43. Malcom Floyd vs OAK
44. Terrance Williams @ NYG
45. Kamar Aiken @ ARI
46. Cecil Shorts III @ MIA
47. Danny Amendola vs NYJ
48. Torrey Smith vs SEA
49. Justin Hunter vs ATL
50. Jerricho Cotchery vs PHI
51. Stefon Diggs @ DET
52. Lance Moore vs MIN
53. Cole Beasley @ NYG
54. Jamison Crowder vs TB
55. Leonard Hankerson @ TEN
56. Ted Ginn Jr. vs PHI
57. Kenny Stills vs HOU
58. Robert Woods @ JAX
59. Riley Cooper @ CAR
60. Jermaine Kearse @ SF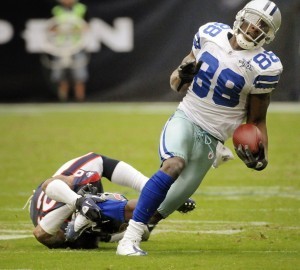 Week 7 Wide Receiver Sleepers
Allen Hurns vs BUF- Not a sleeper per se, but if Allen Robinson misses time, Hurns becomes the go-to guy on the perimeter, with Julius Thomas working the middle and the seams.
Stefon Diggs @ DET- Diggs is flirting with a starting role in Minnesota, and is coming off of an uber-productive two-week stint in which he has reeled in a combined 13 catches for 216 yards. He's getting most of his targets out of the slot and clearly has chemistry with Teddy Bridgewater.
Lance Moore vs MIN- Moore has looked like the Lance Moore from his New Orleans days over the last couple of weeks. It figures: he is intimately familiar with OC Joe Lombardi's scheme from their time together with the Saints, and the veteran still knows how to get open.
Jamison Crowder vs TB- He's been in the sleeper discussion for a while now, and though his role could decrease once DeSean Jackson returns from injury, the rookie has earned snaps. He's caught 25 balls over the last 4 weeks.
Chris Hogan @ JAX- May be worth a deep PPR flier with Percy Harvin likely out, and Sammy Watkins nursing an ankle problem.
Week 7 Wide Receiver injuries to monitor
Odell Beckham Jr. (hamstring)
Julio Jones (hamstring)
Keenan Allen (hip)
Julian Edelman (finger)
Allen Robinson (leg)
Steve Smith Sr. (back/ribs)
Jeremy Maclin (concussion)
Sammy Watkins (ankle)
Stevie Johnson (hamstring)
DeSean Jackson (hamstring)
Rueben Randle (hamstring)
Percy Harvin (hip)
Charles Johnson (rib)
Good luck in week 7.