We are about halfway through the 2015 NFL regular season, yet the ever-growing league-wide injury reports would suggest it's closer to January. Key players continue to drop like flies, combining with the forthcoming bye weeks to leave many a fantasy owner in the lurch. Conversely, players who have missed time are on the brink of making their long-awaited returns from injury. We'll cover all of the buzzworthy week 8 injuries as the games get underway Thursday night with the Patriots taking on the upstart Dolphins from Foxboro. Fire up your contingency plans and keep an eye on the waiver wire as week 8 bears down.
Week 8 Fantasy football injury report
- Ben Roethlisberger (knee) made steady progress throughout week 7, and was a game-time decision as the Steelers faced the Chiefs on Sunday. The team ultimately decided to rest Big Ben for another week, and his chances of returning against the Bengals in week 8 should be much greater. Roethlisberger will have an additional week of rest, recovery, and practice under his belt, along with the home support at Heinz Field going for him and his teammates. Pittsburgh's skill players will be boosted across the board by Ben's imminent return. Landry Jones started in week 7 as Michael Vick was inactive with a hamstring injury.
- Marcus Mariota missed week 7 as the Titans suffered a home loss to the Falcons. Zach Mettenberger filled in, but Tennessee is expecting their rookie to return from his MCL sprain in time to face the Texans in week 8.
- Cradinals wideout John Brown played through his hamstring injury on Monday night in week 7. Brown is dealing with injuries to both of his hamstrings, and while he can play, he may see his workload scaled back some. Michael Floyd is rounding into form and poised to see more reps if needed.
- Leonard Hankerson left the Falcons' win over the Titans with a hamstring injury. If Hankerson is forced to miss time, veteran Roddy White will see a bigger workload against the Buccaneers in week 8.
- Josh McCown was forced from Cleveland's week 7 game at St. Louis with a shoulder injury. McCown was replaced by Johnny Manziel late in the fourth quarter as the Browns fell to the Rams. Manziel potentially filling in for McCown should not affect the values of either Gary Barnidge or Travis Benjamin. The likes of Andre Roberts and Taylor Gabriel could benefit from making plays off of Manziel's scrambling ability.
- Dez Bryant (foot) is still very questionable as week 8 approaches. He missed week 7 as he continues to recover from a broken foot. Week 9 looks like a much more realistic opportunity for Dez to return.
- Also in Dallas, Joseph Randle is dealing with an oblique injury. Randle was bothered by the ailment over the offseason, and his latest issue opened the door for Darren McFadden to have his best game of the 2015 season in week 7 against the Giants. McFadden and Christine Michael will see more work if Randle is forced to miss time. Dallas is already without Lance Dunbar for the rest of the season.
- Meanwhile, Cowboys' QB Tony Romo (collarbone) has resumed throwing. Romo is eligible to return in week 11, but can resume practicing this week. Matt Cassel started against the Giants in week 7, replacing Brandon Weeden.
- Emmanuel Sanders should be available for Denver's clash with Green Bay in week 8 despite his shoulder injury. Sanders and his Broncos teammates enjoyed a bye in week 7. Sanders has been hot, and is the type of weapon that can help Peyton Manning make the most of his waning arm strength while simultaneously posing matchup problems for the Packers' defense.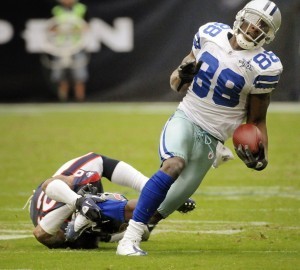 - Packers wideouts Ty Montgomery (ankle) and Davante Adams (ankle) both have a chance to play in week 8. Montgomery was injured in the week 6 win over San Diego, while Adams has not suited up since a week 3 cameo. Jeff Janis would see extra work if one or both can not take the field alongside Randall Cobb against the Broncos.
- Arian Foster will miss the rest of the season after sustaining a torn Achilles in week 7. It was a non-contact injury, and Foster, who missed the start of the year with a groin injury, will be unable to help his teammates as they attempt to bounce back from a disappointing start. Alfred Blue and Chris Polk will carry the brunt of the load for the Texans.
- Meanwhile in Houston, wideout Cecil Shorts III will hope to return after missing week 7 with a hamstring injury. Shorts has a lengthy history of hammy injuries, and has also recently been bothered by a shoulder problem. Nate Washington had a big day in week 7, and the likes of Keith Mumphery and Jaelen Strong would see more snaps if Shorts misses week 8.
- Cardinals' tight end Darren Fells will miss anywhere from 1-2 more weeks with a shoulder injury. Fells was injured last week, and his absence opens up the door for Jermaine Gresham to prove his worth in the desert.
- The Chiefs will be hoping to get Jeremy Maclin (concussion) back in time for week 8. Maclin was injured in week 6, leaving the Chiefs' already ragtag receiving corps even more devoid of playmakers in week 7. Albert Wilson and Chris Conley would be the go-to guys on the perimeter if Maclin misses week 8 against the Lions.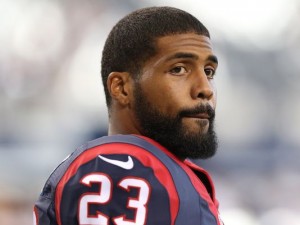 - The Patriots were without RB Dion Lewis (abdomen) for their week 7 win over the Jets. New England used James White in his place as their passing-down back, but Lewis should be available for week 8 after being able to get in some limited practice time last week.
- Chris Ivory played through a hamstring injury in the Jets' loss to the Pats. He was seen riding a stationary bike and told the media that the injury is not serious, though he should be monitored through the week. It would not be a surprise to see his practice time limited ahead of week 8. New York could consider activating Stevan Ridley (knee) from the PUP list ahead of week 8.
- Rams' TE Lance Kendricks (thumb) missed week 7. He should have a better chance of playing in week 8 as the 49ers come to town. Look for him to try and practice Wednesday, though he will almost certainly be limited.
- It was a rough day for Tampa Bay receivers as both Vincent Jackson and Louis Murphy suffered knee injuries in their week 7 game with the Redskins. Murphy was reportedly spotted on crutches after the game and has been diagnosed with a torn ACL, while Jackson was unable to return. Mike Evans could be a target vacuum if V-Jax can not play in week 8. Murphy, meanwhile, will miss the rest of the season. The team will hope that TE Austin Seferian-Jenkins (shoulder) can suit up for the first time since week 2, which would be a boost for Jameis Winston and the passing game.
Remember: keep an eye on the weekly injury reports. New England and Miami will release their's on Tuesday, with the rest of the league following suit on Wednesday.