Streaming QBs is going to become more popular because injuries continue to take down starters. Aaron Rodgers was already lost and now Carson Palmer is likely done for the year. Kicker and D/ST are almost no brainers when it comes to streaming, but feel free to jump on the QB bandwagon as well with these week 8 streamers.
Quarterback
Case Keenum/Sam Bradford MIN
It is tough to say which player will start in week 8, but it's not tough to say that the Browns are an easy target. They rank in the bottom third of the league versus the pass and they are not getting better. Jason McCourty missed the Browns week 7 game and is still dinged up. He is one of the lone bright spots in their secondary. If the Vikings get Stefon Diggs back for this game then double down even harder here.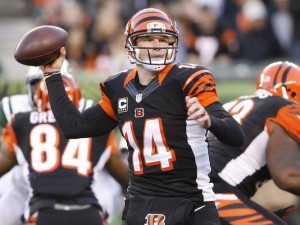 Andy Dalton CIN
The Bengals passing game was made to look foolish by the Steelers in week 7. There is no protection for Dalton and he is throwing up picks like he gets paid to do it. None of that matters in week 8. He gets a cushy matchup with a Colts defense giving up the third most passing yards per game. Pile on the fact that they just lost Malik Hooker and this matchup is ripe for the picking. Roll with the Red Rifle as one of your week 8 streamers and enjoy a surprising week.
Kicker
Chandler Catanzaro NYJ
Could this matchup BE any better? Sorry, his name is Chandler...I'll show myself out.
Anyway, the Jets surprising offense looks to keep firing on all cylinders versus the Falcons in week 8. Atlanta has given up bushels of points to opposing kickers and this should be no exception. Josh McCown has been on fire the last two weeks and should keep Gang Green on the move. Look for a big game from Catanzaro.
Stephen Hauschka BUF
Keeping it in the AFC East, here is a kicker from another surprisingly better-than-awful team. The Bills are not only staying in games, they're winning. In spite of having two decent offensive pieces they are finding ways to get it done. The lack of elite playmakers generally means lots of opportunities for the kicker. Next week they face a Raiders team fresh off giving up 30 points to the Chiefs. This is a team that can be gouged on defense; Hauschka should be busy in this one.
Check Out The Streamers From Last Week
D/ST
New Orleans Saints
The Saints are better than a streaming pick right now, but they may be available. They had consecutive games where they put up 14, 16 and 20 points before only 4 points versus Green Bay. Still, they stayed in positive points versus the Pack. Even without Aaron Rodgers, Green Bay has elite playmakers. The Saints have figured it out on defense and they are going to take it to Chicago. The one concern here is Chicago's ultra-conservative game planning. That should be a moot point as Brees and Co. will get out to an early lead and make Mitchell Trubisky throw.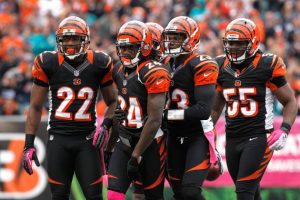 Cincinnati Bengals
The Bengals took a beating in their week 7 matchup with the Steelers and I'd say there is no shame in that...but there is some. Anyway, this unit has proven to be solid against lesser competition so far. The Colts can be called a lot of things and lesser competition is definitely on the list. This one is going to hurt for the Colts offense, hopefully not literally (looking at you Burfict). After getting whooped by the physical Steelers squad, this is a step up from a bye week for the Bengals and they are one of my favorite week 8 streamers.
Be sure to check back tomorrow for the week 8 waiver wire picks before waivers get underway. As always, follow us on Twitter for more content: @_knuckleheads and @brendancole16.