The cream of the crop at the tight end position continues to deliver. It's always difficult to nab a consistent weapon outside of the top ten or fifteen options at the position, but therein lies the beauty of fantasy football. The guy or gal who chose Gronk on draft day can sleep easily night after night, but he or she who snapped up Gary Barndige off of the waiver wire is resting just as easily. With a whole new slate of matchup conundrums, injury notes, and sleepers to consider as a new wave of games approaches, we'll set you up for week 8 with our tight end rankings.
Remember: an asterisk (*) next to a player's name denotes a possible injury concern for that player.
Week 8 Tight End Rankings 1-10
1. Rob Gronkowski vs MIA- We'll choose to fill this space with a couple of lines from one of our favorite poems: Sonar bounces back and forth
speaking the waves, life and its intelligent intensity.
2. Greg Olsen vs IND- If Gronk is locked in as the top weekly tight end play, Greg Olsen is the next best thing. Game flow went against him in week 7, but he still finished as the Panthers' leading receiver in their win over Philly. Faces the hot mess that is the Indianapolis Colts in week 8. The Saints' tight ends were productive against Indy in week 7: Benjamin Watson got loose for a few catches, Michael Hoomanawanui scored, and Josh Hill had a score called back due to a penalty. Olsen should feast.
3. Travis Kelce vs DET- Even when Jeremy Maclin (concussion) is available, Alex Smith loves to look for Kelce. He's a legitimate playmaker on an offense devoid of electricity.
4. Tyler Eifert @ PIT- Eifert is having a huge year, and he gets a matchup against the tight end-friendly Steelers as he and the Bengals come off of their bye. Andy Dalton has been a pleasant surprise in his own right, and that bodes well for Eifert.
5. Gary Barnidge vs ARI- "Big Play" Barnidge has finally arrived in our top-five. The only thing that frustrates us about him is our infrequent gaffe of typing "Barndige" instead of "Barnidge." Josh McCown is an injury question heading into week 8, but Johnny Manziel's potential presence should not make much of a difference, and could perhaps give Barnidge some additional upside. Manziel has excelled throwing to athletic specimens such as Mike Evans, Josh Gordon, and Jordan Cameron throughout his career. Now, he has Barnidge to look to for big plays on the move.
6. Antonio Gates* @ BAL- Gates ended up missing week 7 with a knee injury, but the Chargers reportedly expect him back in time to face the Ravens. Be sure to keep an eye on the injury report in regards to Gates. Both Gates and Ladarius Green are good options this week (Green in particular if Gates ends up missing out). The Chargers have been throwing it all over the field in recent weeks, and will be smarting off of a disappointing loss to the Raiders last week. Both of these teams could really use a win after stumbling out of the gate to start the season.
7. Jimmy Graham @ DAL- Graham appears firmly entrenched on a see-saw pattern of productivity as he settles into his new home. It was always going to be difficult to put up the same type of weekly numbers in Seattle's offense compared to his days as a Saint. The 'Hawks feed off of their power run game and Russell Wilson's playmaking abilities, but at some point, Graham needs to be fed, especially in the red area. Look for him to have a DirecTV Jimmy Graham type of game against the struggling Cowboys in week 8.
8. Martellus Bennett vs MIN- Bennett had a workmanlike performance against the Lions in week 6, catching 6 of 11 targets for 59 yards. He'll be in for another strong share of targets in Chicago's second-straight divisional matchup. Bennett should be in top shape coming off of his bye week.
9. Jason Witten vs SEA- Even if Jason Garrett were to throw on the pads and the star helmet and take a few snaps a la the mid-1990s, Witten would still find a way to produce. Whether it's been Tony Romo, Brandon Weeden, or now Matt Cassel, Witten has found a way to reward owners with a sturdy floor. You get the feeling Dallas will need him if they want to pull off a win over the Seahawks. In 3 meetings against Seattle in the Pete Carroll era, Witten has produced a 10 catch (22 targets), 153 yard, 2 touchdown line.
10. Eric Ebron @ KC- Welcome back. Ebron was a bright spot for the Lions in his return from a leg injury, catching all 5 of his targets for 89 yards and a score against Minnesota. He's a bit of a risk as a top-ten play, but with a host of offensive staff changes, it would be no surprise to see an emphasis placed on getting Ebron the ball more moving forward, thus relieving some of the load off of Calvin Johnson's shoulders. The Chiefs' defense is always plucky inside Arrowhead, but that may play into Ebron's hands as they try to limit Megatron on the outside.
Week 8 Tight End Rankings 11-32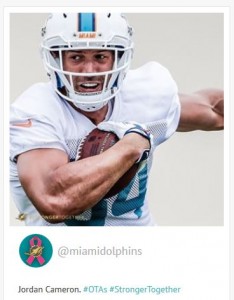 11. Delanie Walker @ HOU
12. Jordan Cameron @ NE
13. Kyle Rudolph @ CHI
14. Larry Donnell @ NO
15. Vernon Davis @ STL
16. Richard Rodgers @ DEN
17. Ladarius Green @ BAL
18. Benjamin Watson vs NYG
19. Crockett Gillmore vs SD
20. Jared Cook vs SF
21. Coby Fleener @ CAR
22. Heath Miller vs CIN
23. Dwayne Allen @ CAR
24. Jacob Tamme vs TB
25. Owen Daniels vs GB
26. Austin Seferian-Jenkins* @ ATL
27. Mychal Rivera vs NYJ
28. Anthony Fasano @ HOU
29. Lance Kendricks* vs SF
30. Jermaine Gresham @ CLE
31. Jeff Cumberland @ OAK
32. Will Tye @ NO
Week 8 Tight End Sleepers
Jermaine Gresham @ CLE- Familiar with the Browns' personnel from his time with the Bengals. Arizona will need him to step up without Darren Fells in the lineup.
Michael Hoomanawanui vs NYG- Say that three times fast. Or just take note of the fact that his role seems to be growing in the Saints' offense -- Hoomanawanui caught 5 balls for 31 yards and a touchdown in week 7 against the Colts. His blocking skills mean he'll likely see more snaps as the team's TE2 moving forward. Josh Hill is more of a boom-or-bust red-zone threat at this point.
Jeff Cumberland @ OAK- Streaming the Raiders' opposing tight end proved to be a legit early-season tactic. Cumberland is by no means a weekly option, but saw a couple of looks in the red-zone against New England in week 7. Something to file away.
Week 8 Tight End Injuries to Monitor
Antonio Gates (knee)
Austin Seferian-Jenkins (shoulder)
Lance Kendricks (thumb)
Darren Fells (shoulder)
Good luck in week 8.