The 2019 season is absolutely flying by and we're at the halfway point for the NFL. That means that fantasy football is already entering the home stretch and it's time to solidify playoff seeding. For teams on the outside looking in, this is your last chance to grab a piece of playoff glory.
Quarterback
Kirk Cousins MIN Rostered - 39%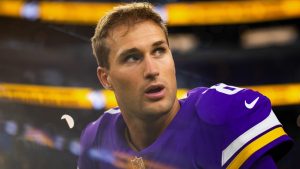 Despite a slow start, Cousins has been slaying fantasy boxscores over the past three weeks. That should not slow down as he takes on his old team, the Redskins, in week 8. Washington has put up little resistance against opposing passing games and Cousins will likely want to show up his former team. I have some slight reluctance based on the likely absence of Adam Thielen and Cousins propensity to disappoint just when people believe in him. All of the actual facts point to Cousins to continue rolling, however.
Ryan Tannehill TEN Rostered - 3%
Next up on the tour of quarterbacks that have ruined your past fantasy seasons - Ryan Tannehill. The difference this time around for the formerly disappointing Dolphin, is that this time there are talented good surrounding pieces. Having Derrick Henry running the ball along with Corey Davis and A.J. Brown on the outside makes Tannehill's job much easier. So far, having some of the pressure off of his shoulders looks good on Tannehill. With two of his next three games against lackluster defenses, the Titans new starter should be a quality starting option.
Running Back
Chase Edmonds ARI Rostered - 31%
The good news last week was that Edmonds put up piles of fantasy points. The bad news was that you didn't start him unless you were in abject desperation. Based on the Cardinals conning fantasy owners by saying that David Johnson was "active", Edmonds was widely left on benches. At this point, the young running back is a must add in all formats. The issue will be trying to decipher the injury report and decide if Edmonds is worth having in your lineup after you pick him up.
Ty Johnson DET Rostered - 2%
After Kerryon Johnson suffered a knee injury in week 7, the early word is that he will likely "miss some time". Whether that ends up being a week or several weeks, the immediate backup is Ty Johnson. There will still be some touches for J.D. McKissic, but the young speedster Johnson is the more valuable pickup. If he can really show off during Kerryon's absence, you should see more touches for the younger Johnson even upon the starter's return from injury.
If He Was Dropped Before The Bye
Ronald Jones II TB Rostered - 48%
It has not been a full on coming out party for Jones in 2019, but he has been a solid flex play and sometimes more. There is no reason to believe that his moderate production will be going away, so he is worth a roster spot.
Handcuffs To Have
Darrell Henderson Jr. LAR
Alexander Mattison MIN
Tony Pollard DAL
Damien Harris NE
Wide Receiver
Phillip Dorsett NE Rostered - 34%
I am really at a loss for why Dorsett is so widely available. He has had a couple of quiet weeks, but he is still one of Brady's trusted receivers. He is not a weekly must-start option, but as a matchup based play, Dorsett is one of the better plug ins out there.
Keke Coutee HOU Rostered - 23%
After yet another injury to Will Fuller, there will be some targets up for grabs in the Houston offense. Some of them will go to Kenny Stills, who is also returning from injury. There is also reason to believe that Keke Coutee will step into a decent target share, however. Deshaun Watson has turned to Coutee in the past and if the young receiver can stay healthy, he should see his role in the Texans offense growing again.
A.J. Brown TEN Rostered - 11%
Production from Brown has been largely unimpressive thus far, but he has also had Marcus Mariota ruining the quarterback position for 6 weeks. In week 7, Ryan Tannehill came in and peppered Brown with a season high 8 targets. It appears that the former backup quarterback already has a nice rapport with Brown and Corey Davis. This could lead to a resurgence of the Tennessee passing game, which is filled with talented receivers.
Remember Him?
N'Keal Harry NE Rostered - 9%
The Patriots first round pick is inching closer to his NFL debut. He is eligible to begin game action in week 9. While there is no telling how successful he will be, the draft capital alone makes him worth a speculative add in my book.
Tight End
Kyle Rudolph MIN Rostered - 18%
There were finally some targets to spare for Rudolph in week 7 and he turned them into five catches for 58 yards and a score. It is entirely likely that Rudolph will continue to see an uptick in usage for as long as Adam Thielen is out due to injury. While it looks like the Vikes will have their star receiver back fairly soon, a couple of weeks of productive tight end play are more than most players can offer.
Dallas Goedert PHI Rostered - 21%
The younger tight end in the Eagles talented tandem of Goedert and Ertz has seen his role grow. Over the last two weeks, against talented defenses, Goedert has grabbed 9 catches for 117 yards and a touchdown. The Eagles will face another stiff defense in Buffalo for their week 8 matchup. Look for Wentz to continue targeting Goedert when he is under pressure.
Be sure to come by soon and check out our weekly positional ranks for week 8. Also, follow me on Twitter for some extras and questions answered: @brendancole16.