The best wide receivers in the NFL continued to produce through week 7. The household names did their thing, while a couple of new kids on the block showed us that they might be sticking around for the long haul. As always, unfortunately, more injuries occurred at the position, leaving teams and fantasy owners in a bind as we move into week 8. The action gets underway Thursday night as the Patriots host the upstart Dolphins in Foxboro, and we've got you covered with the all latest news and notes in our week 8 wide receiver rankings.
Remember: an asterisk (*) next to a player's name denotes a possible injury concern for that player.
Week 8 Wide Receiver Rankings 1-10
1. Julio Jones vs TB- 17 targets, 9 catches, and a touchdown. Just another day at the office for Julio in week 7. Even if the 10-7 scoreline doesn't reflect it, Julio dominated against Tennessee and will continue to do so in a divisional clash against Tampa in week 8.
2. Odell Beckham Jr. @ NO- Beckham is going home, and the native New Orleanian will look to put on a show after a quiet week 7. Beckham will see plenty of Delvin Breaux and a Saints secondary that has shown some signs of improvement, but he should be in for a big day nonetheless.
3. DeAndre Hopkins vs TEN- Hopkins and his teammates had a disappointing week 7. Nuk finished with just 6 catches for 50 yards, but he'll get a rebound date with the Titans, who just saw Julio Jones have a nice day.
4. Calvin Johnson @ KC- Perhaps the changes on the Lions' offensive staff can ignite the team's production. Megatron salvaged his day with a touchdown to go along with 5 grabs for 86 yards in week 7. A trip to Arrowhead is not an ideal situation, but this is still Calvin Johnson we're talking about. Antonio Brown was able to break out of his funk against KC in week 7, so Megatron will see if he can follow suit with another productive day.
5. Emmanuel Sanders* vs GB- Nursing a shoulder injury, but Sanders has been Peyton Manning's go-to guy over Denver's last two games. The bye week should help enhance his physical condition, and Sanders will see plenty of chances to shine in what figures to be a high-scoring game.
6. Keenan Allen @ BAL- Allen continues to suck up targets like an Oreck. He saw 13 more come his way in week 7 against the Raiders, catching 9 of them for 89 yards. It was an off day for the Chargers, and they'll look to bounce back against the Ravens in week 8. Allen was also limited throughout the week with a hip injury, but did not suffer any setbacks during the game.
7. Demaryius Thomas vs GB- Demaryius has been second fiddle to Emmanuel Sanders the last two games, but a home date with the Pack in what should be a high-scoring affair seems like a good time to flash his playmaking skills. Peyton Manning is having some issues getting the ball downfield consistently these days, but Thomas is excellent on short patterns designed to get him the ball in space where he can utilize his open field skills after the catch.
8. Larry Fitzgerald @ CLE- The Browns have a solid defense, but Fitzy and company have been up for every challenge this year. With John Brown favoring his hamstrings, Fitzgerald could soak up additional targets.
9. Mike Evans @ ATL- Vincent Jackson picked up an injury in week 7, and Louis Murphy is out for the year. Furthermore, Austin Seferian-Jenkins' status is still uncertain, so Evans should be gobbling up the targets in week 8.
10. Antonio Brown vs CIN- Big Ben Roethlisberger could be back in week 8, and if he is, Brown could wind up having the kind of day that will remind owners of his 2013 and 2014 seasons. Steelers/Bengals games never disappoint when it comes to big plays, and Brown, who finally ended his slump last week, can make those types of plays for days if given the opportunity.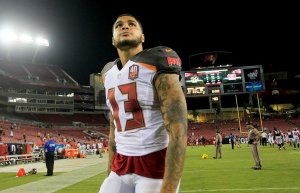 Week 8 Wide Receiver Rankings 11-60
11. A.J. Green @ PIT
12. Randall Cobb @ DEN
13. Brandon Marshall @ OAK
14. Julian Edelman vs MIA
15. Alshon Jeffery vs MIN
16. Dez Bryant* vs SEA
17. T.Y. Hilton @ CAR
18. Jarvis Landry @ NE
19. Amari Cooper vs NYJ
20. Martavis Bryant vs CIN
21. Steve Smith Sr. vs SD
22. Stefon Diggs @ CHI
23. Donte Moncrief @ CAR
24. John Brown* @ CLE
25. Travis Benjamin vs ARI
26. Michael Crabtree vs NYJ
27. Jeremy Maclin* vs DET
28. Brandin Cooks vs NYG
29. Eric Decker @ OAK
30. James Jones @ DEN
31. Nate Washington vs TEN
32. Vincent Jackson* @ ATL
33. Tavon Austin vs SF
34. Golden Tate @ KC
35. Mike Wallace @ CHI
36. Kendall Wright @ HOU
37. Anquan Boldin @ STL
38. Davante Adams* @ DEN
39. Rueben Randle @ NO
40. Michael Floyd @ CLE
41. Rishard Matthews @ NE
42. Marvin Jones @ PIT
43. Brandon LaFell vs MIA
44. Stevie Johnson @ BAL
45. Doug Baldwin @ DAL
46. Eddie Royal vs MIN
47. Roddy White vs TB
48. Andre Johnson @ CAR
49. Tyler Lockett @ DAL
50. Malcom Floyd @ BAL
51. Terrance Williams vs SEA
52. Jermaine Kearse @ DAL
53. Willie Snead vs NYG
54. Markus Wheaton vs CIN
55. Torrey Smith @ STL
56. Mohamed Sanu @ PIT
57. Chris Conley vs DET
58. Ted Ginn Jr. vs IND
59. Kamar Aiken vs SD
60. Dwayne Harris @ NO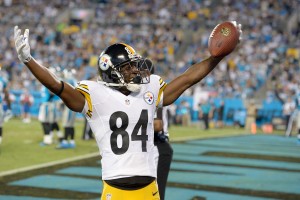 Week 8 Wide Receiver Sleepers
Roddy White vs TB- Leonard Hankerson is an injury worry ahead of week 8, so his potential absence could open the door for rowdy Roddy to re-emerge in Atlanta's offense. White delivered as a sleeper in week 6 when there were questions and concerns over Julio Jones' status.
Chris Conley vs DET- Conley is the type of dart-throw that can come up big when needed. If Jeremy Maclin can not play in week 8, Conley will look to build on his 6/63/1 line against the Steelers. Albert Wilson is also in the mix for KC, but Conley is trending up.
Mohamed Sanu @ PIT- Sanu has a history of shining in more ways than one against division foes. Whether he's catching, running, or throwing, Sanu is always a good bet to make a big play or two once the season gets rolling. Coming off of a week 7 bye, Cinci may have a special package in store for their versatile wideout as they look to stay unbeaten.
Week 8 Wide Receiver Injuries to Monitor
Emmanuel Sanders (shoulder)
Dez Bryant (foot)
John Brown (hamstrings)
Jeremy Maclin (concussion)
Vincent Jackson (knee)
Louis Murphy (knee)
Davante Adams (ankle)
Ty Montgomery (ankle)
Leonard Hankerson (hamstring)
Cecil Shorts III (hamstring)
Good luck in week 8.