Running back has become a battle of attrition in 2015, perhaps more than any year in recent memory. As more top backs went down in week 8, the ranks became a bit more murky and flexible. This week some familiar faces will jump back up to the top and new names will surface as well. If you took a beating last week, be sure to check out the week 9 waiver wire articles for help.
Key Players On A Bye: Chris Johnson, Andre Ellington and David Johnson ARI, Justin Forsett BAL, Joique Bell, Ameer Abdullah and Theo Riddick DET, Alfred Blue HOU, Charcandrick West and Knile Davis KC, Marshawn Lynch SEA
Injury Concerns:
Bilal Powell NYJ Questionable, Carlos Hyde SF Questionable, Lamar Miller MIA Questionable, Karlos Williams BUF Questionable, Orleans Darkwa NYG Questionable, Chris Thompson WAS Questionable
Week 9 Waiver Wire Picks: Quarterback And Tight End / Running Back / Wide Receiver / IDP
Elite Tier - Must Starts
1. Todd Gurley STL @MIN
2. Devonta Freeman ATL @SF
3. Doug Martin TB vs. NYG
4. DeAngelo Williams PIT vs. OAK
5. Mark Ingram NO vs. TEN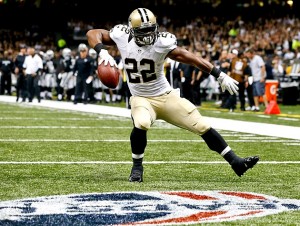 Gurley is not only the best healthy back in the NFL; he may be the unqualified best back next year. Freeman has a sweet matchup against the broken Niners and his team should be playing with a lead. I wonder if Coleman gets some of the carries late if the lead is a big one. Doug Martin is working his way to being an elite back again, for this week he qualifies against a bad Giants D. DeAngelo Williams was great earlier in the year and he will be again now, if you stashed him or picked him up you are in for a treat. Ingram is one of the safest plays in fantasy this season and the Saints are finding their stride offensively.
Strong Plays - Reliable, But A Notch Below
6. Chris Ivory NYJ vs. JAC
7. Adrian Peterson MIN vs. STL
8. LeSean McCoy BUF vs. MIA
9. Latavius Murray OAK @PIT
10. Dion Lewis NE vs. WAS
11. Jeremy Hill CIN vs. CLE
12. Lamar Miller MIA @BUF Questionable
13. Jonathan Stewart CAR vs. GB
Chris Ivory sounds like he is feeling healthier and should be back to his bruising ways against the Jags. Adrian Peterson has been a bit disappointing this season and the emergence of Stefon Diggs does not help his value. LeSean McCoy is back as the lead dog in Buffalo, but watch out for touchdown vulture Karlos Williams. Latavius Murray and the rest of the Raiders burned a good Jets defense last week and they should find little resistance in Pittsburgh. Dion Lewis is the lead back in New England, but they should play with a lead and he may not see the field much late. Hill appears to have the starting job back in Cincy but Gio Bernard could ruin fantasy owners' week again at any time. Lamar Miller may be injured (he missed practice Monday), but he gets a nice volume of touches each week. Jonathan Stewart is going strong right now; I just hope that he can stay on the field.
Risk/Reward - Potentially Shaky
14. Ronnie Hillman DEN @IND
15. Eddie Lacy GB @CAR
16. Danny Woodhead SD vs. CHI
17. Giovani Bernard CIN vs. CLE
18. LeGarrette Blount NE vs. WAS
19. Darren McFadden DAL vs. PHI
20. DeMarco Murray PHI @DAL
21. Duke Johnson Jr. CLE @CIN
Ronnie Hillman has looked good, but Anderson played well last week also. I worry that the coaching staff could turn back toward Anderson as he rights the ship. Lacy and the Packers took a beating versus Denver and now they get Carolina and their stout defense. Cross your fingers for a touchdown or two to save the day. Woodhead is one of the most useful unheralded players in the league; he is a solid play every week. Bernard took a back seat in week 8, but the Bengals rushing attack is tough to predict. I think that Blount will see mop up duty versus the Redskins; he could put up a decent total. McFadden looked spry versus the Seahawks and he should find some room at home against the Eagles. Murray has something to prove, but he is not a great fit in the Eagles' offense. I think that Ryan Mathews may see more carries coming out of the bye. Duke Johnson's pass catching ability makes him a fairly safe weekly start, particularly in PPR formats.
Question Marks - RB2 Upside
22. C.J. Anderson DEN @IND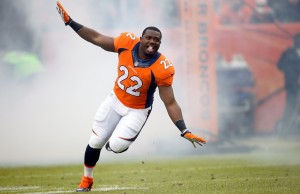 23. Ryan Mathews PHI @DAL
24. Jeremy Langford CHI @SD
25. Antonio Andrews TEN @NO
C.J. Anderson looked like himself last week, but only time will tell if that continues. Ryan Mathews will start to touch the ball more if the Eagles learned anything from watching film in the bye week. Langford is no Matt Forte, but he does have the Bears starting job. Antonio Andrews should see enough carries to be usable, at least for one more week. Watch out for David Cobb when he is back in shape.
Flex Appeal - Usable In A Pinch
26. Frank Gore IND vs. DEN
27. T.J. Yeldon JAC @NYJ
28. Charles Sims TB vs. NYG
29. Melvin Gordon SD vs. CHI
30. C.J. Spiller NO vs. TEN
31. Matt Jones WAS @NE
32. Karlos Williams BUF vs. MIA Questionable
33. James Starks GB @CAR
Gore has an awful matchup, but he should still be close to double digit points. Yeldon has an equally tough opponent, unless the Jets from last week show up. Sims is better in PPR, but he is playable in standard formats as well. Gordon is too unpredictable week to week, but as a flex he is acceptable. Spiller still has big play ability, but he is only worth a look when he gets some targets from Brees. Matt Jones should still be the back to own in Washington, for whatever that is worth. Karlos Williams is completely reliant on touchdowns; luckily he scores them fairly often. James Starks is not very appealing in this matchup unless Lacy gets hurt.
Tough Sledding - Let Them Be Someone Else's Problem
34. Rashad Jennings NYG @TB
35. Darren Sproles PHI @DAL
36. Dexter McCluster TEN @NO
37. Shane Vereen NYG @TB
38. Christine Michael DAL vs. PHI
39. Pierre Thomas SF vs. ATL
40. Alfred Morris WAS @NE
41. Marcel Reece OAK @PIT
42. David Cobb TEN @NO
43. Orleans Darkwa NYG @TB Questionable
44. Tevin Coleman ATL @SF
45. Ahmad Bradshaw IND vs. DEN
46. Mike Tolbert CAR vs. GB
47. Chris Thompson WAS @NE Questionable
48. Robert Turbin CLE @CIN
49. James White NE vs. WAS
50. Carlos Hyde SF vs. ATL Questionable