The top-heavy tight end landscape has another tasty slate of matchups on deck in week 9. While some fantasy relevant tight ends head into their bye, others return from theirs. Some are battling injuries, others are returning from them. Some have more favorable matchups than others. If you're ready to throw some darts, we've got a couple of names for you to keep in mind. We'll sort everything out in our week 9 tight end rankings.
Remember: an asterisk (*) next to a player's name denotes a possible injury concern for that player.
Week 9 Tight End Rankings 1-10
1. Rob Gronkowski vs WAS- Three words: Steve. Winwood. Pandora.
2. Greg Olsen vs GB- Cam Newton's best receiving threat should be in for another honest workload against Green Bay. The Pack are coming off a disappointing week 8 loss at Denver, and Olsen will see plenty of Clay Matthews and company over the middle. Nevertheless, he's still an elite play at home.
3. Gary Barnidge @ CIN- Chalk it up. Barnidge is a stud, and a focal point of the Browns' offense. These divisional games are always feisty, and beautifully ugly players like Barnidge always seem to deliver in them. Heath Miller had a big day against the Bengals at the tight end spot in week 8.
4. Antonio Gates* vs CHI- San Diego doesn't play until Monday night, giving both Gates and Ladarius Green an extra day to nurse their injuries. With Green's injury considered the more serious of the two, and Keenan Allen in danger of missing time, Gates would be a very strong play against the Bears in week 9. Gates is averaging nearly 11 targets a game since his return from suspension.
5. Jordan Reed @ NE- Reed came back in a big way during week 7, and with a bye in week 8, he is as healthy as he'll be moving forward. When Reed and healthy are used in the same sentence, he's a surefire top-10 -- in this case, top-5 -- play at the tight end spot. DeSean Jackson's potential return could help free up some shallow space against the Patriots, who are always prepared.
6. Tyler Eifert vs CLE- Eifert has huge upside week-to-week, but there is still a hint of hit-or-miss to his game. Cleveland poses a tough matchup in week 9, but one could do a lot worse at the position than Eifert. The Browns love to roll coverage towards A.J. Green, so look for Eifert to try and hit those sweet spots for chain-moving plays.
7. Martellus Bennett @ SD- Marty B. has lost targets to a healthy Alshon Jeffery, but he's still a solid start against a San Diego defense that gives up chunk plays. He'll have some hit-or-miss games ahead, but Bennett provides owners with a reasonable floor.
8. Delanie Walker @ NO- The Saints have had trouble covering anyone and anything, though they've managed to improve some. If Marcus Mariota returns in week 9, he'll need Delanie Walker to be a presence. He's averaged over 7 targets a game with Mariota at the helm. Ken Whisenhunt is out, and Mike Mularkey will take the reigns for the rest of the season in Nashville. Mularkey has a strong background when it comes to working with the tight end position.
9. Charles Clay vs MIA- Clay has had some boom-or-bust games this year, but gets an always intriguing revenge game opportunity against the Dolphins. If Tyrod Taylor does indeed return, Clay will see a boost in value. The Dolphins had plenty of defensive issues in week 8, and Clay knows their personnel well from his time in Miami. The Bills' bruised and battered receiving corps helps enhance Clay's upside.
10. Jordan Cameron @ BUF- The new 'Fins tight end is a solid week 9 play against Buffalo. In Miami's offense, Cameron is more of a touchdown-dependent player than he was in his 2013 Cleveland days, but he's still got a high ceiling on the strength of his athleticism and ability to get open. New Dolphins' coach Dan Campbell, himself a former tight end, ought to be looking to get Cameron more established in the offense as the season goes on.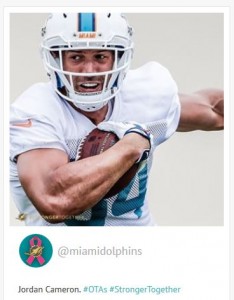 Week 9 Tight End Rankings 11-32
11. Benjamin Watson vs TEN
12. Heath Miller vs OAK
13. Julius Thomas* @ NYJ
14. Jason Witten* vs PHI
15. Zach Ertz @ DAL
16. Larry Donnell @ TB
17. Jacob Tamme @ SF
18. Richard Rodgers @ CAR
19. Vernon Davis @ IND
20. Kyle Rudolph vs STL
21. Austin Seferian-Jenkins* vs NYG
22. Ladarius Green* vs CHI
23. Jared Cook @ MIN
24. Coby Fleener vs DEN
25. Owen Daniels @ IND
26. Dwayne Allen vs DEN
27. Dion Sims @ BUF
28. Scott Chandler vs WAS
29. Michael Hoomanawanui vs TEN
30. Garrett Celek vs ATL
31. Mychal Rivera @ PIT
32. Derek Carrier @ NE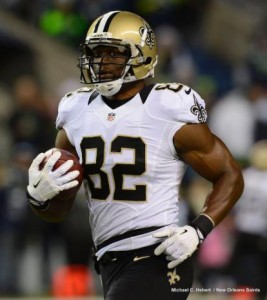 Week 9 Tight End Sleepers
Heath Miller vs OAK- Big Ben is back, and Miller stands to benefit as much as any other Steelers pass-catcher. Caught 10 of 13 targets for 105 yards last week. Pittsburgh gets the tight end-friendly Raiders in week 9, and they'll need to get creative with LeVeon Bell (knee) likely out for a while.
Jacob Tamme @ SF- Big week 8, albeit in a losing effort. The 10/103/1 line won't be replicated most weeks, but Tamme has shown that he can be a viable outlet in the passing game. The more checkdowns Matt Ryan settles for, the more upside Tamme will have.
Week 9 Tight End Injuries to Monitor
Julius Thomas (groin)
Antonio Gates (knee)
Ladarius Green (ankle)
Jason Witten (ankle)
Good luck in week 9.