Some teams have officially crossed the halfway mark of their 2015 NFL regular season campaigns, and across the fantasy landscape, the marathon feels like it has only just begun. The 2015 season has been a good one for wide receivers; the days of the diva seem like they are in the rearview mirror as the stud wideouts let their play do the talking. This era is loaded with bona fide playmakers at the position, and with some terrific week 9 matchups on the slate, we'll focus on those playmakers and what lies ahead for them and their teammates. As always, there are plenty of injuries to discuss and bye weeks to keep in mind. We'll sort it all out for you in this week's wide receiver rankings.
Remember: an asterisk (*) next to a player's name denotes a possible injury concern for that player.
Week 9 Wide Receiver Rankings 1-10
1. Julio Jones @ SF- The Falcons have sputtered after their fine start, but Julio is still the man. He caught 12 of 13 targets for 162 yards and a touchdown against Tampa Bay in week 8. Next up are the hapless 49ers. It's hard to see Julio slowing down this weekend.
2. Odell Beckham Jr. @ TB- Odell had his New Orleans homecoming spoiled by Drew Brees and the Saints in week 8, but he still had a huge day in the dome, going for 8/130/3. He'll get a Bucs defense that had its hands full with Julio Jones in week 8. No rest for the weary.
3. Demaryius Thomas @ IND- It was vintage Peyton Manning to Demaryius Thomas against the Packers in week 8. Demaryius was a threat all over the field, and Manning was able to zip the ball downfield to Thomas, enhancing his productivity. Manning will want to shine on his return to Indy in week 9, so it would not be a surprise to see he and Emmanuel Sanders put up some Marvin Harrison/Reggie Wayne type numbers. Thomas will see plenty of Vontae Davis, but this seems like a game where many points will be scored regardless of what the defenses have in store for one another.
4. A.J. Green vs CLE- Joe Haden is a question mark with a concussion, but even if he plays, Green is a shoo-in top-5 play this week in our view. Cleveland's defense won't go down without a fight, but Andy Dalton's improvement along with the emergence of Gary Barnidge are both big boosts to Green's weekly outlook.
5. Antonio Brown vs OAK- No one was more excited to see Ben Roethlisberger back in action than Brown. Unfortunately for Pittsburgh, they have lost Le'Veon Bell for the season, and now will be the time to throw it all over the park. Ageless Charles Woodson and the upstart Raiders will come calling in week 9, but Roethlisberger should be more of a threat with the ball in his hand after getting an additional week of practice under his belt. That bodes well for Brown. Martavis Bryant, Markus Wheaton, and Heath Miller also benefit greatly from Ben's return, keeping defenses off balance and away from keying on Brown.
6. Julian Edelman vs WAS- The PPR beast has scored 6 times in 7 games. He's averaging over 9 targets over the last three games, and they will surely continue to come his way. Brandon LaFell's return does not affect Edelman's value in a negative manner whatsoever.
7. Keenan Allen* vs CHI- Could be missing due to a kidney injury, but if he can go, Allen will continue to gobble up targets and playmaking opportunities as the Chargers continue to throw it all over the yard. If he misses out, Malcom Floyd and Stevie Johnson will see an obvious uptick in week 9.
8. Emmanuel Sanders @ IND- Sanders looked a tad out of sync in week 8, but it should not be a surprise given the shoulder injury he picked up before the team's week 7 bye. He should see plenty of opportunities indoors against the Colts in week 9. If Vontae Davis manages to contain Demaryius Thomas, Sanders will obviously benefit with more targets as he did in weeks 5 and 6.
9. Alshon Jeffery @ SD- Jeffery has played in 3 games this season. In those games he has averaged over 12 targets, 7 receptions, 115 yards, and scored twice. Difficult road trip to the west coast in a matchup of teams desperate for a win, but Jeffery is healthy now and looks set to take this momentum with him into week 9 against a Chargers defense that is susceptible to big plays in the passing game.
10.Brandon Marshall* vs JAX- Marshall is battling toe and ankle injuries, so he'll need to be monitored through the week. However, he's played through pain before, and played quite well. Should he be good to go, Marshall will get a Jags defense that has bent against the pass. No matter who quarterbacks the Jets in week 9, their remit should be simple: get Brandon Marshall the ball.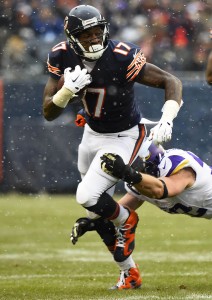 Week 9 Wide Receiver Rankings 11-60
11. Allen Robinson @ NYJ
12. Randall Cobb @ CAR
13. Dez Bryant vs PHI
14. Mike Evans vs NYG
15. T.Y. Hilton vs DEN
16. Jarvis Landry @ BUF
17. Martavis Bryant vs OAK
18. Michael Crabtree @ PIT
19. Eric Decker vs JAX
20. Donte Moncrief vs DEN
21. Amari Cooper @ PIT
22. Brandin Cooks vs TEN
23. Sammy Watkins* vs MIA
24. Pierre Garcon @ NE
25. Travis Benjamin @ CIN
26. Stefon Diggs* vs STL
27. Allen Hurns* @ NYJ
28. Jordan Matthews @ DAL
29. Rueben Randle @ TB
30. Malcom Floyd vs CHI
31. Anquan Boldin* vs ATL
32. DeSean Jackson* @ NE
33. Stevie Johnson vs CHI
34. Tavon Austin @ MIN
35. Willie Snead vs TEN
36. Brandon LaFell vs WAS
37. Davante Adams @ CAR
38. Kendall Wright* @ NO
39. James Jones @ CAR
40. Rishard Matthews @ BUF
41. Andre Johnson vs DEN
42. Mike Wallace vs STL
43. Leonard Hankerson* @ SF
44. Jamison Crowder @ NE
45. Ted Ginn Jr. vs GB
46. Eddie Royal* @ SD
47. Justin Hunter @ NO
48. Terrance Williams vs PHI
49. Dwayne Harris @ TB
50. Marques Colston vs TEN
51. Marvin Jones vs CLE
52. Kenny Stills @ BUF
53. Torrey Smith vs ATL
54. Roddy White @ SF
55. Markus Wheaton vs OAK
56. Robert Woods vs MIA
57. Brian Hartline @ CIN
58. Charles Johnson vs STL
59. Taylor Gabriel @ CIN
60. Marquess Wilson @ SD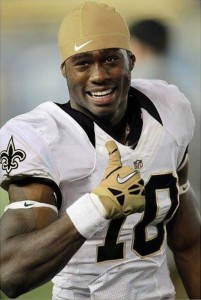 Week 9 Wide Receiver Sleepers
Allen Hurns @ NYJ- Hurns has scored in 5 straight games, averaging 8 targets and 5 receptions over that time frame. He'll see a Jets defense that just saw both Michael Crabtree and Amari Cooper have big days. Hurns and Allen Robinson will look to do the same.
Eddie Royal* @ SD- Nursing a knee injury, but if he's able to go, Royal gets a prime revenge game at San Diego. High-upside WR 4 against a defense that will have its hands full with a healthy Alshon Jeffery, the emerging Marquess Wilson, and tight end Martellus Bennett.
Dwayne Harris @ TB- Harris has earned a role as a receiver in the Giants' offense, and can be especially useful while Victor Cruz continues to miss time. Harris scored twice against the Saints in week 8, and he's gained Eli Manning's trust as a legitimate downfield threat. The Bucs' defense can be bent by the big vertical plays which Harris brings to the table.
Marques Colston vs TEN- Colston may be re-emerging after shrugging off a shoulder injury the last two weeks. He had a vintage Marques Colston day in week 8, catching 8 of 9 targets for 114 yards and a touchdown. Colston, Brandin Cooks, Willie Snead, and Benjamin Watson all had big days along with Drew Brees, who tied an NFL record with 7 touchdown passes as the Saints held off the Giants. Colston is still capable in the red-zone, particularly on back-shoulder fades and high balls into the back of the end-zone. The Saints figure to keep throwing it around against Tennessee in week 9.
Robert Woods vs MIA- He delivered in his last appearance in the sleeper column. With both Sammy Watkins and Percy Harvin on the mend, Woods has seen plenty of targets and playmaking opportunities in Buffalo. Gets a Dolphins' secondary that was stretched thin by the Patriots in week 8. Tyrod Taylor may be on the brink of a return for Buffalo.
Justin Hunter/Dorial Green-Beckham- Both Hunter and DGB could be ready to lift off with Kendall Wright's status uncertain. Interim coach Mike Mularkey may want to get these two young wideouts more involved as the season moves along.
Jeremy Kerley vs JAX- Keep an eye on Brandon Marshall's situation. Eric Decker would benefit most if Marshall were to miss time, but Kerley is capable of showing up in spurts. Has had a productive couple of weeks even with a healthy Marshall and Decker around him.
Week 9 Wide Receiver Injuries to Monitor
Keenan Allen (kidney)
Sammy Watkins (ankle)
Percy Harvin (knees/hip)
Kendall Wright (knee)
DeSean Jackson (hamstring)
Anquan Boldin (hamstring)
Stefon Diggs (leg)
Leonard Hankerson (hamstring)
Eddie Royal (knee)
Good luck in week 9.