Unfortunately for some, team and scheme can mitigate production. For others, the right fit can propel average players to outstanding stat lines. Despite talent level and natural ability, the careers of NFL players are often determined by the logo on their head, either for better or for worse. Successful fantasy football is all about finding the guys who can produce in their given situation, and avoiding those that can't. Here are some rookie wideouts to keep an eye on this season.
Amari Cooper and Kevin White will have really good rookie years. Done. Let's move on.
Devin Funchess – Right Spot
Funchess, 6'4" and 232 lbs, headlines Carolina's draft as the team's first offensive pick. The Panthers addressed a position of dire need (one of many on the team) by snagging the Michigan receiver in the second round. It won't take long for him to wrestle away a starting position from perpetually mediocre Jerricho Cotchery this offseason, and his size will mirror the massive Kelvin Benjamin (6'5") on the other side of the field. His big body and huge vertical leap bailed out countless errant throws at Michigan, and those traits will serve him well to snag for than a few long gains in his rookie year. Many scouts knocked his value because of a slow 40 time at the combine, but he looks faster on tape than his time implies, and his surprisingly stealthy route running seemed to always get him open in his junior year. Expect something very similar to Benjamin's production last year, and perhaps more, as Carolina's WR core is better as a whole going into the 2015 season.
Phillip Dorsett – Wrong Spot
Much like the Dorsett that of another era, no one will be able to catch the Colts' shiny new receiver. The kid can run. His speed and silky smooth running, with and without the ball, could prove to be a lethal combo to tear up secondaries with. However, it was somewhat surprising to see him off the board in the first round, and even more suprising was that it was the Colts that took him. Indianapolis has WR talent coming out of its ears, and Dorsett may not get the playing time that would render fantasy relevant numbers. T.Y. Hilton, Andre Johnson, Donte Moncrief, and Duron Carter all sit in the stable (Colts... stable...), along with two tight ends that gobble up touchdowns game after game. We'll see how the depth chart shakes out as the season approaches, but for now, we are unhappy with where Dorsett sits.
Jaelen Strong – Right Spot
An injury scared teams away from Strong all the way until the 3rd round of the draft. But the Arizona State product has all of the tools necessary to make an impact in his first year in the league. His 4.4 speed, stout 217 pounds, and Strong hands (sorry) give him a versatility and flexibility that the Texans will be able to employ right away. His ceiling is far higher than Cecil Shorts III's, whom Houston signed this offseason attempting to replace Andre Johnson and fill the second starting receiver spot. DeAndre Hopkins will draw the attention of secondaries' #1 corners, which will open the door for Strong to be able to produce some solid stat lines this year. Don't worry about the QB play in Houston, it will get sorted out. J.J. Watt will make sure that the Texans get enough chances on offense, and Strong will get open to catch balls from whoever is back there. Look for him to slide in fantasy drafts as he did in the real deal, and cash in on a late-round-rookie pick.
Dorial Green-Beckham – Wrong Spot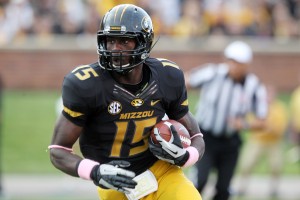 Comparisons to Calvin Johnson speak highly of someone. Really really highly. Green-Beckham's ceiling in this league may be higher than any other rookie wide receiver's. His college tape makes playing football look easy; he clearly established himself alpha male on every field he stepped on. However, out of all the places that he could have landed, Tennessee may be the least conducive to a successful first year. Rookie QBs are always big question marks, but more mystery is added in the fact that Mariota does not play like a typical Ken Whisenhunt quarterback. The RB position is bleak: Bishop Sankey really shouldn't qualify as an NFL player, Shonn Greene moves like a broken locomotive, so maybe rookie David Cobb will be starting midway through the season. There is talent at the WR position, Justin Hunter, Kendall Wright, Harry Douglas, and Hakeem Nicks have all proved that they can (or could at one point in time) catch passes in the NFL. All these stack up against us seeing the season we want from Dorial Green-Beckham, though he certainly has the talent to produce. It would have been nice to see him land with a team with a classy veteran to show him how to master his craft, much like Cris Carter did for Randy Moss. He will be one of the most tracked rookies in 2015, but don't expect huge output.