The NFL season is well underway and some trends are beginning to emerge a bit. These trends can point out players who are getting more or less opportunities than were expected heading into the season. Between trends and numbers and some guys who are just generally under the radar, it can help build a strategy for the next couple of weeks as well as the rest of the year. Some of these names may be well known while others are a bit obscure, but add them to your watch list. Just be sure to pay attention to the action to take, some of these picks are for deep leagues only.
Breshad Perriman WR BAL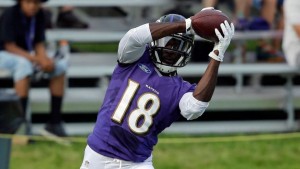 Results from last week aside, the Baltimore receiving corps are underwhelming. I had some hopes for Marlon Brown before the season, but he cannot seem to translate size and ability into success. Perriman probably has more ability than any active receiver on the Ravens roster, but he started the year out injured. This was a blow to people who drafted early, but it could be a boon to some owners. Perriman is available in a lot of leagues and he is beginning to ramp up his activity in advance of a return to action. He probably will not be back for a week or two, but I picked him up this week. If you have a roster spot and he is out there, stash him now instead of wasting FAAB money later. If he can get up to speed quickly, he could be making solid contributions fairly soon. Action: Claim in all leagues
Andre Williams RB NYG
Williams is a name that people have heard before and he is in a crowded backfield, but he got a lot of the work on Thursday. There was talk about Williams having a big role in the offense last season, but that fizzled out in large part. If he can continue to be effective in 2015, he should see a bigger piece of the rushing game. I think that he is also the best choice on the roster in terms of a goal line back. There are worse options out there and if Williams is available he makes a nice fill in player. Just realize that he is not worth a start yet aside from a desperate spot. Action: Claim in 12 team and larger leagues
Need Trade Help? Here Are Some Tips!
Jordan Norwood WR DEN
Norwood was not a name that anyone was looking at going into the season despite being on the Broncos coveted offensive roster. Most people were keeping an eye on Cody Latimer, who is listed ahead of Norwood on the depth chart. This situation bears watching and I would not make a roster move yet. Just remember that if Norwood can hold of Latimer and Andre Caldwell for the number three receiver spot, he will have some week to week value. All of this is out the window if Kubiak makes Manning run his offense, but if Peyton is given the reins the Broncos receivers will pick up steam. Action: Watch List
Devin Funchess WR CAR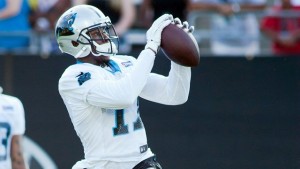 Given the wide receiver situation in Carolina, more people would probably be on board with Funchess if he had not missed the preseason. Like Perriman, Funchess is a rookie that I think will make some contributions within the next few weeks. He has not been on the same page with Cam Newton yet, but he was targeted 4 times in week 2. Funchess has similar size to Kelvin Benjamin and Coach Ron Rivera said that he runs the same type of routes. To me, this means that he could be a factor in the red zone sooner rather than later. Action: Claim in 12 team and larger leagues
Gavin Escobar TE DAL
Escobar has served mainly as a foil to Jason Witten over the last year plus, stealing the occassional touchdown. With Witten on the shelf now, Escobar could be more. This would be more enticing if Romo were playing, but someone will have to catch passes and bodies are continuing to drop in Dallas. I think that Escobar is a short term solution if Witten can get healthy quickly, but his receiving ability makes him a wild card even when everyone is healthy. Action: Rental with potential for more.