Fantasy football offers a wide variety of formats so that players can customize leagues to their liking. I'm taking a deeper look into 12 team strategy for the 2017 fantasy football draft. Most concepts can be translated to other formats, just keep in mind that some of the information presented is intended for beginners. Savvy fantasy football veterans will find some useful tidbits as well.
Read Everything, But Be Skeptical
Saying to do your research is cliché, but it is still sound advice. Just about everyone reporting on the NFL or writing about fantasy football is incorporating some opinion into their writing. Even when opinions are backed up by statistics they have to be taken with a grain of salt. There is no such thing as too much research. Just keep your head on straight as you sift through the rubble.
Third Year Wide Receivers To Watch
This time of year "hot takes" are being flung non-stop so that fantasy experts can say that we called a breakout before it happened. There are a lot of great statistic based opinions, but beware the wild theories used as click bait. Check the facts and see if the predictions being put forward fit similar trends from past season.
Keep Position Scarcity In Mind
12 team leagues have enough starting caliber players for everyone,inutile the injuries start. The hardest hit position is generally running back. This means that it may be necessary to carry a couple of "lottery ticket" types on the bench. Of course it is going to depend on the bench depth in your league, but be sure to have a player or two that you believe in on the bench.
I tend to sacrifice a backup tight end or quarterback as someone from waivers is probably as good as the backup that you would take in the draft. There is nothing wrong with getting into the flow of the season and going with a hot hand rather than whatever vanilla player is available in the late rounds on draft day.
Separate Players Into Tiers To Maximize Value
Some people may not feel up to separating each position into tiers and there are numerous fantasy experts that post their version of this strategy. Adding a personal touch will create a much more satisfying roster in the end. Each person has their own take on what players will outperform their ADP and that will have a big impact on which tier a given player winds up in.
Contract Season Running Backs To Draft
An example of using tiers can be applied using Mark Ingram. I will probably not end up with many shares of Ingram, because there are players in his tier that are much more appealing to me. Right around Ingram in my tiers and ADP are Joe Mixon, Ty Montgomery and LeGarrette Blount. I would rather have any of those three backs over Ingram despite the fact that I think his ADP is fair.
Go For The Best Available Player
Since there is always someone that takes an idea too far, I'm not recommending drafting a team of just wide receivers. The gist of this is that you may need a quarterback and already have two running backs, but if you see someone that is too good to pass up, grab him. This is a place where the tier system comes in handy. If your position of need has several players available in the same tier, you may be able to wait and grab one of them in the next round.
This may seem like it contradicts the statement on position scarcity, but that is not the case. If two players are fairly equal in value, the tie goes to the scarcer position. Just be sure that panic does not cause you to fill a position with an average player when a difference maker is on the board somewhere else.
Stay Ahead Of The Competition
Go into the draft with the knowledge that in a 12 team league the positions will thin out late in the draft. Get a couple of top tier running backs and/or wide receivers right away. Don't worry about getting a Tom Brady or Aaron Rodgers with one of your early picks. Grab someone like Philip Rivers or Kirk Cousins later on and enjoy having an extra stud RB or WR to work with.
When it comes to tight end, go very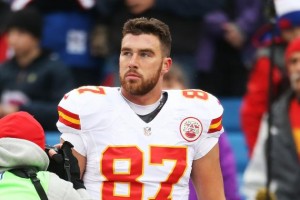 high or go low. Specifically if you are going for the high end TE, think Kelce. Almost no price is too high with the departure of Jeremy Maclin from KC. He is going to have a monster season. If you decide to wait a while, hang around until the double digit rounds and grab Jack Doyle. Andrew Luck should be getting closer to form this year and Doyle no longer has competition from Dwayne Allen.
The draft is still a bit down the road so keep up with injury reports and training camp buzz. In the meantime, keep reading and prepping for the 2017 fantasy football season.