The earliest fantasy football drafts for 2015 are in the books and ADPs are starting to solidify a bit. This means that if your draft has not yet taken place, you can take a look at the trends and identify players who could be a bargain. Keep in mind that this will not be true for every league. Since you're prepping with FantasyKnuckleheads, you're probably in a competitive league. These are some players that are far enough off the radar that you can still likely get a bargain.
I'll add more players as I see ADPs moving around a bit, but for the moment I'll focus on one player each at QB, WR, RB and TE. I don't tend to get too in depth with IDP rankings, so check here if you want more on that topic.
Carson Palmer QB Arizona Cardinals ADP: QB-20 Overall-128
If you like the strategy of waiting to take your quarterback, Carson Palmer is your guy. In some leagues he is being drafted after Colin Kaepernick and barely ahead of Jameis Winston. I know that it can be scary to run Palmer out there as a starter with his injury history. I also know that the Cardinals have a stacked receiving corps and a stud receiver out of the backfield in Andre Ellington.
Although Palmer only played five full games last year, he put up at least 16 fantasy points in each of those games. He has also looked sharp in limited action so far this preseason, as you can see here. I think that Palmer will have a good enough season to justify starting in 12 team leagues. If you really feel concerned about his history, at least consider him as a cheap QB to pair with Brady if his suspension is upheld.
Players I'd Prefer Palmer Over: Colin Kaepernick, Jay Cutler, Teddy Bridgewater
Danny Woodhead RB San Diego Chargers ADP: RB-53 Overall-135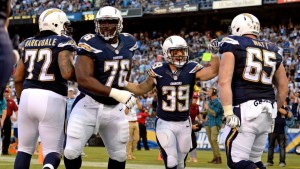 Danny Woodhead is more than a handcuff for Melvin Gordon, but probably less than a RB1 or even RB2. Woodhead's diverse skill set has made him a very valuable flex player to own in past seasons and that will be the case in 2015. This is especially true in PPR leagues with the suspension of Antonio Gates. Philip Rivers has a great rapport with Woodhead and is ecstatic to have one of his security blankets back in the fold. Melvin Gordon will get playing time; he was picked too high in the draft to sit. He will be far from carrying the load however, as Woodhead will get a solid chunk of playing time.
Players I'd Prefer Woodhead Over: Darren Sproles, Reggie Bush, Darren McFadden
Michael Crabtree WR Oakland Raiders ADP: WR-59 Overall-149
Crabtree has lost a step, but his game was never about speed. Derek Carr has some real targets to throw to in 2015 between rookie phenom Amari Cooper and Crabtree. The trio of Carr, Cooper and Crabtree appear to have some real chemistry going into the season and that should translate into big things for the Oakland offense. Cooper should be a stud right off the bat, but I'm not wowing anyone with that information. Crabtree, on the other hand, might not be on the radar for a lot of fantasy owners. This should change, just make sure that you get on the bandwagon before Crabtree gets all the way back to being the possession receiving machine that he was in his 49er glory days.
Check Out Some Post-Hype Sleepers For 2015
Players I'd Prefer Crabtree Over: Eric Decker, Pierre Garcon, Torrey Smith
Owen Daniels TE Denver Broncos ADP: TE-12 Overall-125
The fact that Daniels is past his prime at 32 years old is not lost on me. However, Daniels has a proven track record of success and a quarterback who has averaged 11.7 passing tds per year to tight ends in Denver. Daniels and Coach Gary Kubiak have a strong history together and the Broncos throw as much as any team in the red zone. All of these factors point to a huge uptick in value for Owen Daniels in my mind. Julius Thomas is a nice tight end, but the majority of his value came from playing in Denver with Peyton Manning.
Players I'd Prefer Daniels Over: Jason Witten, Julius Thomas, Zach Ertz
Bonus Bargains: Latavius Murray RB Oakland Raiders, Tyler Eifert TE Cincinnati Bengals