Mock Drafts are a great tool to prepare you for the real fantasy football draft. If you haven't starting mocking you better get on the ball! Some of my buddies invited me to a mock draft via Google Hangouts and I couldn't resist. We had a blast and recorded the entire mock for you in case you're bored at work. I've also included a screen shot of round 1 through 4 for your view pleasure. Some of the guys in the mock sent me their take on mock as well as some other helpful information as your prepare for the 2015 fantasy football season.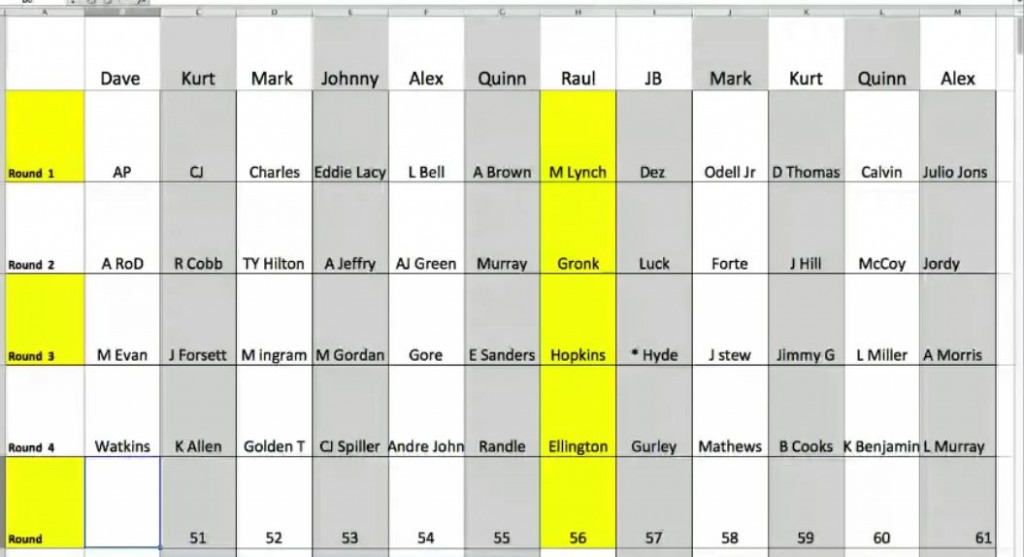 Here's My Take
I had the second pick and took CJ Anderson (gasp). If you watch the first couple minutes in the video below you'll see how hard I got absolutely ripped for this pick. It's not good when I open up an article defensing my pick but ask yourself this question: who will be the best fantasy scoring RB in 2015? If you had asked yourself that in the previous year would you have said DeMarco Murray? I doubt it very seriously, the point is no one knows and typically the top 5 backs don't hit number 1 at the end of the season. CJ Anderson is one of the younger top backs (in my mind) that has a sure enough opportunity and talent to become the 2015 top fantasy scorer. Peyton Manning was noticeably weaker as the season dragged out and I expect CJ to handle a larger load this year and get plenty of red zone touches. I wasn't sure CJ would make it back to me so I took him at 2, end of story.
Best Pick of the Mock Draft:
The best pick in my opinion was D. Murray in the middle of the second round. Some people are low on Murray, other are really high as you can clearly see in our fantasy football draft rankings.
Worst Pick of the Mock Draft:
CJ Anderson was taken early, probably could have waited until my second pick. I only know this because everyone freaked out when I drafted him otherwise I'm good with my decision and it's only a mock draft!
Sleeper Pick: S. Bradford
There's no secret I'm high on Bradford this year. He's in the right place at the right time (finally) and we all know how deadly accurate he has become. Check out many of our other sleepers here.
Avoid Pick: J. Stewart
Yes he's the #1 back this year. Yes Williams is gone and the next closest back isn't going to be trusted early in the season. No he won't stay healthy!
Best Pick of the Mock Draft:
I think Latavius Murray in the fourth is the best pick here because he's going to be a clear-cut #1 RB. We saw him in the Chiefs game last year break 100 yards on 4 runs before leaving because of injury. David Carr even looks like he might take some attention away from the running game this year.
Worst Pick of the Mock Draft:
The worst pick was Andrew Luck so early in the second round. Now, Luck isn't a bad pick, but he was drafted way too early. JB likely could've gotten him on the way back in the third, or even someone else in a similar tier 8 rounds later. Instead, he's looking at Gurley as his RB2 right now.
Sleeper Pick: S. Bradford
My sleeper pick is Stevie Johnson. He finally has a QB that can get him the ball, and solid talent around him so he won't be doubled every snap. Factor in that he's healthy with a solid camp so far, and I think he's in for a WR2 year at a WR3/4 price.
Avoid Pick: J. Stewart
I'm not drafting Gurley, anywhere. I followed him quite a bit in college, and his runs were always off-tackle or off a jet sweep of some sort. You need more than speed in the NFL, as we've seen time and time again. He may flash a bit of talent at the outset, but I can't see him putting up big numbers once teams realize he can't run up the middle.
Best Pick of the Mock Draft:
I'm guna cheat here while simultaneously tooting my own horn on how wonderful my teams turned out. The Julio Jones/Jordy Nelson combo at picks 12 and 13 was the best pick(s) of the mock. Both Julio and Jordy have the ability to be the #1 receiver in all of fantasy being attached to quarterbacks that love to dial their number. Julio had the second most yards per game (behind ODB) even with Matt Ryan running for his life every play behind a line that had 43 people injured by Week 5. Jordy most likely would've bested Antonio Brown for #1 receiver last season if the Packers weren't so outrageously good on offense to pull the starters in the 4th quarter on multiple occasions.
Worst Pick of the Mock Draft:
There's a few picks in this draft that made me cringe, but just to pile on the punishment I gave my FKH co-host Mark Milano during the mock, Jonathan Stewart in the back end of the 3rd round is how you lose in fantasy. Injury-risk, limited carry upside, touchdown vultures abound and did I mention injury-risk going in the third round? Cam Newton and OG Vulture Mike Tolbert will steal goal line carries when Stewart plays, he will lose carries to Cam in all situations and has never been the true workhorse on this team. Even during his admittedly impressive run at the end of the regular season, he only got in the endzone once. He may get you a few top-24 weeks (while he's on the field), but he will also have a bunch of games with 8 points or less...or the zeroes sitting quietly on the bench.
Sleeper Pick: T. Eifert
People quickly forgot how much talent he possesses as a mid-first round pick out of Notre Dame. He started 2014 very nicely, hauling in all three of his targets from the Soulless Ginger for 37 yards in two drives before a gruesome elbow injury ended his season. Just like Kelce is referred to as "Baby-Gronk", consider Eifert "Baby-Olsen". I see Eifert matching or even outdoing Kelce's 2014 stat line. No, not Kelce's overall TE1 2015 statline, his 67/862/5 line on 87 targets. If Eifert gets into the 80-100 target range, I can see very similar production coming this season.
Avoid Pick: J. Graham
Sorry for staying tight end centric, but if you think Jimmy Graham can return value in the 3rd round, or even 4th, we are not going to get along. Here are a bunch of reasons why Jimmy doesn't even come close to break even on an early investment this season. Russell Wilson threw the ball a total of 452 times last season while Brees had 456 completions. Need more numbers? I'll oblige. Graham had a shade under 19% of the total targets in New Orleans to hit 125 last season. To reach that target total in Seattle's offense, Graham would need over 26% of the total targets just to hit that same figure. Numbers aside, Brees is a better quarterback than Russell Wilson. Add all that up with the realization that Graham wont see nearly as much redzone love in Seattle with Beast Mode in tow and that whole throwing the ball on the goal line costing the Seahawks a Super Bowl thing they've got going.
Best Team of the Mock Draft:
The best Drafted Team in my opinion was Raul (out of the 7 th spot) because he landed Marshawn Lynch.  In a standard league you need a "Rock" and Lynch is that guy!  In cooking terms, you need all the ingredients to make a good Gumbo and Lynch sets any owner up for success!  To follow up with Gronk was excellent in my opinion because of the scarcity factor.  Few Tight Ends will have the year Gronk will. Jimmy Garoppolo will find him often in the 1st four weeks then Tom will light him up upon his return. While there's a tough decision to be made in the 3rd round regarding Wide Outs, I found DeAndre Hopkins to be a very special pick.  Raul knew he had a Stud RB 1 in Lynch and a beast TE. By selecting Hopkins (the Man) in Houston for his 1st wide out pick give him a true #1 player at RB, WR and TE.  Hopkins will attack DB's constantly and rise up this year - mark my words -  Excellent pick.  One could argue that Ellington was his weakest pick but I strongly disagree.  Arizona will feed him the rock both via the ground and air giving him maximum upside. If only I could see his finished "Gumbo" recipe.
Finally, here' the video from our Google Hangout "on air", enjoy.