The offseason is finally almost over.
Training camps are on the horizon, meaning football fans all over the world are ready to dive straight into the six-and-a-half month marathon that is the NFL season. The hot July sun will soon give way to crisp autumn afternoons and bone-chilling winter nights. In the meantime, those fans have the chance to play the part of Nostradamus; predicting their favorite team's future with week 1 still over a month away.
Fans of the New Orleans Saints are as eager as ever for the 2015 season to kick off. Last year proved to be a bitter disappointment, but the Saints have retooled and shaken off the 2014 rust with an eye on climbing back up the ladder in the always-plucky NFC South. While 2015 should be just as challenging in terms of navigating a physically and mentally-demanding schedule --not to mention attempting to fill the large, productive shoes previously occupied by Jimmy Graham-- optimism is beaming out of New Orleans as the Saints prepare to hit the road for their West Virginia-based training camp. Sean Payton, Drew Brees and the band are back for another go-round, and with some defensive reinforcements, the Saints have reason to believe that they can file 2014 away for good while simultaneously aiming high for 2015. Most teams would be happy just to make the playoffs, but for the Saints, the goal is clear: win the franchise's second Super Bowl title. Lofty ambitions? Yes. However, anything is possible in this beautiful game.
Here are our 2015 predictions for the New Orleans Saints:
Analysis
Taking last season's winning percentages into account, New Orleans enters 2015 with the league's 28th toughest schedule. Strength of schedule rankings tend to be more of a loose guideline --a euphemism for "crapshoot"-- and the Saints know that their journey towards getting back to the postseason will be much more difficult than it appears on paper. In addition to their own divisional matchups, the Saints will face off against the NFC East and AFC South divisions. Arizona and Detroit are two more formidable teams that the Saints must play, including a week 1 showdown in the desert with the Cardinals.
Injuries and defensive woes took their toll on the Saints last season, but the offense wasn't quite its usual, sharp self either. Jimmy Graham was traded to the Seahawks in March leaving New Orleans with the aforementioned giant hole to fill in the All-Pro tight end's reliable productivity. Deep threat Kenny Stills and long-serving veteran running back Pierre Thomas are also gone, but the Saints got a nice piece in return for Graham in the form of former Seattle center Max Unger, who solidifies the middle of their offensive line which struggled throughout 2014. C.J. Spiller has also arrived, and will give the team the type of playmaking versatility out of the backfield that they have lacked since trading Darren Sproles to the Philadelphia Eagles last spring. New Orleans used its top-two draft picks to bring in Stanford OL Andrus Peat and Clemson LB Stephone Anthony; players who the club hopes will become mainstays for the future. Brandon Browner was signed to help shore up the secondary, Anthony Spencer brings some credibility to the pass rush department, and the return to health of Jairus Byrd should go a long way in helping defensive coordinator Rob Ryan to get his unit back to the level it competed at in 2013, just one year after the Saints' defense hit historical lows.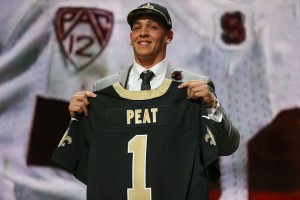 If these additions play out the way the Saints envision them doing and they can avoid the bite of the injury bug, New Orleans should be well-equipped to make a right go of it in 2015. Getting off to a good start will be key --last year's 2-4 start put the team right behind the eight ball-- and maintaining that momentum through what could be a challenging spate of games in October and November will stand the team in good stead heading into December.
Offensive MVP - Mark Ingram
This could easily be construed as a reach, but Ingram figures to be firmly atop the totem pole in the Saints' backfield. Sure, Payton has always employed a committee of tailbacks, but Ingram should have the brunt of the rushing duties to himself, particularly in short-yardage and goal-to-go situations, with Khiry Robinson occasionally spelling the former Heisman Trophy winner. While Spiller should chip in on the ground as well, the former Buffalo Bill's value will be seen more in the passing game as he fills a role in the offense similar to that of a Reggie Bush or a Sproles. If the Saints are truly in search of more balance and ball control, Ingram should tote the rock anywhere from 17-22 times a game, and could be poised for the first 1,000 yard season of his career after gaining 964 yards in 2014. His future in New Orleans looked murky at this time a year ago when the team failed to pick up his fifth-year option. However, the Saints showed their faith in Ingram by handing him a new four-year deal worth $16 million. We expect Ingram to eclipse that 1,000 yard barrier, average around 4.5 yards per carry, and score at least 10 rushing touchdowns.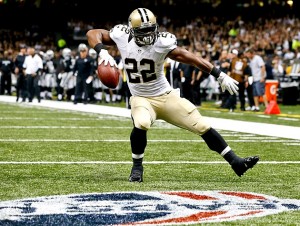 Defensive MVP - Keenan Lewis
Lewis has been a stalwart for his hometown team since the day he signed with New Orleans after spending his first four years of his career with the Pittsburgh Steelers. The Saints' defense was down as a unit in 2014, and Lewis was one of several players who were forced to play through some painful injuries as the team chased a playoff berth. Healthy and with a freshly restructured contract in hand, Lewis is poised to trend back towards his 2013 form, hopefully, along with the rest of the defense. Brandon Browner gives Lewis a legitimate bookend on the perimeter which will somewhat lessen the burden of the 29-year-old's responsibilities, allowing him to flourish as a ball hawk on the outside. We predict Lewis will walk away with a career-high in interceptions (his career-best as of this summer is 4) with a number of pass breakups and key tackles on the outside to boot. Cameron Jordan, Kenny Vaccaro, or Browner may have their say here, but Lewis is the heart and soul of the black and gold's defense, and his performances will be key for a team looking to turn the tables on what was a dismal defensive performance en route to a disappointing 2014 season.
Leading Rusher - Mark Ingram
Easy. Look up two paragraphs.
Leading Receiver- Brandin Cooks
Cooks, the team's 2014 first-round draft choice, got his young career off to a productive start before a hand injury shelved him for the final six games of last season. Not only should Cooks serve as a traditional receiver; he'll continue to be a "satellite" weapon a la Spiller, perform as a deep threat, and contribute in the return game. Cooks could end up making a case for himself as the team's offensive MVP in 2015 with the amount of touches and targets he is poised to absorb. He was on pace for about 85 catches as a rookie in an offense that also included Jimmy Graham, and with Graham now in Seattle and Brees in need of a safe pair of hands, Cooks has a chance to realistically hit the triple digits in terms of catches, provided he can stay healthy as a sophomore. Capable of running any and every route and able to haul in difficult catches, Cooks should be a shoe-in to lead the team in all major receiving categories. He's also a player the team should and will look to build around.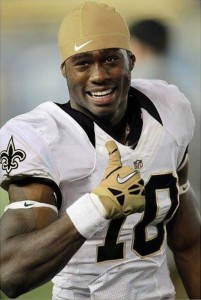 It's become a narrative of sorts to suggest that Drew Brees has regressed. Yes, he's 36 years old and his 2014 numbers took a dip, but this is still one of the game's elite quarterbacks operating one of the game's best offenses. The Saints have been screaming "run more, throw less" for what seems like years on end now, but let's face it: when push comes to shove and New Orleans needs yards and points, Payton and Brees can deliver. Brandin Cooks, a rejuvenated Marques Colston and Spiller should all have big years, with the likes of Josh Hill and Benjamin Watson chipping in to soften the loss of Graham. Young receivers such as Brandon Coleman, Seantavius Jones and Kyle Prater will be names to watch in camp, while Joseph Morgan will have a chance to make the deep threat job his own with Stills now in Miami.
That being said, speaking in receiving terms, look for 2015 to be the Brandin Cooks show.
Schedule and Predictions
2015 New Orleans Saints Schedule
week 1- @ Arizona
week 2- Tampa Bay
week 3- @ Carolina
week 4- Dallas
week 5- @ Philadelphia
week 6- Atlanta
week 7- @ Indianapolis
week 8- New York Giants
week 9- Tennessee
week 10- @ Washington
week 11- BYE
week 12- @ Texans
week 13- Carolina
week 14- @ Tampa Bay
week 15- Detroit
week 16- Jacksonville
week 17- @ Atlanta
The Saints must make the Mercedez-Benz Superdome the fortress that it has been in recent years. Last year, New Orleans limped to a 3-5 home record, and they carry a 5-game home losing streak into 2015. More offensive balance and a defense that can limit the big plays and feed off of the endless crowd noise will boost the Saints.
Conversely, the road slate looks tough, so the Saints will have to limit mistakes of their own and stay composed in some difficult environments. Each month will present different sets of challenges, but the Saints, engaged in "win now" mode, are ready to fight through whatever stands in their way.
Prediction-
10-6 - NFC South champions
The NFC South crown and a subsequent playoff berth are realistic goals for the 2015 New Orleans Saints. Time will tell if they can deliver and make a charge towards Super Bowl 50, but this year's edition of the New Orleans Saints promises to learn from the trials and tribulations of the previous season. Parallels can be drawn between this group and the 2013 team which went on to win a playoff game, and there are many similarities. This year's team seems to have that hunger from top to bottom, and they know that their window won't stay open forever, especially in today's ever-changing NFL landscape.
A quick start will go a long way to bringing back the swagger and belief that brought the Saints their first Super Bowl title six years ago.