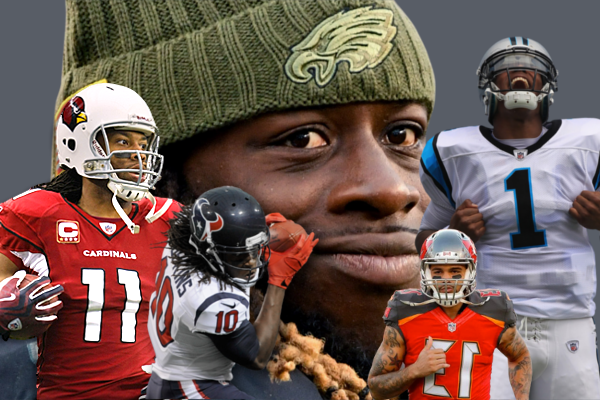 In this series, we present the results of an industry mock draft, with one article highlighting each position in a 12 team, 12 round draft. We'll show you what your final roster might look like when choosing from the early, middle, and late draft positions. Your strategy should change based on the spot you're choosing from, and these articles will give you some idea of what works and what doesn't.
Draft Picking From: 1 | 2 | 3 | 4 | 5 | 6 | 7 | 8 | 9 | 10 | 11 | 12
I drafted 6th overall, aka "the beefy middle" of each round. I had no preconceived notions about what my roster would look like at the end of it, and soon found myself staring down the barrel of a Zero RB draft strategy. Using my own rankings and the Fantasy Knuckleheads draft guide, I went all in on this sneaky good draft method. Let's examine whether it worked out.
My Team From the No. 6 Draft Position:
1.06 Deandre Hopkins, WR HOU
2.07 Mike Evans, WR TB
3.06 Larry Fitzgerald, WR ARI
4.07 Allen Robinson, WR CHI
5.06 Jay Ajayi, RB PHI
6.07 Royce Freeman, RB DEN
7.06 Cam Newton, QB CAR
8.07 Tarik Cohen, RB CHI
9.06 Trey Burton, TE CHI
10.07 Ty Montgomery, RB GB
11.06 Houston DST
12.07 Theo Riddick, RB DET
The draft kicked off as expected, with the four stud running backs (Gurley, Bell, Zeke, and David Johnson) flying off the board along with Antonio Brown. There is an immediate drop-off in my running back rankings from those RBs to the next batch, which would include Alvin Kamara, Melvin Gordon, and Saquon Barkley. Rather than reach for a running back, I scooped up what felt like the obvious choice with Deandre Hopkins. This would become a recurring theme throughout the first four rounds.
I was always just missing out on running backs that I liked at my draft positions. Leonard Fournette was snatched up right before my 2nd round pick. Jordan Howard was gone at the start of the 3rd. Meanwhile, Mike Evans, Larry Fitzgerald, and Allen Robinson all have the ability to finish the year as a WR1 if everything falls into place for their respective offenses. Walking into the 5th round with nothing but wide receivers wasn't the game plan, but I don't hate the results.
But that means I had to load up on running backs in the later rounds, targeting the remaining workhorses and high volume pass-catching backs to balance out my roster. Ajayi's workload should increase this year, at least until Carson Wentz proves he's fully recovered. Royce Freeman should quickly surpass Devontae Booker on the depth chart of a much improved Broncos offense. Cohen, Montgomery, and Riddick are all ideal targets in the back half of PPR drafts due to their heavy presence in the passing game.
I'm typically in the "wait for a quarterback so long you look like a lunatic" camp, but Cam Newton in the 7th round was a steal. Trey Burton was the very last of my second-tier tight ends, and even though it mean overloading my roster with Bears players, I couldn't resist getting my guy. Kickers weren't required in this draft (thank god) but I nabbed a Top 5 defense with the Texans.
Favorite Pick
Larry Fitzgerald. I've talked ad nauseam about my affinity for Fitz this offseason, so let me just say this: If Larry doesn't get 92 catches this year -- the number needed to move up to No. 2 on the all-time receptions list, I'll get a tattoo of Mike Glennon on my neck. Getting Fitz in the 3rd round is highway robbery.
Questionable Pick
Tarik Cohen. In the heat of the moment, Cohen felt like the right move in the 8th round. Reflecting on the draft board, Tevin Coleman was likely the better call, and went 3 picks later. Cohen has more upside, but having a locked and loaded RB2 could have eased some concerns about my running back depth.
Make Or Break Player
Jay Ajayi. The Zero RB strategy hedges on the quality you're able to unearth in the mid-to-late rounds. If you whiff on your first running back, you may not be able to recover. I believe Ajayi will see around 300 touches in his contract year, but it's possible Corey Clement becomes the 1B in the Eagles backfield. I might regret passing up the safety of Lamar Miller in favor of Ajayi's presumed potential.
Final Thoughts
I don't hate my final roster at all. Three stud receivers, quality pass-catching backs, and top tier guys at QB and TE could make this team a contender. There may be a few holes, particularly at running back, but it's nothing that would sink my chances of competing for a championship. My main takeaway from this mock draft is that Zero RB is certainly a viable strategy this year.