The preseason is a breeding ground for speculation, but some trends are worth noticing. Some young players looked great and won the preseason by impressing their coaches. This article will discuss the players whose outlooks have changed the most due to their preseason performance. Moving up due to injury will not be covered here.
Quarterback
DeShone Kizer CLE
Kizer has made some rookie mistakes because he is a rookie. At the same time he is the most promising young quarterback to don a Browns jersey in a long time. Kizer shows poise and the ability to make every throw. He has earned the right to start week 1 for the Browns. He is not in the starting discussion for fantasy right now. That could change quickly though, as Kizer is a dual threat. I would go so far as to say a late pick is in order rather than just the watch list.
Running Back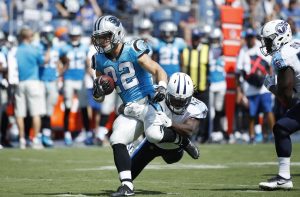 Christian McCaffrey CAR
Just when it seemed like the hype could not get bigger for McCaffrey, it did. He has been making big plays all preseason and defenders have no answer for his moves. In very limited action, McCaffrey has racked up 138 total yards and a touchdown. The Panthers finally have another dynamic threat on offense. This should free up Benjamin, Olsen and Cam to make plays as well. More importantly, McCaffrey himself should be a beast in PPR leagues this season. Standard league owners should be a bit more cautious about his ADP.
Chris Carson SEA
This offseason has been a rollercoaster for the Seahawks backfield. It looked like Eddie Lacy was coming to take a lead role, but then he was fat and slow. Then it seemed like Rawls might grab the lead, but he tailed off as well. Out of nowhere, Chris Carson has looked like a starting running back though. Carson was drafted in the seventh round (pick 249) but has outplayed the veterans. This could be because he was the only one in danger of being cut, but that hunger translates to the field. He has run for 92 yards and 2 touchdowns while catching 4 passes for 64 yards. His big plays won the preseason for Carson and secured him a roster spot. It will still probably take an injury for Carson to see extended playing time, but remember the name.
Preseason Week 3 Fantasy Impact
Wide Receiver
DeVante Parker MIA
For the last two seasons experts and fans have been predicting a DeVante Parker breakout. He has had some very big games, but no sustained success. This year it looks like the Dolphins are committed to utilizing their big deep threat. New quarterback Jay Cutler loves to fling it down field and loves big receivers. These facts play to the strength of Parker, as they have demonstrated this preseason. Now there is talk that the Dolphins are looking to trade Jarvis Landry as well. Parker's ADP has come up by about two full rounds and he could be poised for his big breakout.
Cooper Kupp LAR
The Rams have greatly improved their receiving corps this offseason. They acquired stud wideout Sammy Watkins from the Bills and also drafted a budding star in Kupp. In two preseason games, Kupp was often the first read for Jared Goff. He caught 8 passes for 105 yards and a touchdown and secured the starting slot receiver spot. A minor groin injury has caused the Rams to hold Kupp out until the regular season starts. Still, he looks like a PPR stud right away. He is going to see a lot of open looks playing opposite Watkins. If Goff can get him the ball it will be a solid rookie year for Kupp.