Fantasy football is all about predicting the future. A large part of that is maximizing the ratio of risk versus reward on your squad. Of course a serious injury could derail anyone's season, but there are certain players who carry extra risk over the rest. These are players who are going to be taken in most drafts, and should be. Just be aware of the risk factors and try not to have more than one of these guys on your roster.
C.J. Spiller  RB  New Orleans Saints
Spiller is a player with huge potential and a lot of buzz surrounding him this season. Since the emergence of Darren Sproles, the pass catching back in New Orleans tends to be a hot commodity. In the case of Spiller, the injury history is just too much to ignore. After the 2012 season, Spiller was well on his way to being one of the most exciting playmakers in the league. Since that time, he has been relegated to a part time player. Right now, as I write this, Spiller is already injured and may not be ready for the first week of the regular season. If nobody in your league wants Spiller on your team, take a flier on him. Just be guarded in your expectations.
Melvin Gordon  RB  San Diego Chargers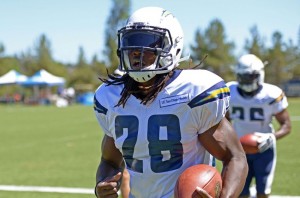 The Chargers are a talented offensive team with a veteran quarterback and a solid line. This should mean that the talented Gordon should have no trouble putting up big fantasy numbers, right? That would certainly be the case if he were to play all three downs, but there is a roadblock in the way of fantasy dominance. Gordon is not known as a great pass catcher out of the backfield (22 catches for his college career). The Chargers happen to have a top-notch third down back in Danny Woodhead. Philip Rivers has a great deal of trust in Woodhead and that fact is going to cause a decrease in work for Gordon. I love Melvin Gordon's talent, but I think that his ceiling for this year is being ranked around 15-20 among running backs.
Some safer alternative players, and the price is right!
Mike Evans  WR  Tampa Bay Buccaneers
Tampa Bay is hoping that Jameis Winston is going to be their franchise quarterback, and he may be. For this season he is going to have some struggles, however. This means that his receivers may see a slight downtick in production while Winston figures out the pro game. Evans is supremely gifted athletically and he has size. This means that he will be able to go up and get some of Winston's errant throws. The reason that I believe Evans has a chance to be less valuable this season is his touchdown total. Last year Evans got into the end zone 12 times, this is going to be hard to duplicate. Although he is a big target, the red zone is the toughest area of the field for rookie passers and there will likely be a lot of turnovers made. I think that around 1,000 yards is realistic for Evans, but I would look for around six touchdowns rather than the dozen he had last season.
Evans will also likely miss the rest of the preseason.
Desean Jackson  WR  Washington Redskins
There is a history of volatility with Jackson to go along with his elite level of talent. He has shown in the past that he can turn off the effort at will and the cluster that will be the 'Skins season could set him off. Robert Griffin III is not well liked by the coaching staff and his performance in recent years has been awful. With all due respect to RG3, the best thing that could happen to Jackson's fantasy value would be the rise of Kirk Cousins to starter. Washington is a minefield, be aware that Jackson could shut it down at any time.
Jimmy Graham  TE  Seattle Seahawks
Graham is going to be one of the most difficult players to project at draft time. There is no blueprint for what his usage will be in Seattle. Everyone who has watched a football game knows that Graham has the talent to be in the top tier of tight ends, but only if he gets enough targets. I personally believe that Russell Wilson is going to fall in love with targeting Graham in the red zone. This would probably keep Graham in the stratosphere of tight ends, but there is no way to know. Given the uncertainty, I would probably take a running back or wide receiver early in redraft leagues and take a tight end later.
Bonus Tip:
If things pan out the way that I think they will, Russell Wilson will see a dropoff in rushing points. With Jimmy Graham in the fold there will be less reason for the quarterback to run around. This makes sense for Wilson and the Seahawks after he signed his lucrative new contract. Wilson is still a top quarterback, but the rushing stats will not be what you are probably expecting.
As you set out to build the perfect fantasy roster, remember that too much risk is your enemy. Every player on this list is one that I would draft, but not together. If you end up with two or three people from this list on the same team, prepare for disappointment.