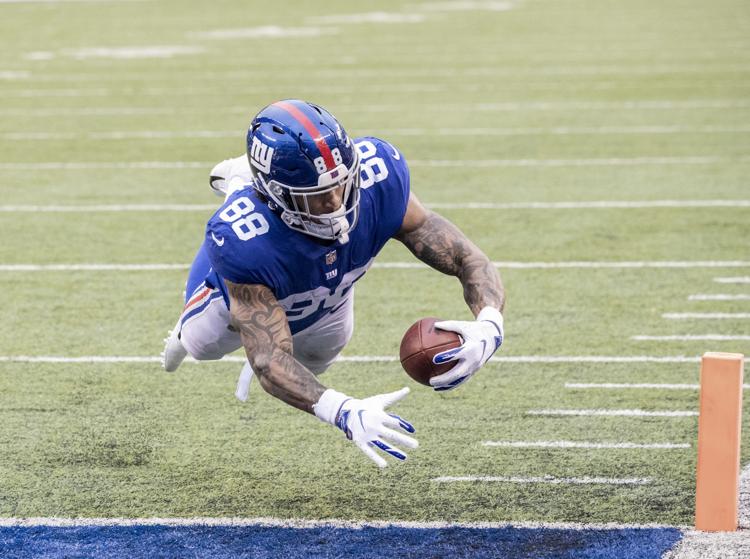 The fantasy football community can be a fickle people. Too distracted by shiny new toys and controversial opinions, we often overlook the incredible things happening right under our noses because they're "old news." That's the purpose behind this brand new series of articles: to shed some light on great fantasy performances that somehow went unnoticed.
Previous Installments: Matt Ryan | T.J. Yeldon | Cooper Kupp
Anyone who played fantasy football this year knows that finding a reliable tight end was no easy feat. Outside of a few dominant performances, things don't look great for the foreseeable future. But one former TE star got unceremoniously swept under the rug this season. And I'm going to pull him back out.
Last year, Evan Engram was the belle of the ball. This year it's been crickets. I mean, for god's sake his Wikipedia page hasn't even been updated to include a recap of his 2018 season. You know whose Wikipedia page does have a 2018 recap? Charles Clay. And you know where he finished in the rankings? No, and neither do I, because my finger would get calloused from that much scrolling.
Season Finish: TE13
So what changed?
Well, for starters, Engram missed a chunk of games with hamstring and knee injuries. That's not an attractive quality for potential suitors. And falling outside the Top 10 tight ends in a down year like this -- when anyone not named Kelce, Ertz, or Kittle might as well be punted off the face of the earth -- certainly didn't help matters.
But a quick look below the surface reveals a familiar player, one the fantasy world was losing their collective mind over one short year ago.
Stat Line Deja Vu
Remember waaaaaay back in 2017, when everyone was fawning over Engram's superstar-like potential? In those glory days, he was putting up 11.6 fantasy points per game and many analysts were tripping over themselves to anoint him the next Rob Gronkowski.
Fast forward to 2018, and Engram put up a paltry 11.5 fantasy points per game, his reception averages dropped from 4.3 per game alllll the way down to 4.1, and he's cast aside like a busted beanbag chair.
But in all seriousness, there was virtually no difference in the numbers from his meteoric rookie season and his "down" sophomore season. Except that his yards per reception actually increased from 11.3 to 12.8, his reception percentage jumped from 55.7% to 70.3%, and his yards per game bumped from 48.1 up to 52.5. And Engram put up nearly identical fantasy numbers despite seeing his targets dip from 7.6 to 5.8 per game.
Of course, this was all accomplished with a pretty large elephant in the room.
Want More Personalized Advice? Schedule A Live Consultation With A Fantasy Expert!
The Odell Beckham Pickle
What would Evan Engram's season have been if Odell Beckham wasn't sidelined multiple games due to injury? It's a question people were asking in 2017, when Odell missed 12 games, and it's a question that hasn't gone away with Odell missing another 4 games in 2018.
Here are the numbers Engram averaged with and without the elite wide receiver on the field:
| 2018 |  With Odell |  Without Odell |
| --- | --- | --- |
| Receptions |  3.3 |  5.5 |
| Yards |  36 |  80 |
Supposing Odell hadn't missed any time, Engram was on pace for 53 receptions and 576 yards. That would've put him in the Jimmy Graham/Trey Burton range.
But if Odell had sat out the whole year? That pace put Engram at 88 receptions and 1,280 yards, comfortably at the top of the list for tight ends.
Let's compare those numbers to last year:
| 2017 |  With Odell | Without Odell |
| --- | --- | --- |
| Receptions |  3.75 |  4.63 |
| Yards |  39 |  51.4 |
With Odell playing, he averaged 60 receptions for 624 yards, which is slightly better than his 2018 numbers. Without Odell, however, he was on pace for 74 receptions and 822 yards, which is significantly worse than he did in 2018.
There's an obvious argument to be made that Engram is a much better fantasy player when he's not competing for targets with the team's No. 1 receiver. So the rumors of Odell Beckham being traded this offseason obviously bode well for him. If a trade actually happens, Engram would receive an immediate boost in value.
What To Make Of It
Engram remains just as intriguing as he was in 2017, and it's frankly a little perplexing that the chatter around his potential has all but died. Yes, I know George Kittle happened, but that shouldn't blow up everyone's expectations of other tight end prospects.
Engram is still an athletic, explosive talent who produced solid numbers despite playing on a lackluster offense -- with a decrepit QB at the helm -- being carried almost entirely by a rookie running back.
To literally drop 0.1 fantasy point per game and somehow get kicked off his throne feels like a weird overcorrection in the fantasy community. Injuries be damned.
If the owner in your dynasty league is feeling the phantom sting of Engram's "lost" year, you should be swooping in with offers. And if he's sitting on the board in the 6th round of redraft leagues next year -- after all of the pricier options at tight end have been scooped up -- Engram is a guy I want.