The staff at Fantasy Knuckleheads is always busy researching the current week in fantasy. As a result, we come up with some wild ideas and we thought it would be fun to share some. These are based on research and trends, but they are near the outer limits of likelihood. If you want to swing for the fences, feel free to use the bold predictions for week 10 as actionable intel. Just be sure to take them for what they are, fun predictions based loosely in reality.
Kurt Turner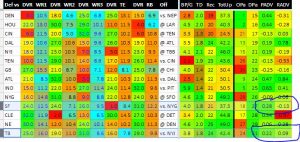 QB Bold Predictions For Week 10
Eli Manning (@SF) and Josh McCown (@TB) will combine for 5 touchdowns and 530 yards this week. I usually don't like road favorites in the passing game but they face the 27th and 31st DVOA ranked pass defenses. 49ers safety Jaquiski Tartt fractured his arm, and is out for the season. This is key for Eli as it should really help loosen up the middle for Evan Engram. Eli should be able to march down the field with a balanced attack as the 49ers are averaging 138 yards per game to RB and rank 31st in DVOA to pass catch running backs. McCown faces a Tampa team lacking a pass rush, ranking dead last in adjusted sack rate this season. I also like the revenge game narrative going for Fitzpatrick which could keep this one competitive.
Jacob Trowbridge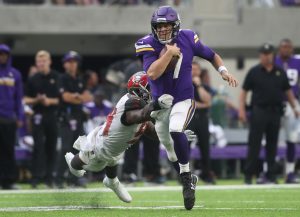 Case Keenum Easily Out-Rushes Rob Kelley
Here's a "fun" fact: Through his last 4 games, Rob Kelley has averaged just 13.2 yards of rushing. In that same time span, Case Keenum has averaged 11.5. So cool it with the Keenum vs. Kirk Cousins talk this week, people, this Washington-Minnesota game is all about Fat Rob vs. Sweet Feet Case in whatever the exact opposite of a track meet is. (An off-road goodbye?)
The Vikings haven't needed a gunslinger under center to keep them in games this year because they're defense has been downright terrifying in every respect. We're talking Nickelback showing up at your front door with amplifiers, duct tape, and a wide open schedule levels of scary. Minnesota has consistently contained much better runners than Kelley, giving up the 2nd-fewest yards to the position. Meanwhile, Washington's defense has gotten absolutely gashed by opposing QBs in the last few weeks, giving up more yards on the ground to signal callers than any other team. That recipe should allow the moderately-mobile Keenum to pick up a healthy 30+ yards with his legs while Kelley struggles to get past the line of scrimmage all game long.
Brendan Cole
Devontae Booker Tops 100 Yards Receiving/15 Fantasy Points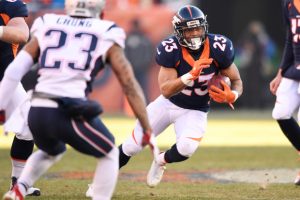 Everyone else went quarterback this week so I'm going to be a rebel and go against the grain. Bold predictions for week 10 are headed into the murky pool of NFL running backs. At this point, I'm not quite a Devontae Booker truth but we're getting there. The second year back has clearly been Denver's most effective weapon on the ground (4.6 ypc). In addition though, Booker is moved around the formation and used as a receiver.
The Patriots are decimated at linebacker and will have trouble keeping up with a shifty receiver like Booker out of the backfield. Brock Osweiler is no good and the coaches know it. Teams are stacking the box against the Broncos, leaving C.J. Anderson and Jamaal Charles spinning their wheels. Against a Giants team with similarly inept linebacking, Booker caught 4 balls for 78 yards. He will top that in week ten on his way to a top-10 finish.
The week 10 games are just around the corner, so get your lineups in order. Be sure to check out all of the content that FK has to offer for more help putting your best team forward. Once all is said and done, feel free to find us on Twitter to praise or mock us depending on how things pan out: @_knuckleheads, @JakeTrowbridge and @BrendanCole16.