The knuckleheads are at it again; hot takes from the staff are coming at you for week 11. Last week's predictions ended up being too hot to handle in some cases. Feel free to go back and take a look at the week 10 bold predictions if you're curious. Please remember that although we feel these predictions have a chance to pan out, they are not necessarily meant to be roster-setting advice.
Kurt Turner
This Week's Triple Threat At TE
I'm going for 3 touchdowns from 3 lesser owned tight ends. My top touchdown picks at tight end are C.J. Fiedorowicz, Tyler Kroft, and - gulp - Coby Fleener. All three of these tight ends have more than favorable match-ups,
check the week 11 heat-map for the numbers
.
C.J. Fiedorowicz Coming off injury last week, Fiedorowicz saw a handful of targets but played the majority of snaps. He will need to come up big with Fuller out.
Tyler Kroft Kroft is average but has proven to be above average against soft TE coverages. He gets Denver this week and I'm looking for 60 yards and a touchdown.
Coby Fleener Fleener started the year hot with back to back touchdowns in week 1 and 2. Since then the Saints have leaned on their run game and just haven't needed him. The Skins showed us last week that they can score against very good defenses. As much as I hate to type this, Washington is going to move the ball well and force the Saints to put up points in the 2nd half.
Jacob Trowbridge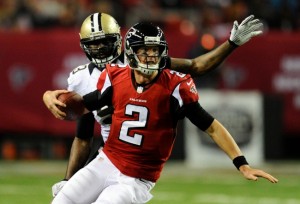 Matty Ice Ends His Cold Streak With 3 TDs and 300+ Yards In Seattle
The Legion of Boom just turned into The Legion of Whom? practically overnight, as Seattle lost two huge pieces to their secondary in Richard Sherman and Kam Chancellor in a week's time. And while this unit has an uncanny knack for overcoming obstacles that would immediately send other teams into the fetal position, the first game without that duo is going to be rough, with or without the help of the 12th Man. That's great news for Matt Ryan, who has failed to match -- or even sniff -- the majestic heights he reached last year.
But this week, Ryan starts to look more like the Matty Ice of yesteryear by dropping 3 touchdowns and at least 300 yards on an overwhelmed Seahawks secondary struggling to contain Julio Jones, Mohamed Sanu, and Austin Hooper. Ryan hasn't thrown for more than 2 TDs in a game this season, and has only surpassed 300 yards twice, though he did so against two top 12 pass defenses. Enter Seattle, currently perched 12th on that list. This will be a real confidence booster for the stagnant Atlanta passing attack, who need to see big things from their MVP quarterback -- SOON -- if they hope to leapfrog the Saints and the Panthers in the NFC South.
Brendan Cole
Blaine Gabbert Bursts Onto The Scene With 20+ Fantasy Points
The Cardinals offense has been bad and they are about to start their third string quarterback. Naturally that is a recipe for fantasy success...wait, it's not? Normally I would avoid this situation like shoplifting in China (10 years in prison?!), but against this Texans defense I'll roll the dice. Houston has allowed over 300 passing yards and multiple touchdown passes in the last three games. Granted Russell Wilson, Jared Goff and Jacoby Brissett are all better than Gabbert. Aside from Wilson, they're not light years better though.
Gabbert has had some NFL success in his career. Teams are not exactly clamoring for his services, but he did an OK job for the 49ers. In 2015 Gabbert started 8 games and had over 250 pass yards in 4 of them. That was with the subpar 'Niners receiving corps. The Cardinals have future HOFer Larry Fitzgerald to start. There are also nice complementary pieces in John Brown, Jaron Brown, J.J. Nelson and Jermaine Gresham. I'm not making Gabbert my fantasy starter ROS, but this game has big numbers written all over it.
That's our story and we're sticking to it. Feel free to congratulate us or rub our noses in it when the results of our predictions are written in stone. Check back often for more exclusive content and follow us on Twitter for extras: @_knuckleheads, @BrendanCole16, and @JakeTrowbridge.