So far the staff bold predictions are batting about .333 and that is not too shabby. Last week was my turn to nail one, with Blaine Gabbert going for over 20 fantasy points. The bold predictions week 12 edition features some new blistering hot takes for your enjoyment and consideration.
Kurt Turner
Brees and Goff Combine for Over 650 Yards and 5 Touchdowns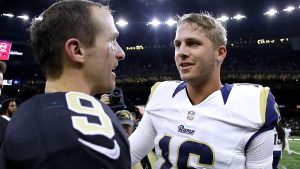 Brees and Goff throw for over 650 yards with 5 touchdowns and smash the over/under (54) in this one. Both teams have recent injuries to work out. The Rams are without Kayvon Webster (starting DB) and Corey Davis (top rated cover safety per PFF). The Saints are without Ken Crowley (starting DB), Marshon Lattimore (top rated DB per PFF) and Alex Okafor (top rated DE per PFF).
The Saints will start by attacking the Rams bottom barrel run defense. But by the time the 2nd quarter hits Peyton will starting getting nervous with Goff racking up big plays against the Saints terrible backup corner backs. I see many touchdowns being scored here with the main concerns being how unreal the running backs for both teams have performed. I still think we have enough touchdowns to go around for everyone so lock it in!
Jacob Trowbridge
Kareem Hunt Explodes For 200 Scrimmage Yards
Expectations can be a real son of a Butch Cassidy in fantasy football, proven by the fact that some Kareem Hunt owners are actually worried about his production as of late. Keep in mind, Hunt is still the No 2 running back in standard formats and the No 3 in PPR. But those rankings don't really reflect the current version of Kareem Hunt. Yes, he stormed out of the gate averaging 122 rushing yards through his first 5 games, but he's now failed to notch 80 total scrimmage yards in his last 3 matchups, one of which was against the uber-beatable Giants. But fear not, Hunt backers, help is on the way in the form of the Buffalo Bills defensive train wreck.
Buffalo's defense has gotten straight up body-slammed by the ground game lately, giving up an average of 205 yards and 3 touchdowns over the last 3 games. When Hunt has the ball in his hands, he's averaging 5.0 yards per carry and 9.6 yards per reception. Basic math dictates those two sets of numbers will merge together in a very pleasing manner for anyone rostering the Chiefs star running back. Look for him to buck expectations once again by recreating his breakout game against New England in Week 1, when he put 236 scrimmage yards on his resume.
Brendan Cole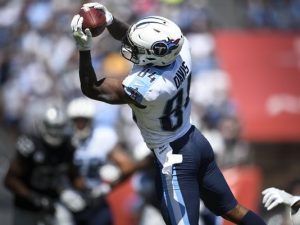 Corey Davis Blows Up The Colts For 125 Yards And A Score
It has been a long time coming, but Davis is going to get his Sunday. The Colts do not exactly excel on defense...or offense for that matter. It looks like the Titans number one receiver Rishard Matthews will likely sit this one out. If that does happen, Davis will be thrust into a prominent role in a very favorable matchup.
Even though the Titans would prefer to run on most downs, they will have to throw some. A lot of those throws are going to be downfield shots to Davis. This will be the type of game that people have dreamt about as they stashed Corey Davis. He has the talent to dominate matchups and that will be on display in week 12. I know that you have heard Corey Davis hype as often as you heard that Christine Michael was a RB1. The difference is that I'm right.
Feel free to give us feedback on our picks or anything else via Twitter: @_knuckleheads, @BrendanCole16, and @JakeTrowbridge. Check back often for more of our exclusive content as the season draws to a close.