Jordy Nelson's season-ending injury has opened the door for another exciting weapon to emerge in Green Bay's potent offense. That weapon, second-year wideout Davante Adams, is now all but locked in as a legitimate WR2 for the Pack, dripping with upside as he stands to absorb a massive workload in Nelson's stead.
Rewind to last season, and Adams, the team's 2014 second-round pick out of Fresno State, was able to flash his potential multiple times throughout his rookie year. He registered 4 games of 5 or more receptions, and had the best game of his young career in week 13 with a 6 catch, 121 yard performance in a win over the New England Patriots. He finished his rookie campaign with a modest 38/446/3 stat line; numbers which are fixing to explode in 2015 as he steps into a major role in one of the league's best offenses.
In the 5 games in which he saw at least 5 targets as a rookie, Adams did most of his damage, catching 31 balls for 340 yards and a touchdown. The targets will soar in volume this season, with Adams and Randall Cobb set to lead the receiving line on the perimeter for Green Bay, Cobb moving to the slot in three-wide sets. Adams' sample-size was small, but he showed that there was a budding rapport with his quarterback, Aaron Rodgers, the string-puller of one of the game's most efficient and productive offensive attacks.
The Pack's run game will continue to be a force with Eddie Lacy and an offensive line that is another year healthier and more experienced, so the balance will continue to exist. Adams' skills allow him to make plays all over the field, on short, intermediate routes as well as the home run plays that can change games. Nelson saw 151 targets last year, so there will be no shortage of opportunities for the 22-year-old to make plays. His physical attributes and tackle-breaking ability in the open field enhance his playmaking qualities. His understanding of the run game and the importance of blocking will see him remain on the field as a three-down player, and his knack for making fearless plays in traffic will go a long way towards cementing Rodgers' trust.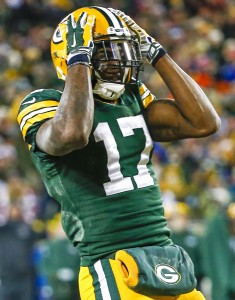 Even before Nelson's injury, coach Mike McCarthy and the Packers were expecting Adams to make a big leap as a sophomore. He was poised to play outside in three-wide sets opposite Nelson, with Cobb bumping down to the slot. Now, he'll be a focal point of the team's passing attack, one which is annually among the best in the league. McCarthy mentioned that his second-year pupil was having a "heck of a camp" earlier this month and added that the team was "expecting big things" out of their young receiver.
Rodgers has shown the ability to get the ball to anyone, regardless of name or talent. The likes of Jeff Janis, Ty Montgomery, and Richard Rodgers all stand to see bigger responsibilities of their own, but Adams is the clear-cut beneficiary of Nelson's unfortunate injury.
Adams will need to improve his catch rate; he posted a mark of 58% last season, hauling in 38 of his 66 targets. With the latter number about to shoot through the roof, Adams must prove that he can thrive in man-to-man coverage, which he is sure to see even more of this year as a starting wideout. His physicality at the point of attack and downfield route-running must both improve if he is to beat the jam of opposing corners off the snap. Those traits tend to improve with experience, and Adams is certainly going to absorb the snaps he needs to improve in those facets of the game.
Since 2011 -Outside of 2013 when he missed seven games due to a collarbone injury- Aaron Rodgers has thrown no less than 38 touchdowns in a season. Rodgers is effective in the red zone, and Adams, who is much more physically-equipped to perform in that area than the smaller Cobb, should benefit. Nelson had 28 red zone targets in 2014, snaring 5 of his 13 touchdowns in that area. Adams can increase his value by performing in the red zone, where Green Bay is not afraid to mix it up. The Pack are also intending to play at a much quicker tempo in 2015, after ranking 24th in total plays a season ago. That philosophy will benefit all of their skill players.
Green Bay will be hoping for history to repeat itself. Nelson managed to break through as an elite receiver thanks in large part to a couple of injury-riddled seasons for Greg Jennings in 2011-2012. Adams may not directly replace him as an All-Pro type receiver, but the vacant workload that has fallen into his lap justifies the WR2 hype, and the upside is real.
While Cobb will draw the most attention from opposing defenses earlier in the year, Adams will have a chance to assert himself, particularly as a downfield option, an area of his game which he was already looking to expand heading into his second season. Cobb's own 2015 workload will undoubtedly increase as well, but the real value as far as Packers' wideouts are concerned, lies with Davante Adams, as Kurt pointed out in his piece linked above. (See also: Pete's Top-5 Undervalued Draft Picks.) Cobb is a bona-fide WR1, with Janis and Montgomery now on the flier radar. Adams is a legit WR2, with high-end potential, particularly if he can excel in the areas of his game which are still developing.
As of today, Adams' ADP appears to be continuing to rise rapidly in standard formats. That status will likely continue to trend up some, as fantasy owners pounce on a player some are predicting to finish in the top-15 in terms of receiving production. His rookie production, while modest in the big picture, surpassed that of both Nelson (33/366/2) and Cobb (25/375/1) during their own rookie seasons, and the potential for big playmaking chops is clearly there. The potential for oozing upside coming to fruition is also there, making Davante Adams an exciting riser up draft boards with week 1 officially less than two weeks away.
Davante Adams is no longer a sleeper; he is a legitimate WR2 threat with mouth-watering upside in the friendly confines of the Packers' well-tuned offense.
(Update: Randall Cobb's shoulder injury, sustained in Saturday night's preseason game, has now even further enhanced Adams' importance to the Packers' offense. Cobb has avoided a major injury, but his status for week 1 is uncertain at this point. Check back with us ahead of week 1 for a comprehensive fantasy football injury report.)