Every year there are players that come out of nowhere to be useful in fantasy football. These deep sleepers are the players that can make up for a bad draft or injuries. It is difficult to predict which players will end up contributing, but ability is one aspect. Some of these players are not near the top of the depth chart, but could still contribute in 2017.
Quarterback
Deshaun Watson HOU
Watson did not look very good in preseason action. He seemed like he had a long way to go learning the quarterback position. He still has a boatload of natural talent and one of the best receivers in football on his team. If he can get caught up to the increased game speed, he could be very dangerous. Whether or not Watson can wrap his mind around the NFL, he will likely start at some point. The dual threat nature of his game should translate well to fantasy.
Running Back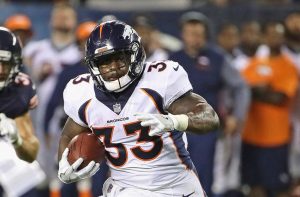 De'Angelo Henderson DEN
The Broncos are badly in need of a back that can take command of their run game. Henderson looks like he could very well be that guy, but for now he is on my deep sleepers list. He is behind C.J. Anderson and Devontae Booker, but I think that Henderson will overtake both. With impressive vision and burst, Henderson recognizes a hole quickly and hits it hard. He is a great option in the late rounds of redraft leagues. There could be a huge payoff a few weeks into the season.
Tarik Cohen CHI
The chances of Cohen playing would be better if he were not behind Jordan Howard. There are a lot of Howard detractors, but I think that he can keep up his production this season. If Cohen does get a chance though, he will be exciting to watch. He stands just 5'6" but has incredible speed; a difficult combo for defenses. He bursts out from behind the offensive line, giving defenders little time to be in position. In the Bears second preseason game Cohen rushed 11 times for 77 yards. Worst case, he looks like an impressive change of pace option.
Wide Receiver
John Ross CIN
The Bengals got the fastest player in the draft when they chose John Ross. If it were up to Al Davis, they would have been presented the Lombardi trophy right then. They still have to play the games though, and Ross has some serious competition for playing time. He is clearly not beating out A.J. Green, but he also has veteran Brandon LaFell and second year man Tyler Boyd to contend with. Add in Tyler Eifert and Gio Bernard taking targets and there is not much left over. My feeling is that the Bengals will try to find a way to incorporate Ross's unique speed. He is a game changer with exceptional ability to take the top off a defense. While he will probably play a limited role early in the year, he is one of my deep sleepers based on potential.
JuJu Smith-Schuster PIT
The Steelers seem to churn out valuable fantasy receivers every season. This is likely two parts good scouting and one part great quarterback. Either way, Smith-Schuster has the look of a difference maker. He is not passing Antonio Brown or Martavis Bryant for playing time, but the third spot is within reach. Though injuries have hampered his preseason, Smith-Schuster has looked impressive in limited reps. His best game came against a decimated Colts defense, and Eli Rogers looked good as well. This likely means that Smith-Schuster starts the season as the fourth receiver. He should still see a fair bit of action with a Steelers team that likes to throw. If he can pass Rogers he would have some real value though.
Tight End
Tyler Higbee LAR
Ideally, the Rams would run the ball a ton with Gurley and control the clock. At some point they will need to pass, however. Sammy Watkins is an elite receiver and a deep threat, but can Goff get him the ball downfield? That question is yet to be answered, but there will likely be a lot of short throws. This means plenty of action for Cooper Kupp and Higbee. The second year man is competing with rookie Gerald Everett for touches. It looks like Higbee will get the majority of the action, but it is not a sure thing. If he can keep a firm grasp on the starting job, he would be a decent option at the end of drafts. He is probably going to be more reliable a few weeks into the season, however.
Keep in mind that all of these players are deep sleepers and should not be drafted as day one starters. For redraft leagues they are risky picks and should only be taken for free/very cheap. There is plenty of potential here, but whether it is reached this season is up in the air. Check back soon for more sleepers and news and be sure to follow us on Twitter for extra content.
@_knuckleheads     @brendancole16