My team defense sleepers are strictly based on fantasy owners "punting" the position altogether, or streaming on a weekly basis in weekly or DFS formats. A couple of these sleeper DST could shine this season. Please refer to my preseason rankings article if you are hunting for a reliable and consistent DST.
Kickin' It To The Kirb Top Sleeper DST Options:

Tampa Bay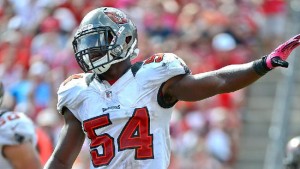 I don't care for their 27th ranked DST strength of schedule (SOS), but lets dig a little deeper for the positives. TB finished last year inside the top ten with:
38 sacks(t-9th)
17 interceptions (t-2nd)
12 fumble recoveries (t-4th)
 Four touchdowns (t-2nd)
The Bucs schedule is favorable early on (@MIA, CHI and @MIN); a date with the NYJ also helps the cause. TB added a couple of key defensive pieces in the draft and free agency which should give them a jolt. This is a D/ST unit which finished just outside the top five last season in standard formats. They will come at a discounted price in comparison to other top tier D/ST's.
Tennessee
The 4th easiest SOS is a selling point right off the bat. Below average offenses (HOU and JAC) are on the docket twice, along with @CLE, @SF and LAR late in the season makes the Titans a capable streaming option throughout the season. An above average pass rush (40 sacks last season) now needs help from a suspect secondary.
 Dallas
An offense that controlled time of possession last season which in turn propelled the defense to only allow 306 pts vs (6th best in NFL)/19.1 pts per game (5th). Viable streaming weeks in the first seven weeks are: @DEN, LAR and @SF. Upon Ezekiel Elliott's return from suspension, the running game should control the clock once again keeping the defense fresher. Taco Charlton should elevate the Cowboys into a top five pass rushing team (36 total team sacks last year which was 12 off the league lead). The 'Boys moving forward will hope to rectify a below average secondary.

Buffalo
The Bills DST ADP sits around 22nd overall which should easily out perform ADP ranking. Eighth ranked in sacks last season, Buffalo's defense should be thankful to face anemic AFC East counterparts in NYJ and MIA twice. IND and MIA (one dome team and the other a warm weather team) visit chilly Buffalo late into the season. The main question is will the switch to a 4-3 defense scheme under a new coaching staff catapult the Bills up the charts.