The NFL preseason is in full swing and everyone can get a look at their favorite sleeper running backs. Reading into this action is difficult, but it would be foolish to not at least give players the eye test. Speed and footwork tend to jump off the screen no matter the context of the game. The NFC South has some big name starting backs, but here are a few sleepers to draft/watch.
Atlanta Falcons
Brian Hill
In college Hill was a madman on the field, claiming several records at Wyoming. He is an above average athlete and did not commit a single fumble in his last college season. Despite his gifts, he may struggle to find playing time out of the gate with the Falcons. Hill slots in behind two of the better backs in the game: Devonta Freeman and Tevin Coleman.
Considering the glut of talented backs in Atlanta, it might be hasty to draft Hill. He is without a doubt a name to remember in case one of the starters gets nicked up. There are few teams that go through a season without running back injuries, so likely Hill will play.
Carolina Panthers
Fozzy Whittaker
Like the Falcons, the Panthers essentially have two starting running backs. Christian McCaffrey and Jonathan Stewart will split time on the field to start the year. There was some buzz about Cameron Artis-Payne last season. This season it sounds like the second year back is in danger of not making the team. This leaves 28 year old Whittaker as the recipient of any playing time not taken by McCaffrey or Stewart.
Since Stewart rarely makes it through a season unscathed, it is a safe bet that Whittaker sees some time. He is not an inspiring talent, but he catches the ball well and is a decent runner. On the other hand, there is a small chance that if Stewart went down, McCaffrey would be given a shot to carry the whole load. I would recommend keeping the name in mind, but not necessarily taking Whittaker out of the gate.
New Orleans Saints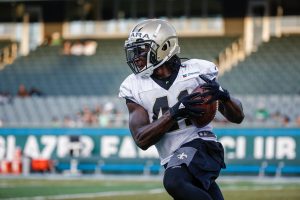 Alvin Kamara
Following the NFC South trend, the Saints employ two solid starting running backs. Mark Ingram and Adrian Peterson are both household names in fantasy football circles. The good news for Kamara is that the Saints spread the ball around a lot. He looks like he has a solid shot at claiming the passing downs over Travaris Cadet.
The rookie is already getting some nice praise from the coaching staff. Coach Payton said that Kamara shares some attributes with Marshall Faulk with regard to his intelligence and route running. This is probably premature for a player that has not played a game. Still it is nice to hear that the coach likes what he sees going into the season. In PPR leagues, I think that Kamara could be a sneaky flex play some weeks. For standard leagues, however, he would be a very deep pull in the draft.
Tampa Bay Buccaneers
Peyton Barber
Despite being improved on offense, the Buccaneers backfield is ugly. There is not a great running back among this bunch, but there are a few decent players. Doug Martin has flashed brilliance at times, but he has been inconsistent and is currently suspended. In his absence, Jacquizz Rodgers will start but I could see Barber getting work as well.
Rodgers has much more game experience, but Barber looked good in limited action last season. The young back averaged 4.1 yards per carry on 55 rushes. This is a small sample size, but the Bucs will be looking for a spark at running back. If Rodgers stumbles out of the gate, Barber could start for a couple of games. This is a player that should be at the top of watch lists to start the season.
That is six divisions of sleepers in the books with two more to go. If you missed any, check out Fantasy Knuckleheads for all of the columns. Check back often for new content and be the most prepared player at your draft.
More RB Sleepers By Division:
For links to FK articles and additional tips and insight, follow me on Twitter @brendancole16.