All over the internet and the radio, pundits are kicking Demarco Murray down the fantasy football rankings. It is not often that the reigning NFL rushing leader is universally panned as a bust candidate. On the surface, it seems like there is a strong case for letting someone else take a risk on Murray. If you dig down a bit, however, you will see that he could end up being a bargain.
Here is another running back name to remember for 2015.
One of the main reasons that analysts are advising fantasy managers to stay away from Demarco is the injury risk. I won't say that there is no risk, because that would be foolish. Look at the numbers and the trends are more encouraging than you may think though. 2012 was Murray's least effective season and not coincidentally, the season in which he was most severely injured. He played in only 10 games in 2012, then he came back to play 14 games in 2013 while averaging 5.2 yards per carry. Most people are familiar with the results in 2014, when he played in every game and led the league with over 2200 total yards and 13 touchdowns. Look at the health trend: 10 games, 14 games, 16 games. Murray is getting something right.
There is also an argument that the workload will not be as heavy for Murray in Philadelphia. I tend to agree with this, but also think that it is being overblown. Ryan Mathews and Darren Sproles are both talented backs, but when it comes to injury prone Mathews basically defines the term. It is likely that Mathews will take as many as 7-10 carries per game, but that is only for as long as he is healthy himself. Sproles is a different story, because I think that he can be on the field along with another running back a good percentage of the time. This reduces the amount that he will cut into the workloads of Murray or Mathews.
Another aspect to consider is the amount of offensive plays run. The Eagles led the league in 2014 with 70.7 offensive plays per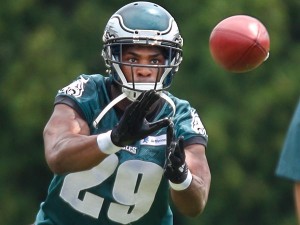 game, the Cowboys ran 62.4 plays per game. Dallas did outrank Philly in rushing plays per game 31.0 to 29.8. This should not be a big concern as Demarco Murray is an excellent pass catching back and should be incorporated into the Eagles passing game. The larger volume of offensive plays run should somewhat defray the touches that Murray will lose to Mathews or Sproles.
The general impression at this point is that Murray will see about two thirds of the rushing volume. This should equate to around 15 to 20 rushes per game. This may lead fantasy owners to panic, but take a deep breath and think about it. Last year Murray was most effective on rushes 21-30 in games sporting a ridiculous 5.6 ypc on those rushes. This is most likely an aberration, as for the rest of his career he has had a clear advantage on rushes 1-20.
If Murray sees a regression back to historical norms, he should be at his most effective for the rushes that he does receive in a typical game. Look at only the stats on the first 20 carries of each game last season and Murray still would have finished with 1487 yards and 9 touchdowns. He still would have led the league in rushing yards and been tied for second in rushing touchdowns. That was a season for the ages and of course the numbers will not likely be duplicated, but there is no reason that he should not be able to come close.
The Eagles have a lot of question marks heading into the 2015 season, but Chip Kelly's offensive scheme is not one of them. Demarco Murray will not see the usage that he did in Dallas, but Philly is not paying him top dollar to watch from the bench either. There is some injury risk, as there is with any player in football and especially running backs. Right now, Murray's ADP is all over the board but I would be willing to take him anywhere after the top 6 picks. If you can snag Murray late in the first round or anywhere after, enjoy a serious bargain.
Exploring the top draft pick: Could Gronk Be Justified?