When the Cincinnati Bengals selected LSU running back Jeremy Hill in the second round of the 2014 NFL Draft, it was seen as a surprise of sorts; they already had Giovani Bernard - their 2013 second round pick - who amassed over 1,200 yards and scored 8 touchdowns as a rookie. Once the 2014 season ran its course, it was clear to see what the Bengals' brass had in mind with their selection of Hill: a big, physical three-down-capable back who could complement the more shifty and elusive Bernard.
In a time where the role of the workhorse running back seems to be fading, Cincinnati has put together quite a one-two punch at one of the most crucial positions in both the NFL and fantasy football. Hill and Bernard showed that they could fulfill the Bengals' visions as they both performed well in their respective roles; Hill emerging as the go-to guy midway through the season and Bernard spelling Hill to keep him fresh and to help keep defenses off balance.
Cincinnati went on to clinch a wildcard berth in a year where expectations were not so high. Entering 2015, the bar has been set and expectations raised, with the dynamic backfield duo poised to play a massive role as the Bengals look to get back to the postseason and, perhaps, finally win a playoff game under Marvin Lewis.
While Bernard will continue to see meaningful snaps, especially in hurry-up and obvious passing situations, Hill is staring a potential monster season right in the eye. The 22-year-old seized the lead back role in November of last year, rushing for 154 yards and two touchdowns on 24 carries in a win over the Jaguars in what was the first start of his young career. He never looked back, finishing the year as the team's top ground threat and developing into a key offensive cog for the future.
"Finish strong" is an age-old mantra, and Hill did just that, totaling 929 yards and 6 scores over the course of the last 9 games, with four more 100 yard performances, including three straight to finish the regular season. He also caught 14 passes over that time frame, and while Bernard's skill set is more conducive to thriving in the two-minute offense, Hill showed he can excel as a pass-catcher, completing the profile of a bona-fide three-down NFL starter. The Bengals are expected to emphasize their running game to the fullest in 2015, with the hope of minimizing quarterback Andy Dalton's responsibilities. Thus, Hill stands to see touches galore, and his development as a pass protector and receiver stands him in good stead to see even more snaps than he did a season ago.
The Bengals ran on 49.4 percent of their snaps in 2014, the highest total since the 2009 season when Cedric Benson tallied over 1,200 yards on the ground. A more run-based system under offensive coordinator Hue Jackson will mean more groundwork for Hill, particularly on early downs.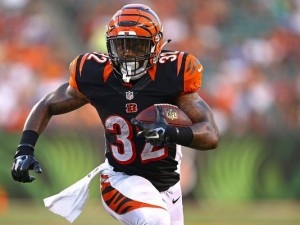 The Bengals' "thunder and lightning" tandem of Hill and Bernard proved to be a mutually beneficial symbiotic relationship as both players made the most of their snaps. Bernard began the year as the undisputed starter and lead back, and even after surrendering those duties to Hill, he still managed to out-snap his fellow back 524 to 515. The Bengals previewed their potentially run-heavy 2015 offense once Hill took over, and the former LSU star proved his salt as a runner capable of picking up tough yards with his physical frame, while still boasting enough speed and elusiveness of his own to make plays on the outside.
Even after the starting job became Hill's, Bernard was able to thrive in his new role, improving his YPC to 4.7 over the last three games. He was also able to gain over 1,000 yards from scrimmage despite missing three games through injury. Bernard also had 15 receptions over the last three games of the season, including a 7 catch performance against the Steelers in week 17. Hill, as mentioned, managed to eclipse the 100 yard mark in all three of those outings, and averaged 5.6 YPC and a touchdown in every game in which he posted 15 or more carries, further illustrating just how productive both players can be within a timeshare of sorts.
The two should continue to rotate, but the lion's share of the snaps and the work will go to Hill, who has gone on to emerge as a leader in just his second season as a pro. He was seen giving advice and tips to fellow teammates during offseason drills, and his vocal presence in the locker room is not to be overlooked. Hill's frustration in the aftermath of his team's playoff loss to the Colts was palpable, and his words captivated reporters and his teammates alike.
"It's very disappointing especially coming in," he said in January. "We work so hard day-in and day-out. Coming in the building every morning just grinding, doing everything you can to put yourself in a position to win the big one, and then you fall short. It's definitely disappointing. It's definitely heartbreaking. It's motivation."
He has set his own expectations sky-high to go along with the team goals. Having tasted playoff success as a rookie, Hill is hungry for more, and just getting there won't be enough to satisfy him or his teammates.
"For me, it's just a burden that we really need to get lifted from this city, from this team, from this ownership, from this coaching staff and for Coach [Marvin] Lewis," Hill said in regards to the team's recent playoff woes. "It's something that everyone in this locker room really wants to do -- it's just about us going out there and doing it. We can talk about it every day. We can say this and say that, but at the end of the day, we've just got to go out there and get it done."
From a fantasy standpoint, Hill's second-round ADP is not surprising, and with a strong start and voluminous workload at his feet, he could certainly flirt with back-end first-round value the closer we get to week 1. (See: our Fantasy Knuckleheads 2015 RB rankings.) Bernard's talent and complementary skills might restrict Hill from eclipsing 300 carries in 2015 (only DeMarco Murray and LeSean McCoy did so a season ago), but his productivity per-touch is immense. The likes of Corey Dillon, Benson, and Rudi Johnson have excelled as undisputed lead backs, and if Hill picks up where he left off at the end of his rookie year, he will make his share of the touches count greatly. He certainly won't lose carries in goal-to-go situations, and his skills as a receiver have always been undervalued, even dating back to his college days. His five fumbles, twof of which were lost, may be a slight cause for concern, but young running backs tend to improve their ball security skills with experience, and with more and more work, Hill has the chance to put those concerns to bed once and for all.
Marvin Lewis expects to lean on both of his top runners next season, saying: "Neither of them can shoulder the load the entire season, and we're going to need both of them." Hill has the frame to handle as much work as the team is willing to give him, and its sure to be quite the load. Meanwhile, Bernard as a change-of-pace gives Cincy as dynamic a duo as there is in the game. Hill's nose for the goal line and his eye for a rushing lane will put him in position to deliver the goods for both the Bengals and fantasy owners. As the centerpiece of a run-heavy attack, with dangerous weapons like A.J. Green and Mohamed Sanu on the perimeter to keep defenses in line, Hill's potential in 2015 and beyond speaks for itself. The Bengals certainly think highly enough of their young back to put their faith, and the ball, in his hands.
Target Jeremy Hill on draft day. His rookie season was only a sample size of the talent that this well-rounded and well-built back is still yet to showcase.