Isaiah Crowell has emerged as the Cleveland Browns' likely week 1 starter against the New York Jets, according to head coach Mike Pettine.
Crowell, who went undrafted in 2014 after a star-crossed college career at Georgia and Alabama State, ran for 607 yards on 148 attempts (4.1 YPC) and 8 touchdowns as a rookie. He split the majority of the playing time with fellow rookie Terrance West and veteran Ben Tate before the latter was cut mid-season. Tate and West saw the most work early in the season before injuries and miscues opened the door for Crowell to stand out at the position.
Predicting the Browns' in-game backfield workload a season ago was a crapshoot; it varied from week-to-week and former offensive coordinator Kyle Shanahan, now with the Falcons, often went by feel or the "hot hand" approach. Nevertheless, Crowell often stood out among the rest once the opportunities finally came.
His best game as a rookie came in week 11 in his home state against the Falcons, where he rushed for 88 yards and 2 scores on 12 carries. Crowell never topped 100 yards in his rookie season, but showed a nose for the end zone, including a pair of touchdowns in his debut against the Steelers in week 1. He made the most of his early season work and returned solid value to the Browns, who took a low-risk, high-reward flier on the 22-year-old in the undrafted free agent market.
The coaching staff would have liked to have seen West, whom they invested a third-round pick in, seize the job and make it his own a season ago. However, the former Towson man sputtered after a strong start, seemingly going incognito between weeks 3 and 9 after gaining 100 yards in his debut against Pittsburgh. Ball security issues and another round of up-and-down summer practices has left West --for the time being-- behind his backfield mate Crowell, as week 1 approaches. West played the entire first half of the team's fourth and final preseason game on Thursday night, another sign that he is still behind Crowell at this point.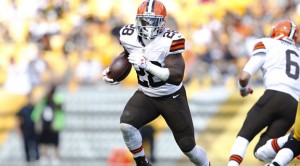 Crowell's presence in what will surely be a run-heavy approach, red zone chops and strong goal line senses will make him a solid FLEX play, at least early on in the season. The Browns, owners of one of the league's most dire quarterback situations in addition to a receiving group devoid of game-breaking talent, are likely to lean on their run game once again in 2015. Therefore, West and rookie Duke Johnson are likely to see work of their own, though Crowell certainly has the best chance to lasso the majority of the reps, particularly on early downs. He will need to improve as a receiver in order to stay on the field, and his pass protection skills are still developing, but his feel for the game as a runner is evident, and the Browns see him as their best all-around back for now.
Running backs coach Wilbert Montgomery put Crowell and his fellow backs on blast last month, questioning why any of the group --Crowell in particular-- had failed to emerge and make the job his own.
"How can you play and not want to be a starter?" Montgomery said in August. "It just bothers me that guys don't want to be the lead bell-cow guy. (Crowell) has got to show me that he's hungry. If you want to be a starter, you practice like a starter ... You take care of your body. You show up and do the things that are going to keep you healthy, get treatment after practice, hydrate, do all the little things you have to do in order to be that guy."
Montgomery's statements can be taken as a reminder of just how fluid the Browns' backfield situation is likely to be once again in 2015. It was difficult to bank on either Crowell or West a season ago, and with another talented young back in Johnson entering the mix, the situation could be even cloudier this year. However, Crowell has done enough to seemingly position himself to grab the job with both hands, and it will be up to him to take things to the next level and cement himself as the starter, leaving the scraps for West --who should still feature in a "big back" role-- and rookie Johnson, currently in the league's concussion protocol and uncertain for week 1 at this point.
Isaiah Crowell was one of the most efficient fantasy scorers in the league last season as an undrafted rookie, finding the end zone 8 times amidst a somewhat limited workload. While his long-term outlook for 2015 remains cloudy due to the nature of the team's week-to-week approach, Crowell is worth a look in standard leagues on the strength of his red zone abilities, a role he is unlikely to relinquish. West, at this point, is handcuff fodder, while Johnson, when healthy, is a PPR flier type. Needless to say, Cleveland's backfield, by and large, is just what it turned out to be one year ago: a backfield to avoid, particularly on draft day, though the talent is there for a player (like Crowell) to emerge in the long run.
Isaiah Crowell will not be the centerpiece of any fantasy owner's team, but the Cleveland Browns at least hope they can lean on him from the jump, starting week 1 against the Jets.