For those who have not heard yet; popular breakout candidate Kelvin Benjamin is out for the 2015 season with a torn ACL. Benjamin was a huge part of the Panthers offense in 2014, catching 73 balls for 1008 yards and 9 touchdowns. Of course, quarterback Cam Newton jumps to mind as the player who will be most affected by this injury. While this is certainly true, the entire offense will see a change in their roles going into the season without arguably their biggest playmaker.
Fantasy Values Going Down
Cam Newton
When you lose your best receiver, it is going to mean bad things for your fantasy prospects. I was very high on Newton going into the year with two talented young receivers on the outside and a top tier tight end. The loss of Benjamin dulls the hopes for this season a bit, but I would still rate Newton around the tenth best quarterback. He lost his top red zone weapon from last season, but rookie Devin Funchess is 6'4" and 225 lbs. He should be ready to pick up the slack a bit.
Jonathan Stewart
Stewart looked good at the end of last season and should have most of the carries to himself. He also just lost one of the main players who could keep opposing defenses from stacking the box against the run. It is tough to bank on a player with Stewart's injury history in the first place, now it just got a bit tougher. Look for eight men in the box to guard against both Stewart and Newton on the ground until Funchess can prove he is a legitimate threat downfield.
Make the most of your draft picks, read up on Overdrafted Players
Fantasy Values Going Up
Devin Funchess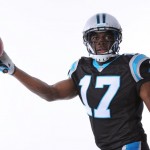 The Panthers receiving corps outside of the rookie are a ragtag bunch of backups. Jerricho Cotchery, Ted Ginn Jr. and Corey Brown do not inspire fear in any defenders. Funchess is an untested commodity, but he will quickly be relied upon heavily to fill the role that now stands empty. Though physically imposing, Funchess will need to become more reliable and demonstrate the ability to shed defenders downfield. This is a similar situation to the one Benjamin found himself in last year. Funchess has a huge opportunity for a solid rookie campaign.
For those unfamiliar with Funchess, here is a Scouting Report.
Greg Olsen
It is difficult for his stock to go up much higher, but Greg Olsen should be a legitimate elite producer in the tight end ranks. This will depend greatly on whether the Panthers offense can move the ball at all, but opportunities should abound this season for the sure handed tight end. I would go so far as to say that the case can be made for Olsen being only a half notch below Jimmy Graham, based on the run-first offense that Graham finds himself in.
The Panthers are in a familiar situation going into 2015, with a thin receiving corps headed by a rookie receiver full of potential. Cam Newton struggled for much of last season and that seems to be a strong possibility again. Fantasy owners will need to decide how much they believe in Devin Funchess, as he may now be the Panther to have this season. Expect similarly unpredictable results to 2014 and be careful not to overpay for Cam Newton.