Choosing PPR running backs requires a slightly different draft strategy than standard leagues. Some name brand players are not worth as much because they are not involved in the passing game. Even fantasy football veterans can be blinded by name brands, however. This leads to some great deals on lesser known running backs.
Huge Value
Bilal Powell NYJ
Informed fantasy players are well aware of Powell, but I have been in several drafts where he lingered. The Jets have nothing on offense, especially in terms of wide receiver. Whatever quarterback they run out every week is going to be running for his life. This plays into Powell's strengths: receiving and shifty running. I think that Powell will be the Jets top fantasy performer by a wide margin. That is not saying a ton, but his floor is probably RB2.
Theo Riddick DET
A lot of hype is being directed at Ameer Abdullah this preseason. While he is a talented and physically gifted back, he has not put it all together yet. Riddick, on the other hand, is a steady performer. He is one of the better receiving backs in the league and he has a nice workload. Abdullah is not going to eat into the receiving plays very much. That leaves Riddick at worst a great third down back. At best, he ends up taking more rushing plays as well and moves beyond the flex.
Duke Johnson CLE
A lot of people, myself included, see this as a breakout season for Isaiah Crowell. That does not mean that Johnson can't have a great year as well. Last season he caught at least 3 passes in 11 games. That is some very consistent target share. I would be shocked if Johnson catches under 60 passes this year if he stays healthy. This guy should be PPR gold and if he can work in a couple of touchdowns, that is even better.
Good Chance To Produce
C.J. Prosise SEA
Analysts have been discussing whether Eddie Lacy or Thomas Rawls will be the starting back. Meanwhile, Prosise is a talented running back and a great receiver. He has everything that it takes to make a PPR stud, except for health. Prosise has been injured throughout his short career but looks to get right in 2017. There are a lot of nice pieces on offense for the Seahawks, but if things break right Prosise will be an important one. Like Duke Johnson, 60 catches is a very possible goal. The difference is that Prosise needs to prove that he can stay on the field.
Under The Radar PPR Wide Receivers
Chris Thompson WAS
For the past two offseasons there have been discussions about who the Redskins would start at running back. Thompson is never part of that discussion, but he is a huge contributor. This under the radar third down mainstay puts up nice numbers quietly each season. While other managers fight over Rob Kelley and Samaje Perine, swoop in and grab Thompson at a discount. He will be close to the starter in PPR value.
Alvin Kamara NO
I just finished writing about Kamara in the latest installment of my sleeper running backs series. The Saints have two huge name backs in Peterson and Ingram. That should lead to a big discount on the value of Kamara. Drew Brees loves to spread the ball around, but I think that Kamara will quickly become a favorite. He is a savvy route runner and has good burst. As long as he beats out Travaris Cadet, Kamara will be a great value late in drafts.
Down The Depth Chart
Jalen Richard Oak
The Raiders have three nice running backs on their roster. Right now it looks like Richard is third among those, but I like him better than Washington. Last season Richard looked like a player that should see a lot more playing time. The introduction of Marshawn Lynch might hinder that, but time will tell. If Richard gets a fair share of the reps, he is sure to put up big receiving numbers.
5 Running Backs With Comeback Potential 
Shane Vereen NYG
It seems strange to mention Vereen late in a PPR column, but this is not the glory days. When Vereen played with Tom Brady, he was a top running back in PPR leagues. At this point, fantasy owners know that the skills are there, but what about the health. Vereen is often dinged up and the Giants play a different style than New England. If he does not produce this season then he is dead to me, but I'd take one last stab in a PPR league.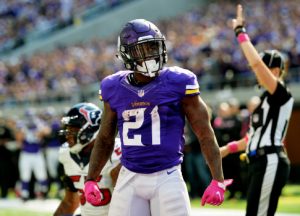 Jerick McKinnon MIN
This is a player with all of the physical tools that has not put it together yet. At this point, he is not going to be getting rushing plays over Dalvin Cook. There is no way that the Vikings just push McKinnon aside however. They are still going to find ways to get him involved and that means passing plays. Short passes play to Sam Bradford's strengths. Hopefully his comfort with McKinnon leads to lots of dump offs in the flat. There could be a lot of sneaky value here as a post hype sleeper.