In standard leagues or PPR, of course you want to have Antonio Brown and Julio Jones at wide receiver. On the other hand, under the radar PPR wide receivers are the type of information that builds winners. Playing in a PPR league means that players catching a lot of passes are much more valuable. This can lead to some unfamiliar names being in the starting lineup.
High End But Underrated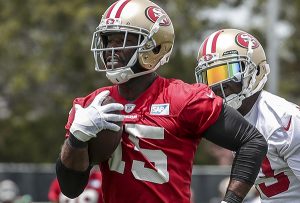 Pierre Garcon SF
One of my favorite PPR targets this season is Pierre Garcon. He is a wide receiver that has lost some of his name recognition but still has Velcro hands. There is very little viable competition for receptions in San Francisco.
This veteran is staring down 100+ catches as long as he stays healthy. Garcon is going around the WR30-35 range on average. That is going to be a steal in PPR leagues, especially if he reaches paydirt a few times.
Jeremy Maclin BAL
Maclin is not quite as high on the list of underrated veterans, but he should put up nice catch numbers. The Ravens' quarterback situation is in flux right now and that can be a bit damaging. Mike Wallace is the real competition for catches right now, aside from Woodhead in the backfield. Still, there should be plenty of slot receptions for Maclin this season as the Ravens may have to simplify their offense. Whoever the quarterback is, they will want a safety valve. Since the Ravens tight end corps has been decimated, that means lots of Maclin and Woodhead.
Kenny Britt CLE
For some reason Britt has been criminally underrated on a yearly basis. Last season he managed to go over the 1,000 yard mark and he did it with Jard Goff at quarterback. That means that whatever combination of low end talent the Browns run out at QB, Britt should be able to be productive.
Right now his projections tend toward the 65 catch range. I think that the Browns will have to lean on him a bit more, somewhere closer to 80 catches.
Middle Of The Road
Adam Thielen MIN
The Vikings and Adam Thielen were both made for PPR leagues. Thielen and teammate Stefon Diggs are a threat for double digit receptions in any given game. Of course, those receptions might only add up to 60 yards. Whether it is a 40 yard bomb or a 4 yard slant, every reception is worth a point. To that end, Adam Thielen will be a valuable asset to many PPR lineups.
10 Potential Late Round Breakout Receivers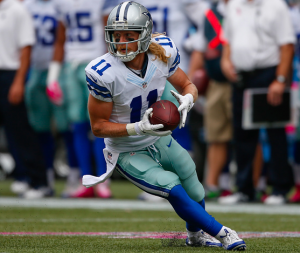 Cole Beasley DAL
Second year quarterback Dak Prescott will try to show that he was not a one year wonder. A big part of that will be leaning on slot machine Cole Beasley. Prescott targeted Beasley heavily in 2016, to the tune of 98 targets for 75 receptions.
From 2014 to 2016, the diminutive receiver increased his receptions from 37 to 52 to 75. There is reason to believe that this year Beasley could have over 80 receptions with relative ease. It would probably be a stretch to project more than 800 or so yards, but those are solid numbers around WR57.
Shot At Big Numbers
Robby Anderson NYJ
The Jets are going to be bad this season, maybe historically bad. Even bad teams have productive players, however. In the passing game, the most likely player to be productive is Robby Anderson. He was useful in spots last season, but showed little consistency.
This year the Jets need someone to step up and make plays with the loss of pretty much their entire receiving corps. Do not reach for Anderson by any means, but keep him in mind at the end of the draft.
Cooper Kupp LAR
Forgive me if I do not buy into Robert Woods turning into a star in Los Angeles. Woods is a nice receiver, but he does not have what it takes to be a number 1. Kupp is a proven playmaker and he should quickly become a favorite target of Jared Goff.
With a dearth of ability on the offensive side of the ball, the Rams will be looking for a spark and they could find it in the rookie, Kupp.
Five Running Backs With Comeback Potential
Cordarrelle Patterson Oak
There are only so many touches to go around in Oakland and Patterson may be the odd man out. On the other hand, I liked what I saw from him late in the year in Minnesota. Patterson may finally be coming around, but this one is a bit of a reach. The Raiders are stacked on offense, but if Patterson is given an opportunity I think that he could carve out a decent role.