Opportunity is the name of the game in fantasy football. Mediocre players with sizable opportunity can get you more bang for your buck than great players with limited opportunity. That's how you find value picks.
And the easiest way to figure out which wide receivers -- average or elite -- will have the most opportunities is by looking at how their offense performed last year and then assessing how many vacated targets are now available for them to snatch up. Because targets = chances. And in many cases, chances > talent.
Isn't fantasy football math fun!
Note: All target stats courtesy of Rotoworld.
Baltimore Ravens - Vacated Targets: 332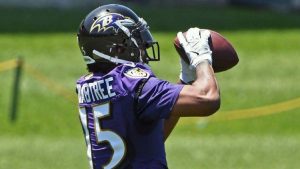 Baltimore experienced a cosmic shift in their offensive personnel this offseason, basically resetting the receiving corp altogether with the departures of Mike Wallace, Jeremy Maclin, and Ben Watson. That trio accounted for more than 43% of the team's target total, which means there are passes galore waiting for the new crew of Michael Crabtree, Willie Snead, John Brown, and whichever rookie tight end absorbs part of Watson's role.
I know Joe Flacco's inability to sustain multiple receivers is the stuff of legend, but it's hard not to get excited for the new brood when you see that big ol' number sitting there.
Who Benefits Most: Michael Crabtree. Though I consider Willie Snead to be a very underrated receiver going into this season -- as he averaged 71 receptions and 940 yards before falling off the map in New Orleans last year -- the Ravens paid Crabtree a much heftier sum than either Brown or Snead, and the 30-year-old has actually been a team's No 1 receiver before. It's not unlikely Crabtree will see at least 120 targets. If Lamar Jackson's signing lights a fire under Flacco -- the way Patrick Mahomes lurking in the wings did for Alex Smith -- then Crabtree has high-end WR2 upside.
Miami Dolphins - Vacated Targets: 290
The Dolphins passing game has opened wide up with the departure of Jarvis Landry, who absolutely dominated the short passing game in Miami the last few years. His 161 targets in 2017 had him tied for the 3rd most in the league with Larry Fitzgerald. That made up more than 27% of the team's total targets.
Who Benefits Most: Albert Wilson. He has the most similar skillset to Landry -- even more so than fellow transfer Danny Amendola -- and should figure to be utilized much more than he ever was in Kansas City. Wilson is a great player who simply got lost in the shuffle behind Tyreek Hill in Kansas City. Kenny Stills will get some extra targets for sure, but from a percentage standpoint, Wilson will see the largest uptick from 2017 to 2018.
Dallas Cowboys - Vacated Targets: 272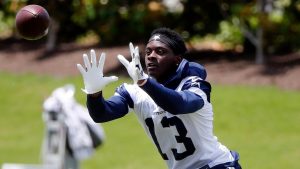 Dak Prescott has suddenly found himself without his two biggest security blankets in Dez Bryant and Jason Witten, who accounted for a whopping 219 of the Cowboys' targets. The answer in Dallas was to add former Jaguar Allen Hurns and 3rd Round draft pick Michael Gallup.
Who Benefits Most: Michael Gallup. It's been pretty obvious over the last couple of seasons that Dez Bryant lost a step and is no longer an elite player on the outside. Hurns, while a fine player, is no outside threat. Gallup is one of the only receivers to come out of the 2018 draft with the speed and agility to thrive in Bryant's void, and it seems like Dallas has big plans for the rookie to do just that. According to Dallas beat reporters, Gallup has established a nice rapport with Prescott, which is crucial to him surpassing Terrance Williams on the target spectrum.
Arizona Cardinals - Vacated Targets: 243
Aside from the ageless Larry Fitzgerald -- who's locked in for the 92 catches that will move him to No 2 on the All-Time Career Receptions list -- Arizona's depth chart at wide receiver is one giant question mark. So that leaves a real conundrum as to who will get a chance at soak up the targets left behind by John and Jaron Brown. Andre Ellington's 50 receptions from 2017 are on the table, as well.
Who Benefits Most: David Johnson. If Christian Kirk didn't make his hay in the slot, a position currently occupied by one of the greatest receivers of all time, he'd have a better shot at some of these targets. But this year, expect DJ to make good on his goal to notch 1,000 rushing and 1,000 receiving yards. He came just shy of the mark in 2016, and considering the lack of offensive weapons, it's very possible Johnson soaks up 30-45 more targets than he had in that blockbuster year.
New England Patriots - Vacated Targets: 240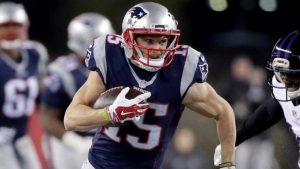 Now that Brandin Cooks, the team's most targeted weapon, has completed his brisk flyover in New England and moved onto Los Angeles, the Patriots will need to find another speedy, downfield threat to fill that void. Julian Edelman will also be gone until Week 5 due to a suspension, which leaves an immediate need for a multi-positional receiver who can handle slot duties. Those two roles won't be filled by just one player.
Who Benefits Most: Chris Hogan and Jordan Matthews. Hogan played in just 9 games last season thanks to a shoulder injury, but proved he get open down the field and gain bunches of yards after the catch. He's a lock to surpass his 59 targets from 2017.
Matthews, meanwhile, is a slippery receiver who can line up all over the field. He's never quite put it all together over a full season, but if any coaching staff can utilize their Matthew's strengths and hide his weaknesses, it's Bill Belichick and company.
Seattle Seahawks - Vacated Targets: 217
The one-two punch of red zone monster Jimmy Graham and sideline stretcher Paul Richardson leaves a substantial hole in the Seahawks' receiving game. They take with them 47% of the team's total receiving touchdowns from 2017, and an unbelievable 64% of their scores in the red zone.
Who Benefits Most: Brandon Marshall. I know. It made me sick to even type that. But in 2016, his last healthy season, the 6'5" Marshall had the 11th most targets of any player (including tight ends) inside the 20. That was more than Graham, Mike Evans, and Travis Kelce.
Back in 2014, before Graham came onboard, Seattle leaned heavily on Marshawn Lynch in the red zone. Pete Carroll and his coordinators simply use the best man available to get the job done, regardless of position. Marshall should see plenty of targets come his way once the 'Hawks are in scoring distance.
Chicago Bears - Vacated Targets: 216
The fact that Kendall Wright was the team's leader in targets should tell you everything you need to know about why the team's offense was majorly revamped over the offseason. Wright is gone, along with Dontrelle Inman and a gaggle of other woefully ineffective receivers, which opens things up nicely for signees Allen Robinson and Taylor Gabriel, along with prodigal son Kevin White.
Who Benefits Most: Allen Robinson. Chicago has been lacking a savvy route-runner who can throw defenders off with a quick sidestep and all-around explosiveness, and Robinson proved he was that guy for Jacksonville when he was healthy. If his ACL injury stays a thing of the past, Robinson could easily surpass Cameron Meredith's team-leading 97 targets from two years ago. Creative new head coach Matt Nagy should be able to line him up all over the field to take advantage of favorable matchups.