There are different ways to grab a bargain in fantasy football. Breakout stars are the stuff of dreams, but big comebacks are sometimes overlooked. There are a few players at each position that appear ready to round back into form in 2017. Grabbing these guys at a discount could be a difference making move for a championship team.
Potential WR1 Returns
DeAndre Hopkins HOU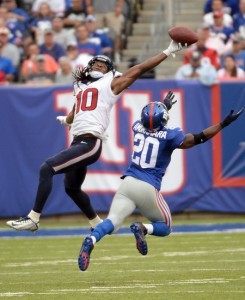 2016 Stats: 78 receptions 954 yards 4 touchdowns This one is a sore subject for me as I was heavily invested last season. Hopkins was not outright terrible, but he was less involved than a premier receiver should be. A lot of the blame can be placed on atrocious quarterback play. The quarterback situation is still a question, but at least Deshaun Watson offers some hope. If some new blood can spark the offense, Hopkins might find himself right back in the stratosphere. This is a receiver that was regarded on par with Antonio Brown and Julio Jones. If I can get Hopkins for a discount, I'm still going to do it. I guess if he fools me twice, shame on me.
Kelvin Benjamin CAR 2016 Stats: 63 receptions 941 yards 7 touchdowns
The results of Benjamin's 2016 season were not abysmal, but they were disappointing. After missing a year due to injury, Benjamin came back a bit out of shape and underperformed. The entire Panthers team went in the tank last year, so Benjamin's woes are not surprise. This year he reported to camp looking healthier, as did Cam Newton. Benjamin and Newton appear to have rededicated themselves in 2017 and that should mean good things. The fact that Benjamin is a physical freak with a nose for the end zone only heightens his comeback chances.
Potential WR2 Returns
Pierre Garcon SF 2016 Stats: 79 receptions 1041 yards 3 touchdowns
The stats for Garcon's 2016 season look pretty good. He was definitely above average, which might make comeback talk sound strange. That illustrates how good I think that he can be in San Francisco this season. The 49ers do not have a lot of offensive weapons and Garcon is likely to see the ball a lot. We could be talking about over 100 catches this season; PPR gold. There is every reason to believe that his touchdowns should trend upward as well. This former brand name could yield a huge profit as many believe he is past his prime.
John Brown ARI 2016 Stats: 39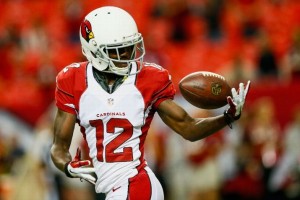 receptions 517 yards 2 touchdowns
Brown took a huge step back after his impressive rookie season. He suffered from health problems stemming from a "sickle cell trait". These issues sapped his strength and saw him lose a dramatic amount of weight. As of training camp, Brown is back up to around 185 pounds and looking fast. There is reason to hope that he can get back to the burner that toasted opposing secondaries in 2015. If Brown can get back to 90 percent of what he was in his rookie season, he will be worth a roster spot. Anything beyond that could put him in the WR2 conversation.
Potential Flex
Jeremy Maclin BAL 2016 Stats: 44 receptions 536 yards 2 touchdowns
Almost a carbon copy of John Brown's stats, Maclin was a disappointment as well. The change of scenery seemed like it might be a good thing until Joe Flacco got hurt. At this point there are a lot of things up in the air for the Ravens offense. There are rumors that Colin Kaepernick or someone else could be brought in if Flacco will miss significant time. The other variable involved here is Maclin himself. Does he have anything left in the tank and where will he fit in. Maclin has played in Mornhinweg's offense before and should work comfortably from the slot. If he can develop a rapport with whoever plays quarterback it could be a return to 1,000 yards.